Summary

Krakatoa Resources has received high-grade gold results from the new rock-chip samples across Gold Hill at its Rand Gold Project.
The results show the prevalent nature of high-grade gold throughout the unexplored Bulgandry Goldfields and the potential of the system.
KTA has been pursuing a multi-pronged aggressive exploration strategy and is presently undertaking Reverse circulation (RC) drilling.
Copper-gold focused exploration company Krakatoa Resources Limited (ASX:KTA) has been aggressively focusing on exploration program at its fully owned Rand Gold Project. These programs have returned encouraging results for KTA, and the Company has continued its activities across the project.
KTA's Rand Project spans an area of 580km2 surrounded by an underexplored region of the well-endowed Lachlan Fold Belt.
PREVIOUS UPDATE: With AC drilling complete, Krakatoa Resources (ASX:KTA) kicks off RC drilling at Rand
High-grade gold results
KTA has received excellent results from rock-chip samples gathered at its Rand Gold Project, indicating the widespread presence of high-grade gold throughout the unexplored Bulgandry Goldfields. Besides this, the results are a testament to the system's potential and have confirmed the geochemical signature of an IRGS (Intrusive Related Gold System).
The new rock-chip samples returned several high-grade gold results including 21.7g/t, 17.65g/t and 14.45g/t, 4.81g/t and 4.11g/t.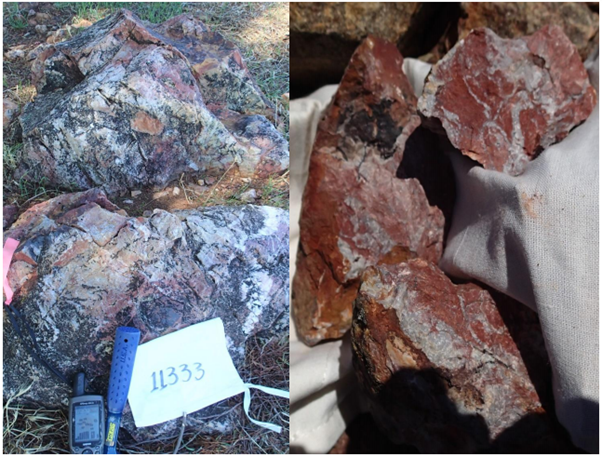 Intense silica-hematite altered metasediments with various styles of quartz veining (Source: KTA Announcement 21/04/21)
These results are from the second batch of rock-chip samples gathered during reconnaissance fieldwork, which was executed in mid-February 2021. KTA intended to hunt the formerly unexplored historical workings present on the Gold Hill property, which hosts the historical Goodwood, Lone Hand, Coonerty and Murphy's Reefs and related mines.
IMPORTANT DISCUSSION: Krakatoa Resources expands area of interest at Sugarloaf Prospect post promising soil results
KTA gathered a total of 41 samples from outcrops, subcrops, mullock dump and sorting piles, and as float. These included oxidised quartz veins and/or altered host rocks. Moreover, KTA gathered rock samples from historical mine mullock dumps and sorting pile, and most of the float samples are interpreted to be sourced locally.
The assay results reinforce the prospectivity for economic grades of gold and minor silver and include elevated lead and extremely anomalous IRGS pathfinder elements, including Arsenic (maximum greater than 1%), Bismuth (maximum 1,300ppm), Tellurium (maximum 3.1ppm), Tungsten (maximum 370ppm), Molybdenum (maximum 15ppm), Antimony (maximum 222ppm), Indium (maximum 1.83ppm) and Tin (maximum 63ppm) with a low sulphide content.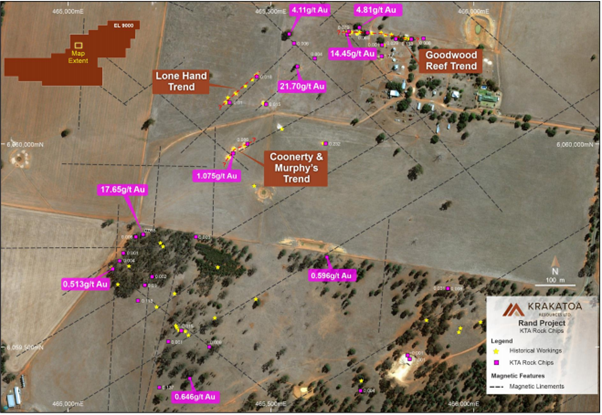 Rock-chip samples (purple) with Au assays (Source: KTA Announcement 21/04/21)
KTA believes that the higher-grade gold in this area is associated with intensely silica-hematite altered metasediments with grey translucent quartz veins.
DID YOU READ: Krakatoa Resources (ASX:KTA) clicks into high gear at Rand Gold project with drilling underway
Latest and ongoing exploration activities
Previously, KTA completed an 800-sample regional-scale auger geochemical soil survey in February over the Bulgandry Goldfields, which is characterised by several historical workings where mining produced gold at very high grades of up to 265g/t.
In addition to this, a 43-hole 2,760m air-core (AC) drilling program was completed over the magnetic "bullseye" targets, subsequent to the completion of a surface IP geophysical survey in January.
Prospects/historical mines and priority exploration targets at Rand Project (Source: KTA Announcement 21/04/21)
All assay results for the recently completed AC drilling program remain pending, along with assays for an additional 32 rock-chip samples collected during further mapping in March.
Moreover, a maiden reverse circulation (RC) drilling program of up to 10 holes for approximately 1,500m is ongoing. Through this program, KTA aims at historical mines, which comprise the Goodwood, Lone Hand Reefs, Show Day and Welcome Find Reefs.
RELATED: Krakatoa unearths high-grade gold rock chips at Rand Gold Projects
On 21 April 2021, post the announcement, KTA was up by 7%, at AU$0.060.