Source: Evgeny_V,Shutterstock
Summary

King River Resources is galloping ahead with the development of its key projects in the tier 1 mining jurisdictions of Australia.
PFS focus for HPA development has shifted to a more direct route utilising industrial aluminium feedstock.
The fewer processing steps ensure more convenient and cost-effective process, with reduced risk associated with the HPA (high purity alumina) development.
Drilling programs at the Mt Remarkable and Tennant Creek gold projects were successfully completed, followed by encouraging results.
King River Resources Limited (ASX:KRR) enjoyed a productive first half of FY21, advancing its core projects in Australia. Significantly, the activities accelerated the exploration progress of KRR's gold projects as well as imparted momentum to its plans for producing high purity alumina (HPA).
While drilling programs were completed at the gold projects including Tennant Creek Project (Northern Territory) and Mt Remarkable Project (Western Australia), HPA developments saw a compelling shift in the prefeasibility focus, geared towards expediting HPA production.
With this backdrop, let us take a detailed look at KRR's major strides paving the way for future developments.
READ MORE: King River Resources (ASX:KRR) Shining in the Hale and Hearty Gold Market
HPA PFS Development
A more direct pathway has been identified through the Speewah PFS (Prefeasibility Study) testwork and studies. The new route for completing a process design delineates an expedited and lower risk path to produce HPA.
TSW Analytical undertook seven tests utilising aluminium chemical compound as feedstock. Significantly, the aluminium compound is an internationally traded commodity and was sourced from industrial chemical processes.
Rather than many steps required for producing HPA through Speewah feedstock option, the new route utilises only two purification process steps and produces a very high purity HPA precursor (<1ppm) suited to develop 4N (99.99% Al2O3) HPA following calcination and washing.
This alternative production circuit obviates the need for developing infrastructure for mining, processing, and logistic operations at Speewah.
Furthermore, having mulled over several WA and Queensland-based sites, KRR has settled on the Kwinana area located within the Western Trade Coast (WTC) industrial area, to host its HPA plant.
Source: Copyright © 2021 Kalkine Media Pty Ltd, Data Source: KRR ASX update, dated 27 January 2021
KRR is advancing the Speewah Specialty Metals Project with the current strategy to develop the HPA operation at Kwinana. Additionally, the focus of the Speewah metallurgical testwork has turned to extracting quality vanadium and titanium products, driven by the soaring popularity of battery metals and master alloy compounds to ensure eco-friendly economy.
Gold Exploration at Mt Remarkable
KRR undertook a 2,500m Reverse Circulation (RC) drill program at Mt Remarkable, with the aim to test robust gold mineralisation at exploration targets. The program will also follow up on the promising gold outcomes received from the 2018-19 drilling.
The four main targets tested on the Trudi vein are Trudi Main, Trudi Offset, Trudi West, and Trudi East. Other prospective epithermal veins targeted included the Jeniffer North prospect, Catherine vein, Gemma Offset vein, and a quartz adularia vein.
Reconnaissance exploration is planned for early next dry season across the Company's extensive tenement holdings.
KRR has received encouraging results with high-grade gold mineralisation intersected at various targets.
DETAILED DISCUSSION AT: King River Resources (ASX: KRR) strikes high-grade gold at new vein on Mt Remarkable
Gold Exploration at Tennant Creek
KRR drilled a total of 11 RC holes at two of its Tennant East prospects:
Lone Star Trend
Commitment
Drilling at the Commitment Prospect
At Commitment, the newly discovered ironstones were intersected under the Georgina Basin's Cambrian cover rocks. Ironstones returned geochemically anomalous assay results, suggesting they are prospective to host IOCG (iron oxide copper gold) mineralisation.
Meanwhile, KRR has kicked off a detailed ground magnetic survey at the prospect. It would assist in delineating the magnetite rich zones and important structures for further targeted drilling.
The Company has prioritised targets' selection for ground magnetic and gravity surveys and has selected five areas for ground geophysical work.
Lone Star Trend Drilling
Eight holes were drilled at the Lone Star Trend to test three gravity or magnetic targets. The best drilling results are from the main gravity anomaly where broad veining and zones of very strong hematite alteration were intersected.
Work is designed for the gravity survey extension westward to the tenement's edge, within 700 metres of the Emmerson Resources Mauretania deposit.
Exploration by Treasure Creek
Exploration by Treasure Creek Pty Ltd (KRR's subsidiary) is aimed at IOCG style mineralisation, characterised by gold and copper mineralisation linked to ironstone bodies.
In the Tennant East/Barkley area, funding grant has been awarded under Round 13 of the NTGS-administered Geophysics and Drilling collaboration program. At the Rover East project, geophysical review is underway with multiple geophysical targets already identified.
Meanwhile, the Company recently received high-grade gold, silver and copper rock chip sample results from reconnaissance exploration at the Kurundi Project.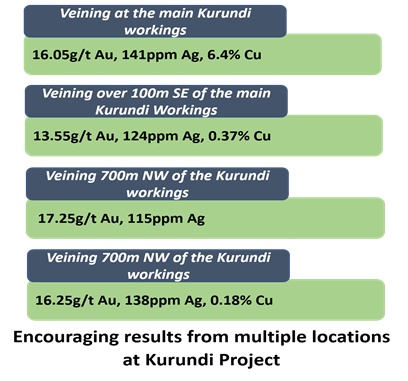 Source: Copyright © 2021 Kalkine Media Pty Ltd, Data Source: KRR ASX update, dated 5 March 2021
DETAILED DISCUSSION AT: King River Resources (ASX:KRR) Gets Cracking at Kurundi with High-Grade Rock-Chip Results
KRR traded at $ 0.026 on 12 March 2021 (AEDT 1:37 PM).