Summary

K2fly has closed FY21 with record sales invoices, TCV and ARR.
The tech firm clocked record invoices during Q4 FY21, a 35% increase on the pcp, while its ARR surged 50%.
Total contract value increased by 48% to AU$9.90 million in Q4 FY21.
SATEVA and RCubed delivered strong sales in the second half of the year.
Technology company K2fly Limited (ASX: K2F) has closed the financial year 2021 on a strong note, driven by record invoices and better realisations from new product offerings. The cash flow trajectory remained strong, which helped the company become debt-free.
Watch: Expert Talks With Mr Brian Miller, Chief Executive Officer of K2fly Limited
The mining software company continued its stellar performance in the June quarter by reporting 35% growth in sales invoice. The company recorded sales invoice of AU$2.56 million in the fourth quarter ended June 30, 2021, compared to AU$1.90 million in the previous corresponding period (pcp) in FY20. For FY21, invoices rose 18% to AU$7.8 million, from AU$6.6 million in the previous fiscal.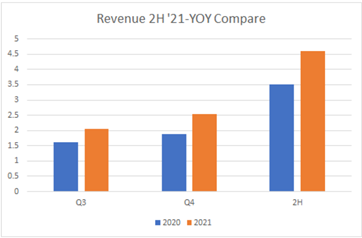 Source: K2fly ASX update as of July 29, 2021
The company exhibited a steady growth, having raised AU$0.851 million invoices in March, followed by AU$0.887 million in April and AU$1.01 million in May.
Meanwhile, annual recurring revenue (ARR) stood at AU$3.38 million in Q4 FY21, registering a year-on-year growth of 50%.
Source: K2fly ASX update as of July 29, 2021
On the same lines, total contract value (TCV) grew by 48% to AU$9.9 million in Q4 FY21, compared to the previous corresponding quarter in 2020.
Source: K2fly ASX update as of July 29, 2021
K2fly maintains positive cash flow in June quarter
K2fly has generated positive cash flow in the June quarter. According to the company's latest filing, total available cash as of June 30, 2021, was AU$6.90 million. Moreover, the company had AU$2.15 million in receivables from Tier 1 clients. Following receipts from customers, the available cash increased to AU$7.2 million as of June 27, 2021. Also, the company had no debt at the end of the June quarter.
Source: K2fly ASX update as of July 29, 2021
In Q4 FY21, K2F had a positive cash movement of AU$5.382 million. During the quarter under review, it generated net cash inflow of AU$6,781 million from financing activities. The Company had issued 25 million shares at an offer price of AU$0.29 to raise funds of AU$7.25 million.
K2fly's net cash outflow stood at AU$0.656 million from investing activities and AU$0.736 million from operating activities. It invested AU$0.628 million in product development across its RCubed V2, Mine Technical Assurance and Next Gen solutions. This was on the back of significant investment of AU$0.53 million in the March quarter where K2F had decided to further develop its own IP to enhance its current Software as a Service (SaaS) product suite. Some of these developments relate to the SATEVA suite (which was still under development at the time K2F acquired SATEVA in October 2020).
Revenue supported by all businesses
K2fly said that the business received support from all of its solution offerings, especially RCubed and Mine Technical assurance suite, during the second half of the year.
In the March quarter, cloud-based platform RCubed registered strong sales from North America including Alcoa and Coeur Mining as well as landmark heritage deals with Rio Tinto Iron Ore and Griffith University.The June quarter proved to be a strong quarter for its Mine Technical assurance suite (formerly SATEVA) across Roy Hill and Rio Tinto.
The company had launched the full Mine Technical assurance solution from the SATEVA suite of products in May 2021. It started with a five-year deal worth AU$2.44 million with Roy Hill.
Read: K2fly Bags Contract for Technical Assurance Suite from Roy Hill
In June, it expanded its relationship with Rio Tinto Iron Ore by signing an agreement to implement its Maximum Return, Geology Data Management solution. The three-year deal has a total contract value of AU$0.75 million.
Besides, the company has signed a 12-month reseller (partnership) agreement with Descartes Labs (DL) which will see K2fly resell DL Deformation solutions. Descartes Labs is a geospatial intelligence company based in Santa Fe, New Mexico.