Summary

Jindalee has announced the first assay results from its 15-hole drill program at the McDermitt project.
The results have validated substantial thicknesses of lithium mineralisation intersected in all holes.
Further assays are expected to be released by mid-February 2021.
Shares of Jindalee Resources Limited (ASX:JRL) traded more than 6 per cent higher to A$1.76 on 1 February 2021 following the release of robust assay results from the McDermitt drilling program. Jindalee has received the initial assays from 10 of 15 drillholes completed in December 2020 at McDermitt.
Must Read: Jindalee Resources (ASX:JRL) Closes December Quarter With A Bang
The drill program has been designed to extend the present Inferred Mineral Resource and ETR or Exploration Target Range at McDermitt and convert the existing Inferred Mineral Resources to Indicated category before a probable Scoping Study. Jindalee believes that the density of the drilling completed to date is likely to be adequate to attain these objectives.
The Company informed that all drillholes were predominantly drilled using wet Reverse Circulation (RC) and were vertical. Samples were collected at 1.52m (5 foot) intervals and submitted to ALS Laboratories (Reno, Nevada - USA) for analysis of 48 elements (including lithium) using ICP-MS.
Assays Confirm Continuity of Lithium Mineralisation
The results have been obtained from 10 drill holes ranging from MDRC002 to MDRC011. The latest assays have confirmed the substantial thicknesses of lithium mineralisation intersected in all holes, including:

Interestingly, several holes intersected significant intercepts at shallow depths that is expected to impact positively on future studies.
Notably, the mineralisation hit by the hole MDRC004, located 1.1km to the north of the current Inferred Resource, indicates the excellent potential to add substantial tonnages in this portion of the project area.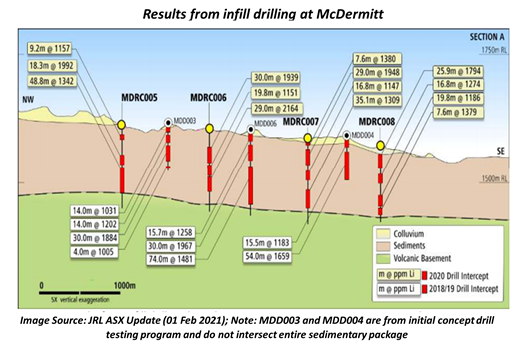 Jindalee highlighted that most holes were mineralised over the entire encountered sedimentary package, including:
MDRC006: average grade of 126.5m @ 1397 ppm Li from surface (no cut-off)
MDRC010: average grade of 120.4m @ 1440 ppm Li from surface (no cut-off)
Future Course of Action
Jindalee will undertake a resource estimation once additional assay results have also been received. The remaining drillhole results are anticipated by mid-February 2021.
Moreover, metallurgical testwork is continuing at the McDermitt project to quantify the leaching characteristics of beneficiated ore. Previous metallurgy results have indicated high lithium recoveries from leaching with sulphuric acid at moderate temperature and atmospheric pressure and that the mineralised material can be beneficiated using attrition scrubbing. The first results from ongoing metallurgical testwork are also expected to be announced soon.
In a nutshell, results from the recent drilling validate the geology plus grade continuity of lithium mineralisation at the McDermitt project, with several zones of substantial mineralisation intercepted in the sediment package.
Interesting Read: Why Jindalee Resources' (ASX:JRL) Shares Skyrocketed in 2020?