Summary

Many exciting activities are planned at Jindalee Resources' lithium assets in the US.
At McDermitt, the Company is advancing well with scoping study components, drill planning for the 2021 season, and metallurgical test work on bulk samples.
Jindalee is likely to commence exploration drilling at Clayton North in July.
The Jindalee team has been bolstered by new valuable additions.
Jindalee Resources Limited (ASX:JRL) has been aiming to cut the mustard in the lithium sector by capitalising on the opportunities presented by its two projects in the US.
Over the coming months, the Company has planned substantial exploration activities at the advanced McDermitt lithium deposit in Oregon and the Clayton North prospect in Nevada.
Jindalee remains optimistic that its McDermitt project is suitably poised to deliver a large, steady domestic supply of lithium, aiding the US to meet its net-zero carbon emission target by 2050. As the demand for lithium keeps on rising, several battery factory developments have been declared or proposed in the US.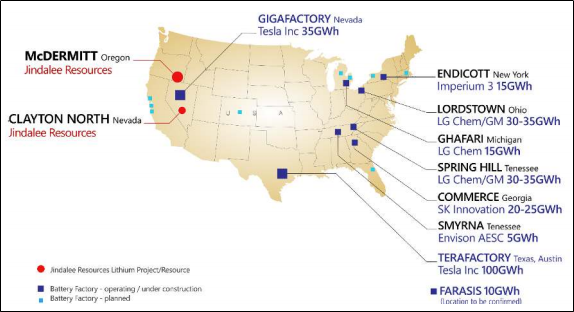 Location of planned and operating battery factories in the US in relation to Jindalee's projects
(Source: JRL Announcement 22/06/2021)
ALSO READ: Jindalee Resources (ASX:JRL) Shares Soar on Encouraging Assays from McDermitt Drill Program
Meanwhile, a group of US federal agencies under the umbrella of the Federal Consortium for Advanced Batteries (FCAB) is focused on a joint approach to ensure US' self-sufficiency pertaining to the lithium battery supply chain.
The FCAB released the National Blueprint for Lithium Batteries on 7 June 2021, comprising five critical goals to be achieved. The first goal is "securing US access to raw materials by incentivising growth in safe, equitable and sustainable domestic mining ventures while leveraging partnerships with allies and partners to establish a diversified supply".
With growing tailwinds in the lithium sector, Jindalee is ramping up the development of its flagship McDermitt project.
RELATED READ: Jindalee Resources widens footprint at McDermitt, set for MRE upgrade
Exciting developments at McDermitt Project
Scoping study advances well - Jindalee is progressing well with the mining, engineering, and geotechnical components of a scoping study. The study results are expected during the September 2021 quarter.
Drill permits submitted - Advancing with drill planning for the 2021 season, the Company has designed an extensive reverse circulation (RC) and diamond drill program for upgrading and extending the current Mineral Resource at McDermitt. With the planned drill program, Jindalee is expecting to maximise resource conversion while minimising the disturbance footprint.
Previously, the Company declared an updated, indicated and inferred mineral resource of 1.43Bt @ 1,320ppm Li for 10.1Mt containing Lithium Carbonate Equivalent (LCE) at McDermitt.
The Company has submitted drill permits with the government agencies. Additionally, the Company has engaged a drilling contractor to finalise the program. The drilling is slated to kick start during the September quarter.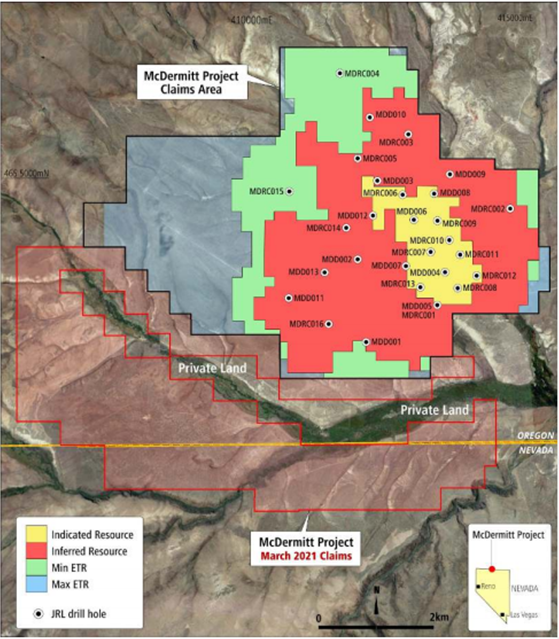 Plan of JRL's McDermitt Project with new mining claims outlined in red (Source: JRL Announcement 22/06/2021)
GOOD READ: Three Factors Boosting Jindalee Resources' Growth Prospects in US Lithium Market
Metallurgical test work commissioned - Jindalee has successfully exhibited the capability to upgrade lithium content by 60% using attrition scrubbing. Subsequently, test work has been commissioned on bulk samples collated during the 2020 drill program.
The test sample will include around 1,000kg of ore and follow a staged process of attrition scrubbing, acid leaching and purification all the way to the final production of lithium carbonate. In totality, the process is likely to take around six months.
New tenements at McDermitt - In another favourable development, Jindalee has received approval from the Bureau of Land Management for the additional tenements staked at McDermitt. These additional tenements are interpreted to contain extensions of sediments hosting the lithium mineralisation at the McDermitt deposit.
IMPORTANT UPDATE: Here's why shares of Jindalee Resources are on a tear today
Diamond drilling at Clayton North in July
At its Clayton North prospect, Jindalee has planned an exploration diamond drill program, which is anticipated to begin in July 2021.
Source: Copyright © 2020 Kalkine Media
The drill program is the first follow up of the surface sampling results with drill holes planned to ascertain grade continuity of lithium mineralisation in fresh sediments.
The Company had confirmed the occurrence of lithium mineralisation through surface samples collected in 2018, with up to 930ppm Li identified from initial sampling.
MUST READ: Jindalee Resources Unveils A$9M Capital Raising for Development of McDermitt Project
Jindalee bolsters the team
Jindalee has bolstered its team with the onboarding of Jimmy Thom as the Exploration Manager. Additionally, the Company has engaged Paul Meyer to manage the exploration and development activities at its US-based lithium assets.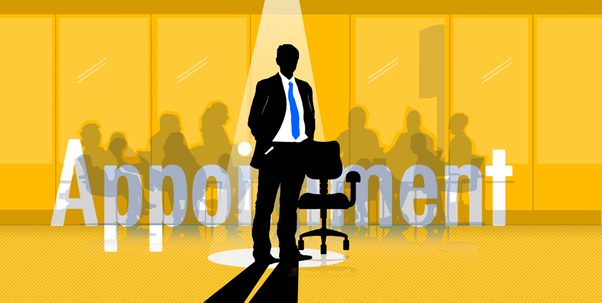 Copyright © 2021 Kalkine Media
As an experienced geologist, Thom brings with him 15 years of experience in diverse roles while working in Australia as well as abroad. His principal focus will be on advancing the Company's WA assets, especially the Widgiemooltha project, which is highly prospective for gold, nickel, and lithium.
Based in the US, Meyer brings a wealth of experience in exploration geology as well as environmental management. The Company believes that his vast experience will be of immense value as Jindalee advances the McDermitt project development.
DO NOT MISS: Jindalee Resources Exploring McDermitt Project's Potential for US Lithium Market
Overall, Jindalee looks in a sweet spot to move ahead with the ongoing activities as well as to execute the proposed endeavours. All eyes remain on the September quarter as the Company continues to advance its lithium assets in the US.
JRL stock traded at AU$2.400 on 22 June 2021.