Summary

Imugene Limited (ASX:IMU) has obtained approval from CRC to proceed to the third-highest dose cohort in PD1-Vaxx Phase 1 clinical trial.
No serious adverse reactions and no dose-limiting toxicities were observed at mid-dose (50µg) level of PD1-Vaxx.
The Mayo Clinic in Arizona has received IRB approval for PD1-Vaxx Phase 1 clinical trial in the USA.
In a significant update, biotech player Imugene Limited (ASX:IMU) has announced that PD1-Vaxx will proceed to the third-highest dose (100µg) cohort in its Phase 1 clinical trial. The Cohort Review Committee (CRC) has confirmed the dose escalation of PD1-Vaxx to the final highest dose.
Furthermore, the prestigious Mayo Clinic in Phoenix Arizona, has also obtained the Institutional Review Board's (IRB) approval to kick-start and join PD1-Vaxx Phase 1 clinical trial in the USA.
Following the key updates, Imugene shares rallied by about 11.5 per cent to AUD 0.145 mid-day (as at 2:08 PM AEST).
PD1-Vaxx is Imugene's B-cell activating immunotherapy that has been designed to treat tumors like lung cancer. The Company is progressing with the Phase 1, multi-centre, first-in-human, dose escalation trial of PD1-Vaxx, which is recruiting patients suffering from non-small cell lung cancer (NSCLC).
Also Read: Imugene Limited (ASX:IMU) Proceeds to Next Dose Escalation in PD1-Vaxx's Phase 1 Trial
CRC's Approval for 3rd PD1-Vaxx Phase 1 Cohort
The Cohort Review Committee reviewed all safety and tolerability data for the 2nd mid-dose (50µg) patients administered with Imugene's PD1-Vaxx as monotherapy. The committee unanimously agreed PD1-Vaxx to be safe. The CRC observed no serious adverse reactions & no dose-limiting toxicities.
The committee advised the Company to proceed with the opening of the third and final PD1-Vaxx Phase 1 cohort at the highest dose level of 100µg at the completion of the review meeting.
The primary objective of the Phase 1 study of PD1-Vaxx is to determine safety as well as an mOBD or an optimal biological dose as a monotherapy. Immune response, tolerability and efficacy will also be evaluated. The CRC will determine mOBD, which requires successive dosing of PD1-Vaxx within cohorts of at least three patients each.
Encouraging Assays
Imugene received promising results after six weeks (Day 43) of treatment with PD1-Vaxx, as stated below:
One patient's tumor was non-measurable, demonstrating a complete response (CR).
Three patients showed stabilization of disease (SD).
One patient's tumor was progressing (PD).
At Day 85, the status of two patients from Cohort 1 (1 x CR, 1 x SD) was unchanged.
The Company informed that these results are encouraging in patients who have progressed after prior treatment with checkpoint inhibitors, comprising Opdivo®, Keytruda® or Tecentriq®.
The clinical results suggest that the Company's PD1-Vaxx is exhibiting early signs of an immune response in patients with non-small cell lung cancer. Antibodies to the target biomarker PD1 are also evident in validated assays. The Company expects further results and scans over the coming weeks.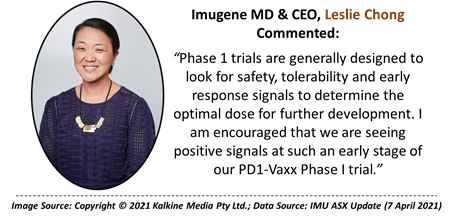 The continuing Phase 1 data signify a clinical proof-of-concept signal for Imugene's PD1-Vaxx monotherapy with early signals of efficacy. Besides, the data suggest that B-cell activating immunotherapies can prompt clinically active antibody responses against a significant immune regulation receptor target.
Must Read: Imugene Limited (ASX:IMU) Doses First Patient in Cohort 2 under PD1-Vaxx Phase 1 Trial