Summary

BlackEarth Minerals is making steady progress to become a material, vertically integrated global graphite business.
The Company's expandable graphite strategy involves ensuring a low risk/CAPEX entry into the downstream market.
BEM has partnered with India-based Metachem to kick off a plant construction project to produce expandable graphite.
ASX-listed BlackEarth Minerals NL (ASX:BEM) has been in the spotlight, thanks to its recent agreements and a flurry of developments in the past couple of months.
Significantly, its high-grade Maniry graphite project located in southern Madagascar, coupled with its focused expandable graphite strategy, appears to be the perfect blend helping the Company achieve its goal. BEM targets to emerge as a material, vertically integrated global graphite business.
ALSO READ: How BlackEarth Minerals is planning to make a mark in the exciting battery market
What's more, BEM has been equally committed to social and community developments in its project area, adopting a responsible outlook for sustainable progress.
All in all, the Company appears to be oriented in the right direction, increasing its footprint in the global electric vehicle market, which is an area witnessing tremendous growth potential.
Against that backdrop, let us explore the Company's expandable graphite as well as corporate social responsibility (CSR) strategy, supporting its all-round progress.
ALSO READ: Which are the factors catalysing the growth of BlackEarth Minerals?
The expandable graphite strategy
BEM is determined to ensure a low risk / CAPEX entry into the downstream market, which in turn, would offer a higher revenue stream for its shareholders and bulk up the Company's cash flow. Moreover, high quality Maniry graphite material is further expected to support the Company's revenue potential.
Significantly, NGS Trading & Consulting GmbH has indicated that the Maniry flake graphite flotation concentrate (ALS 19212) is well suitable for preparing expandable graphite, with no restrictions limiting its application.

Source: BEM Presentation, dated 1 July 2021
The test results assume high importance, given the strong demand outlook while the global supply of the raw material remains low.
Expandable graphite has extensive applications in fire retardants and is also a precursor to graphite foils used in the automotive, electric vehicle and energy sectors.
How can recent partnerships be a pathway to success?
2021 has proven quite eventful for the Company, especially concerning its advancement to create a dominant spot in the expandable graphite market.
In this regard, the Company recently signed a non-binding memorandum of understanding with India-based Metachem Manufacturing Company Pvt. Ltd. to kick off the construction of a new expandable graphite plant.
ALSO READ: Why is BlackEarth Minerals Poised t o Excel in the Battery Market?
Metachem has been in the production of expandable graphite and other downstream products for more than 20 years and enjoys an excellent reputation with tier 1 global buyers. In addition, the agreement is expected to benefit from India's workforce and other government-related support.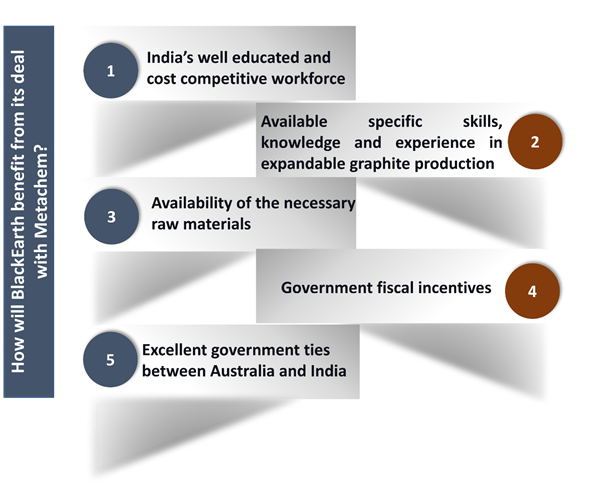 Source: Copyright © 2021 Kalkine Media, Data Source: BEM Presentation, dated 1 July 2021
READ MORE: BlackEarth Minerals (ASX:BEM) partners Metachem to develop expandable graphite plant
Social and community focused initiatives
In tandem with its Maniry graphite project development, the Company has been carrying out responsible activities with the broader goal of contributing towards the wellbeing of society.
Some of these socially focused initiatives include:
Regular communications at regional as well as village levels.
Utilisation of local services or personnel wherever possible, including the current drilling program at the project.
Providing furnishing for local classrooms.
During the current famine conditions, the Company is providing tonnes of food supply to support local communities.
BEM works with the Australian Doctors for Africa (ADFA) to provide logistics services, administrative support, or office space. The Company has also collaborated with the ADFA for the construction management and funding assistance for a new specialised medical clinic near Maniry which was completed last year.
ALSO READ: BlackEarth Minerals kicks off extensive drilling program at Maniry Graphite Project
BEM shares traded at AU$0.110 on 19 July 2021, up 4.761% from its last closing price.