Summary

ImpediMed Limited (ASX:IPD) has announced business results and key milestones across oncology, heart, and renal failure for Q221.
The Company's total revenue was $ 2.1 million, up 40% YoY.
In Q321, ImpediMed aims to progress L-Dex testing, expand commercial sales of heart failure and progessing strategies for renal failure.
Medical software technology company ImpediMed Limited (ASX:IPD) witnessed a progressive Q221, despite the COVID-related impacts. The Company's overall business results have been positive, and the SOZO® business performance has been particularly impressive. The "land and expand strategy" continues to gain traction and accelerating growth.
MD & CEO Richard Carreon believes that there is significant momentum in the business and together with the conclusion of the PREVENT trial driving private payor adoption, the Company may experience "a seminal year".
Solid Financial Footing
During the reporting period, the Company continued its progress around three large and growing markets with an annual addressable market worth over $ 2 billion- oncology, heart failure and renal failure.
Overall business results for Q221 revealed following key statistics-
Total revenue of $ 2.1 million was up 40 % YoY.
Cash in hand amounted to $ 19 million, $ 3.6 million more than Q121.
While $ 6.6 million worth of options were exercised, an additional $ 9.1 million outstanding will be exercised in Q321.
SOZO® Reporting Record Quarterly Performance
Launched by ImpediMed in 2017, SOZO® is an FDA-cleared, CE-marked and ARTG-listed digital health platform. As per the Company, it is the world's most advanced BIS (bioimpedance spectroscopy) device.
GOOD READ: Walk Through ImpediMed's (ASX:IPD) Sophisticated Medical Product- SOZO®
Witnessing a record quarter, in Q221-
SOZO® revenue of $ 1.9 million was up by 58 % YoY.
Annual Recurring Revenue (ARR) of $7.8m was up 86%
78 new devices sold, totalling over 680 units sold since launch.
There were over 28k patient tests, up 33 % YoY.
SaaS gross margins were over 90%.
Churn rate was 1%.
Notably, the land and expand strategy seems to be accelerating ImpediMed's overall growth.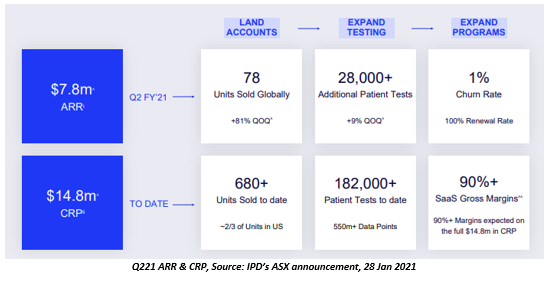 MUST WATCH: ImpediMed Limited (ASX:IPD) Announces First Commercial Order For SOZO® Digital Health Platform
Key Achievements
The Company continued to make developments across the three markets with significant opportunities.
Heart Failure
First commercial sales secured from Phoenix Healthcare Network.
First SOZO® devices delivered under AstraZeneca contract.
Renal Failure
AstraZeneca selected SOZO® for a second large Phase II trial.
Oncology
PREVENT Trial completed.
Meta-analysis and landmark radiation manuscript published.
HITRUST security certification obtained.
NSW Health expanded lymphoedema prevention program.
RELATED READS:
ImpediMed (ASX:IPD) Edges Up on ASX on Acquiring HITRUST Certification
ImpediMed Limited (ASX:IPD) & NSW Health Partnership Update: Lymphoedema Prevention Program Expanded
Way Forward
Mr Carreon anticipated ImpediMed to witness three key events in the coming quarters -
Conclusion of the PREVENT trial.
Progress with reimbursement, driving continued sales growth in oncology.
Realisation of opportunities in heart and renal failure.
RELATED READ: ImpediMed Limited (ASX:IPD) Signs Second Contract With AstraZeneca
In the near-term, the PREVENT Trial manuscript remains on schedule for late February 2021 submission by the Principal Investigators.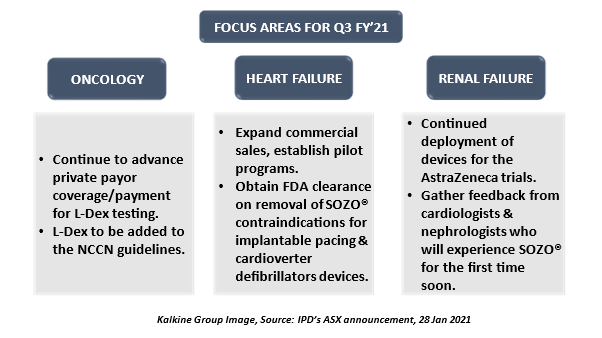 Besides, ImpediMed expects net operating cash outflows to remain under $ 4 million for Q3 FY'21.
On 4 February 2021, IPD traded at $ 0.12 on the ASX, up by 4.16 % and with a volume of over 6.3 million (3:45 PM AEDT).