Summary

Horizon Minerals undertook drilling at Honeyeater, Kestrel and Coote prospect of the Binduli Project.
The focus of the drilling is to organically develop the project pipeline to bolster the proposed Boorara gold processing plant.
Further drilling is planned at Honeyeater, Kestrel as well as its surroundings in the current year.
Horizon Minerals Limited (ASX: HRZ) is ticking all the boxes to become Western Australia's next standalone gold producer. In line with its current objectives, the Company unveiled another set of high-grade gold results at its 100% owned Binduli project area, setting the stage to organically grow the project pipeline.
Notably, Binduli is one of the six core development projects complementing the Boorara-based standalone processing mill and would expedite Horizon's journey to kick off gold production.
ALSO READ: Horizon Minerals (ASX:HRZ) in a Solid Position with 34% Gold Grade Uptick at Boorara
The drilling was undertaken as a part of the extensive CY21 program extending to 50K metres to test high priority targets to define resource and add new discoveries across the Company's 1,100 square kilometres portfolio.
A Snapshot of Drilling program at Binduli
The Company completed 47 reverse circulation drill holes at Binduli for a total advance of 4,713 metres to a 200-metre maximum depth. The drilling was undertaken as a two-part program.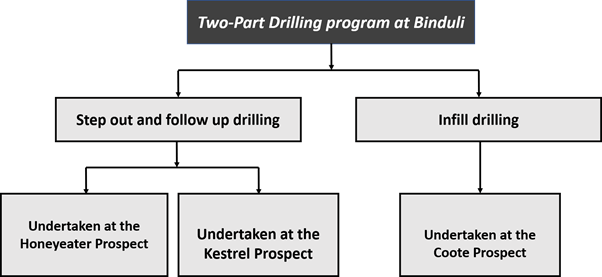 Source: Copyright © 2021 Kalkine Media, Data Source: HRZ ASX update, dated 16 June 2021
The drilling program facilitates sufficient data density for a maiden Mineral Resource estimate compilation. Typically, major NNW shear zones which cut across the historic Binduli goldfield covers the Binduli project area.
ALSO READ: Horizon Minerals (ASX:HRZ) Revving Up Developments to Monetise High-Grade Gold Deposits
Results from drilling at Honeyeater prospect
Drilling at Honeyeater prospect comprised six holes that returned new and significant high-grade mineralisation, including:
HRC20002
1 metre @ 1.16g/t Au from 80 metres
4 metres @ 11.45g/t Au from 113m including 1 metre @ 32.4g/t Au from 115 metres
HRC20003
4 metres @ 5.15g/t Au from 93 metres including 1 metre @ 13.54g/t Au from 93 metres
Honeyeater having similar mineralisation to Horizon's Teal project consist of a complex mineralisation with shallow dipping/horizontal supergene blanket over steep dipping.
ALSO READ: Horizon Minerals' (ASX: HRZ) Project Acquisition Further Widens its Gold Footprint
Kestrel prospect returns significant outcomes
Thick zones of anomalous quartz veining within the Black Flag sediments were intersected at the Kestrel prospect, sitting 600 metres southwest of Honeyeater. The drilling returned significant results.
ALSO READ: Horizon Minerals (ASX:HRZ) March Quarter Brimming with Slew of Developments
KRC21002 (open to the south and at depth)
10 metres @ 2.07g/t Au from 49 metres including 1 metre @ 11.09g/t Au from 57 metres
5 metres @ 5.22g/t Au from 94m including 1 metre @ 18.91g/t Au from 97 metre
KRC20005
2 metres @ 4.19g/t Au from 34 metres
KRC20002
1 metre @ 12.12g/t Au from 72 metres
Drilling assays returned from Coote prospect
Infill and extension drilling undertaken at the Coote prospect, sitting 500-metres west of Crake deposit (74,000oz) has extended the strike length to 400 metres. The latest results confirm the previous ones for including in the new resource model.
READ MORE: Horizon Minerals' (ASX:HRZ) golden run continue at Crake with the latest results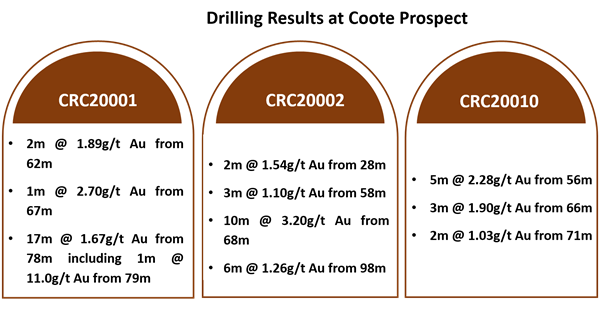 Source: Copyright © 2021 Kalkine Media, Data Source: HRZ ASX update, dated 16 June 2021
Road Ahead for exploration at Binduli Area
Horizon has identified a number of priority targets at Binduli, with further drilling at Honeyeater, Kestrel and its surroundings scheduled during 2021.
Drilling operations are planned to recommence later in June 2021 with up to 4 rigs operating round the clock through until the December-end. The Company also intends to conduct sterilisation drilling at Crake while the step out resource drilling would be undertaken to the north and west of Coote
HRZ shares traded at A$0.125 on 17 June 2021 (AEST: 2:26 pm).