Summary

Imugene Limited (ASX:IMU) has recently released its quarterly report for the three-month period ended June 2021.
The Company continued to progress with its PD1-Vaxx, HER-Vaxx, and CF33 clinical trials during the quarter.
Imugene also reached a significant milestone by enhancing its portfolio with onCARlyticsTM in the June quarter.
Australia-based immuno-oncology player Imugene Limited (ASX:IMU) has completed another action-packed quarter with a strong cash balance. The Company has recently released its June quarterly activities and cash flow report, highlighting key developments undertaken across its product pipeline.
During the quarter, the Company forged ahead with its PD1-Vaxx, HER-Vaxx, and CF33 clinical trials and enhanced its portfolio with a novel CD19 expressing oncolytic virus - onCARlyticsTM (CF33-CD19). Meanwhile, the Company appointed Dr Monil Shah as its new Chief Business Officer (CBO) and a member of its executive management team during the quarter.
Read More at Imugene appoints its new Chief Business Officer, shares tick up
Let us take a quick look at the key developments reported by Imugene relating to its products during the June quarter 2021:
Reached a new milestone in PD1-Vaxx Phase 1 clinical trial
Imugene reached the highest dose cohort in Phase 1 clinical trial of PD1-Vaxx in April 2021. The Company proceeded to the third-highest dose (100µg) cohort following the Cohort Review Committee's (CRC) approval.
Do Not Miss: Imugene Ticks Off a Key Milestone in PD1-Vaxx Phase 1 Trial, Shares Up
The committee reviewed all safety and tolerability data for mid-dose (50µg) patients administered with PD1-Vaxx as monotherapy. Following the evaluation, the CRC agreed PD1-Vaxx to be safe as it did not observe any serious adverse reactions or dose-limiting toxicities.
At present, all six sites - three each in Australia and the U.S.A, are open for recruitment of patients under Phase 1 clinical trial. The Company expects to see no safety, toxicity, or tolerability issues with PD1-Vaxx in the highest dose of PD1-Vaxx.
Expanded product portfolio with onCARlyticsTM
Imugene entered into a licensing agreement with the City of Hope® for the patents encompassing a novel combination immunotherapy, onCARlyticsTM, in May 2021. OnCARlytics is a novel CD19 expressing oncolytic virus (CD19-CF33), which puts together the Company's oncolytic virus CF33, with Chimeric Antigen Receptor (CAR) T cell therapy to treat solid tumours.
Good Read: Imugene Enters into Licensing Agreement with City of Hope for Patents Covering onCARlyticsTM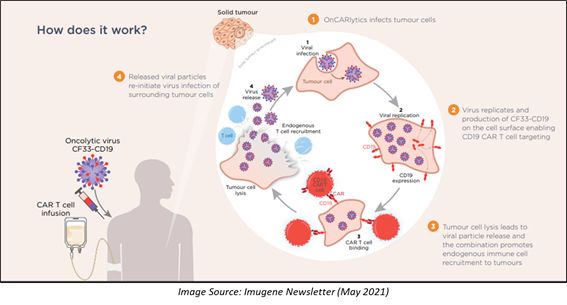 To date, CAR T cell therapy has been shown to be effective in blood cancers only, including B cell Acute Lymphoblastic Leukaemia (in children) and Diffuse Large B cell Lymphoma (in adults). The new research may improve the use of CD19 CAR T therapy with onCARlyticsTM for treating patients with potentially any type of solid tumour. Thus, the potential for CD19-CF33 is huge and only beginning to be untapped.
Progressed with HER-Vaxx clinical trial
During the quarter, Imugene announced that the second clinical endpoint - Progression Free Survival (PFS) - for Phase 2 HER-Vaxx study has been met. The Company achieved this crucial milestone following the completion of recruitment of patients under the Phase 2 trial in January 2021.
Related Read: Imugene Limited (ASX:IMU) Marks a Major Breakthrough in HER-Vaxx Phase 2 Trial
In April this year, Imugene's Chief Medical Officer, Dr Rita Laeufle, also presented interim analysis data on the HER-Vaxx at the 2021 Annual Meeting American Association for Cancer Research (AACR). Meanwhile, the Phase 1 clinical trial data for HER-Vaxx was published in the prestigious AACR journal, Clinical Cancer Research, during the quarter.
Must Read: Here is Imugene's latest update on anti-cancer therapies HER-Vaxx & CF33
In fact, Imugene recently presented encouraging data on the HER-Vaxx cancer immunotherapy program at the 2021 Annual Meeting of ESMO World Congress on Gastrointestinal Cancer. The latest data showed that HER-Vaxx may provide treatment benefits in line with traditional monoclonal antibodies with a corresponding adaptive immune response without added toxicity.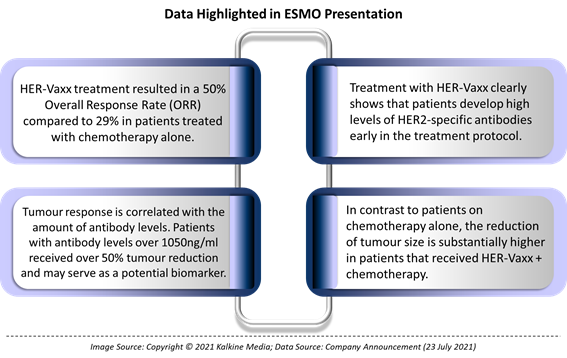 Received FDA nod for CHECKvacc's Phase 1 trial
Towards the end of the June quarter, Imugene ticked off a new milestone with regard to its oncolytic virotherapy candidate, CHECKvacc. The City of Hope® recently received the US Food and Drug Administration IND (Investigational New Drug) approval to initiate a Phase 1 clinical trial of CHECKvacc.
The FDA approval of the IND allows the City of Hope and Imugene to commence patient recruitment as well as dosing in Phase 1 clinical trial of CHECKvacc in TNBC (triple-negative breast cancer) patients. The trial will include a dose escalation, followed by an expansion to twelve patients at the final dose or the recommended phase 2 dose (RP2D).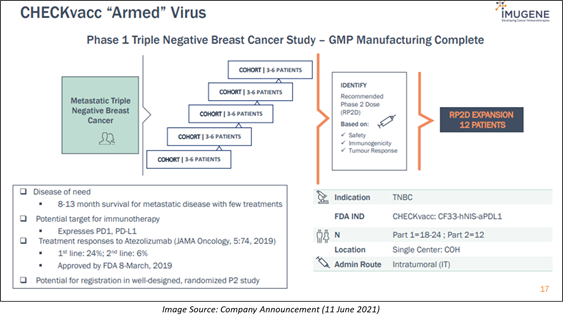 Interesting Read: Imugene shares soar as CHECKvacc's Phase 1 trial gets FDA nod
During the quarter, City of Hope's Dr Yanghee Woo also presented important pre-clinical data on CF33's CHECKvacc construct at the 2021 Annual Meeting of AACR.
Financial Footing
Imugene conducted a significant expenditure of AU$3.6 million on research and development activities during the quarter. Despite such expenditure, the Company closed the quarter with a substantial cash balance of AU$29.5 million as of 30 June 2021. The strong cash balance places the Company in a robust position to support its near-term clinical milestones.
Imugene shares last traded at AU$0.33 on 26 July 2021.