Image source: Company's annual report, April 2021
Summary

Greenland Minerals Limited (ASX:GGG) released its progressive annual report for 2020.
Notwithstanding the challenging COVID-19 environment, the Company continued to develop its flagship rare earth project at Kvanefjeld in South Greenland.
An action-packed 2021 has begun with the final stages of the permitting process in progress.
Greenland can become a key player in the supply of critical materials for green industries to reduce global carbon emissions.
On 1 April 2021, shares of Greenland Minerals Limited (ASX:GGG) marked an uptick of ~3% and traded at $0.18, with a trading volume of over 6.2 million shares. The positive sentiment built as soon as the Company released its annual report for 2020.
The challenging COVID 19-induced 2020 did not stop Greenland Minerals from fast-tracking developments of its flagship project- The Kvanefjeld Rare Earth Project in South Greenland.
MUST READ: Will Greenland Minerals' Kvanefjeld change the global rare earth supply landscape?
Major highlights of 2020
Substantial progress was achieved in advancing the Kvanefjeld project. Some key highlights are-
The much-awaited conclusion of the Project's EIA (environmental impact assessment).
The EIA acceptance by the Greenland government.
Approval from the Greenland government to begin the public consultation process as part of the permitting process.
Successful capital raising of $34 million (before costs) via a $30 million placement, with a further $4 million raised via a shareholder purchase plan.
Optimisation studies continued, supported by Shenghe Resources.
Engagement with European industry groups continued to cater to increasing demand from Europe's key markets.
GOOD READ: Greenland Minerals (ASX:GGG) finished 2020 in a strong position
What's propelling Kvanefjeld development?
First and foremost, recent global geopolitical shifts have the world re-focused on the significance of reductions in global carbon emissions. This will continue to drive strong increasing demand for rare earths and magnet metals.
Notably, Kvanefjeld offers a novel, easier path to rare earth manufacture compared to conventional refractory sources.
Secondly, the outlook for rare earth demand continues to strengthen. The primary magnet rare earths neodymium, praseodymium, terbium, and dysprosium continue to see upward movement in their prices. So much so, ADAMAS Intelligence forecasts global annual demand for magnet rare earth oxides (Nd, Pr, Dy, Tb) to increase by 150% through to 2030.
Notably, the four magnet rare earths in discussion are the key value drivers to Kvanefjeld.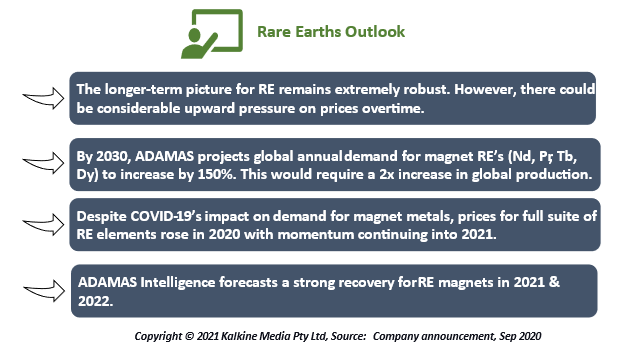 Thirdly, Europe is an important, growing demand centre for rare earths with increasing level of interest and awareness in the security of supply.
Notably, Kvanefjeld is well placed to offer stable, long-term supply of all critical rare earths to European industry along with end users globally.
ALSO READ: Greenland Minerals (ASX:GGG) Building An Integrated Global Rare Earth Supply Business
What's happening at Greenland Minerals currently?
The ongoing public consultation process will continue until 1 June 2021. In February, official public meetings were held in Qaqortoq, Narsarsuaq and Narsaq. These meetings represent an important part of the stakeholder engagement process and are a forum to discuss and explain the outcomes of the environmental and social impact assessments.
Further meetings are likely to be held in the coming weeks to continue the engagement process.
RELATED READ: How the public consultation process of Greenland Minerals' Kvanefjeld Project faring?
Bright outlook
Greenland Minerals has progressive plans for 2021. It aims to-
Accomplish the final stages of the Kvanefjeld Project permitting process.
Work with the Greenland government to ensure that Kvanefjeld meets the Greenland community's expectations.
Continue to work with European parties with a emphasis on commercial consequences.
Begin final engineering design and work programs.
Aim to bring Kvanefjeld into production expeditiously.
GOOD READ: Here's what may lead to Greenland Minerals' (ASX:GGG) progress in 2021
Kvanefjeld is one of the world's most significant emerging rare earth projects. It can transform Greenland Minerals into a globally significant supplier of materials that are key to an energy-efficient and environmentally sustainable future.