Highlights

Empire Resources has received highly encouraging RC drilling results from the Yuinmery project.
The strong results support ERL's hypothesis that mineralisation at Yuinmery shall continue at depth.
ERL remains suitably funded while continuing exploration across its entire portfolio of exploration projects.
Empire Resources Limited (ASX:ERL) has received yet another set of promising results from its Yuinmery base and precious metals project.
ERL had concluded 2,244m of reverse circulation (RC) drilling during June and July 2021 and was aimed at further delineating the lateral extent and build continuity of mineralisation at various prospects. These prospects include the YT01 Cu-Au-PGM prospect, A Zone Cu-Au prospect and the Smith's Well Cu-Ni-Co prospect.
Besides this, the drilling also aimed at testing the geochemical and geophysical targets at MRP and Constantine prospects. Some of the key results from the drilling include the following:
Data Source: ERL Announcement 22/09/21 Source: Copyright © 2021 Kalkine Media
Many high priority geochemical and geophysical targets prospective for Cu-Ni-PGM and VMS-type Cu-Au mineralisation was tested through the drilling at the above-mentioned prospects.
RELATED ARTICLE: Empire Resources (ASX:ERL) maintains strong financial stance after repaying loan facility
A Zone indicates high-grade copper opportunity
ERL drilled three holes for 408m at the A Zone prospect to test the potential for shallow high-grade copper mineralisation up-dip and on strike from that intersected in YRC18-01. The results indicate continuity of the Cu-Au mineralisation.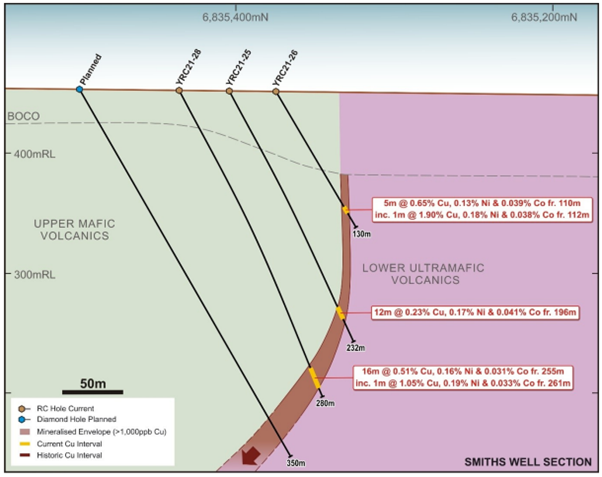 Source: ERL Announcement 22/09/21
The A Zone prospect has undergone limited exploration since 2011, and ERL has now proposed further drilling to test the up-dip projection of the mineralisation. Moreover, ERL believes that additional drilling provides an opportunity to extend the scale potential of the prospect as mineralisation remains open in all directions.
RELATED ARTICLE: Empire Resources (ASX:ERL) settles disputes with Eastern Goldfields Mining Services
Smith's Well – Copper-Nickel-Cobalt Potential
ERL drilled four RC holes for 746m at Smith's Well aimed at the northeast plunge and down-dip extensions of the structure.
Source: ERL Announcement 22/09/21
Out of these, three holes intersected a steeply dipping, wide zone of Cu-Ni-Co mineralisation.
RELATED ARTICLE: Back to Back exploration success for Empire Resources Limited (ASX:ERL) at Penny's Gold Project
Constantine Prospect – Ni-PGM Potential
At the Constantine Prospect, ERL drilled five RC holes for 692m, wherein YRC21-20 and YRC21-21 investigated anomalous Ni and PGM values that were achieved from shallow RAB drilling in 2010/2011.
Current analysis has indicated that the PGM values suggest mineralisation instead of normal mantle concentrations.
Source: ERL Announcement 22/09/21
At the current stage, ERL believes that the results are very encouraging and warrant additional work to build the potential of the prospect.
RELATED ARTICLE: Empire Resources (ASX:ERL) Reports Encouraging Gold Intercepts At Penny's Gold Project
YT01 Prospect – PGM Discovery
At YT01 Prospect, ERL drilled one 250m RC hole (YRC21-16) to test for continuity of mineralisation at depth. Notably, the hole intersected 36m of mineralisation, assaying 0.34% Cu, 0.07% Ni, 0.16% Pd, 0.03% Pt and 0.07g/t Au in the targeted downdip position.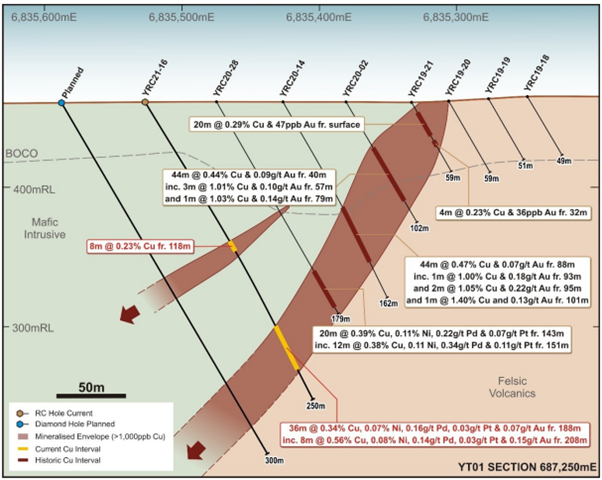 Source: ERL Announcement 22/09/21
ERL believes that the geology of the YT01 Prospect is poorly understood; however, the encouraging results warrant a follow-up, and the Company has planned a deep diamond core hole for the upcoming round of drilling.
RELATED ARTICLE: Empire Resources (ASX:ERL) looks to advance projects after June quarter drilling
"The RC drilling results from Yuinmery are extremely encouraging and reinforces our belief that the Yuinmery Project offers significant opportunities for further multi-element mineral discoveries.
The deep RC drilling has yielded strong copper, nickel, cobalt and palladium results supporting the hypothesis that mineralisation at Yuinmery will continue at depth. Diamond core drilling is planned to test the continuity of the mineralisation, which is currently open at depth and along strike.
Empire remains well funded with a significant investment portfolio and a strong cash position. Empire's shareholders can be assured of ongoing exploration across Empire's entire portfolio of exploration projects."
Sean Richardson, Empire's Managing Director
Bottom Line
Moving ahead, ERL has looks to undertake follow up diamond drilling for Smith's Well and YT01 prospects, while a further RC drilling is proposed at A Zone.
Moreover, ERL looks to test the drill-ready targets from greenfield-style conceptual anomalies and more advanced prospects via upcoming field programs.
RELATED ARTICLE: Empire Resources Limited Calls the Tune in Its Significant Landholdings, A Walk Through Its Project Portfolio
Subsequent to the upbeat update, ERL stock was noted at AU$0.013, up by 8.333% on 22 September 2021.