Highlights

MRG Metals is developing its Heavy Mineral Sands (HMS) projects in southern Mozambique.
The Company is on track to succeed in its Exploration Strategy of discovering potential mine startup HMS deposits, evident from several successful aircore programs across its projects.
It is rapidly advancing to deliver three Mineral Resource Estimates across the very high-grade Koko Massava, Nhacutse and Poiombo targets.
MRG Metals Limited (ASX:MRQ) is a junior ASX explorer with four high calibre 100% owned projects (746km2) in the world prolific HMS province of Mozambique. Corridor Central and South Portfolio are MRG's contiguous tenements containing 13 high priority targets. Another project, Linhuane, is under an application.

Copyright © 2021 Kalkine Media, Company tenements (Source: Annual report, October 2021)
Besides, MRG recently applied for an additional HMS exploration license in Mozambique- the new Corridor North (10779L) Exploration Licence Application (ELA) that covers 8,037.49 Ha.
Last year, MRG delivered 1.4 Bt @ 5.2% Total Heavy Mineral (THM) JORC Resource (4% cut-off grade) at its first target, Koko Massava, located in the Corridor Central (6620L) licence. Blessed with a world-class JORC classified discovery, the Company is currently working on a 100-year mine development.
Besides, its exploration discovery costs (to Inferred Resource) are significantly low (one of the best in the industry). So much so, discovery/tonne runs at below AUD 2 cents/tonne.
Recent developments at MRG Metals
During the year ended 30 June 2021, MRG was involved in the exploration and development of heavy mineral sands within Mozambique-
MUST-READ: MRG Metals displays flurry of developments in June 2021 quarter
What's next?
Despite the outbreak of the coronavirus disease (COVID-19), MRG Metals efficiently and successfully conducted a safe full exploration program during the last few months. In the days to come, MRG is likely to progress the Corridor Sands Project from the exploration phase to development phase.
The below representation depicts the pipeline of the Company as it continues to transition from the discovery to development phase in its HMS province.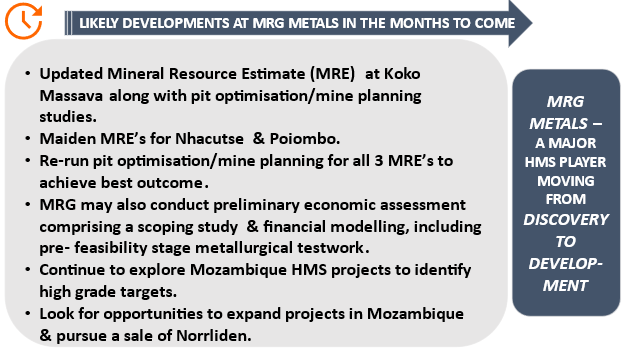 MRG's pipeline (Image source: Annual report, October 2021)
The HMS market cycle appears to be on the uptick, and MRG has promising opportunities ahead. The Company continues to identify multiple very high-grade resources to turbocharge economics into the feasibility phase.
RELATED READ: MRG Metals' (ASX:MRQ) HMS Potential highlighted at Mines and Money Connect Conference
MRQ was trading at AUD 0.010 early morning on 11 October 2021.