Summary

The global focus to reduce pollution, underpinned by mounting ecological woes, is expected to keep the clean energy sector momentum intact.
Copper is utilised in Electric Vehicles and renewable energy sources, making it a significant metal required to achieve the green transition.
Cyprium Metals has aligned its initiatives, including the recent acquisition, to take advantage of growth prospects.
The international community has swung into action to ensure a green recovery from the coronavirus pandemic, as many nations pledge to cut down their emissions. Meanwhile, in its monthly oil market report, the International Energy Agency (EIA) anticipated a 3.1 million b/d rise in the global oil demand in 2022, warning of a supply and demand gap in the second half of the year if oil-producing (OPEC+) nations do not respond.
With the ecological clock ticking, there is a pressing need to reduce pollution and conserve energy resources, powering sustainable global economic prosperity for decades. However, it would not be possible without the shift to renewable power solution, which has become more imperative than ever.
ALSO READ: How Cyprium Metals is planning to make the most of copper boom?
Many are projecting the demand for renewable energy and associated commodities like copper to skyrocket in the coming years. Sure enough, the current trends in the green energy sector are pointing at the upbeat prospect for the renewable energy market. Moreover, it is expected to propel the demand for copper, which is used in all electricity-based technologies, due to its high conductivity.
ALSO READ: Strong market response to Cyprium Metals' promising assay results at Nanadie Well
Such developments have put Australian copper-focussed explorer Cyprium Metals Limited (ASX: CYM) in a sweet spot, especially when the Company is unwrapping the robust potential of its recently acquired assets.
Electric Vehicles boom to support energy demand
Electric Vehicle markets are no more circumscribed by Tesla's innovation alone as a range of global carmakers from General Motors to Ford and Volkswagen jump on the EV bandwagon. Almost all major players from the automotive industry are planning to shift their entire fleet to EVs in the next few decades, signalling significant demand for copper.
Notably, copper is used in charging station, supporting infrastructure, batteries, windings and rotors, highlighting the strong dependence of the EV industry on copper.
Source: Copyright © 2021 Kalkine Media
Bitcoin Mining adds pressure to power demand
Cryptocurrency (such as Bitcoin) mining has come on the radar, owing to the high energy consumed by specialised computers designed for mining purpose. Meanwhile, advocates of cryptocurrency assert that such energy is utilised through renewable electric sources.
Lately, flared by the intense competition, the electricity consumption has ballooned substantially, indicating significant potential for the renewable sector and copper demand used in powering batteries.
Cyprium Metals Gearing Up to Leverage the exciting potential
Cyprium Metals Limited's (ASX: CYM) strong exploration foothold, supported by its extensive holdings at Cue Copper-Gold Project and Nanadie Well Copper-Gold project, is further shining, thanks to the recent acquisition of the Paterson copper project portfolio.
READ MORE: Cyprium Metals (ASX:CYM) Delivers Stellar Results in March Quarter, Acquires Paterson Project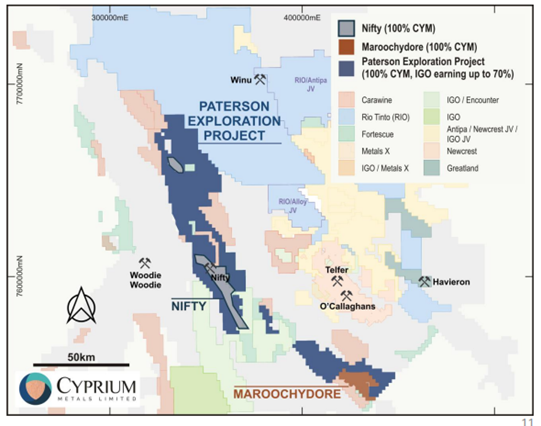 Source: CYM ASX Presentation, dated 11 May 2021
Cyprium, on track to build an Australian copper mining company, kicked off the execution of an open-pit mining operation at Nifty, a priority operational project. Meanwhile, the Company intends to progress other projects that are part of the Paterson project portfolio as it steadily climbs on the exploration ladder.
ALSO READ: Cyprium Metals on track to beef up its copper portfolio at Paterson & Nifty projects
ALSO READ: Cyprium Metals (ASX: CYM) Turbocharges Activities at Nifty Mine
It is a zero hour for most the economies struggling to end the over-a-year-long dry spell after the COVID-19 blip. It implies that the world cannot suddenly shut the energy usage, especially when it is needed strongly to lift business scenario. Meanwhile, the pressing need to save the environment spurs the transition to alternative clean energy sources, fuelling the demand for copper resources. Cyprium is well positioned, thanks to its latest acquisition and sustained growth plans, to make the best out of the strong tailwinds supporting the copper prices.