Highlights

Cynata Therapeutics is currently recruiting patients for its clinical trial in diabetic foot ulcers (DFU)
The ongoing Phase I DFU trial aims to recruit 30 adult patients with DFUs
The Company expects to complete the Phase I DFU trial by the end of 2022
Also referred to as diabetic wounds, DFUs are sores that erupt on the feet of patients suffering from diabetes. DFUs are one of the most severe consequences of diabetes and are mostly seen in older patients.
Globally, DFUs are found to be prevalent in about 6.4% of diabetic patients, varying from 3% in Oceania to 13% in North America. Moreover, the annual incidence of DFUs and necrosis in diabetic patients is around 2-5%, while the lifetime risk ranges from 15% to 20%.
The treatment of DFU is quite expensive and costs the US healthcare system an average of US$8,659 per patient each year in diabetic foot care. This is a huge unmet medical need for DFUs treatment.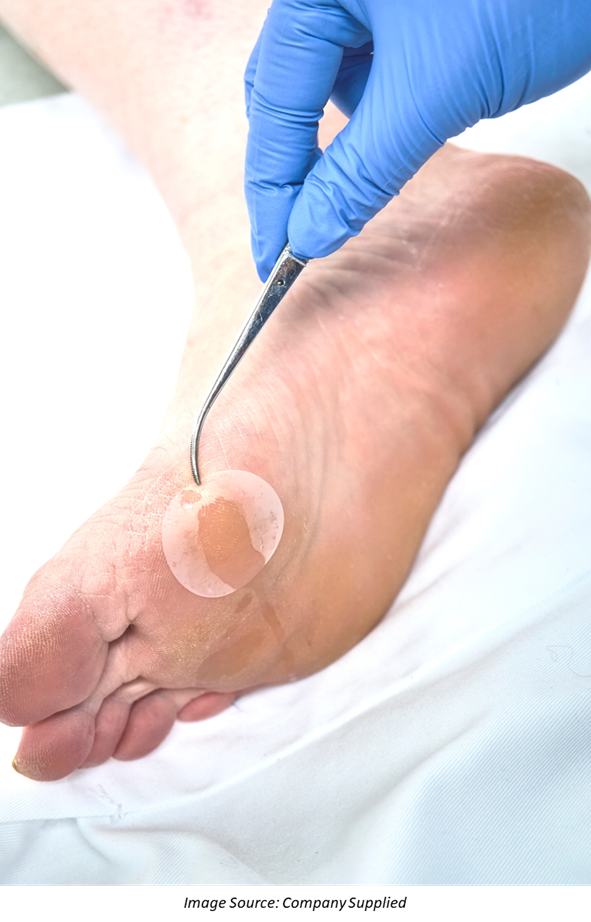 In order to tap this vast market opportunity, Australia-based Cynata Therapeutics Limited (ASX:CYP) is progressing with the clinical trial of CYP-006TK in patients with DFUs. Cynata is a clinical-stage stem cell and regenerative medicine company, which focuses on the development of therapies based on its proprietary stem cell platform technology, Cymerus™.
Must Read: Cynata hits a major milestone, initiates first human trial for DFU program
CYP-006TK is a polymer-coated silicon dressing seeded with Cymerus MSCs to facilitate topical application to the wound. The Company has exclusively licensed the dressing technology - CYP-006TK – from TekCyte Limited. TekCyte is a leading manufacturer of innovative biomedical coatings.
DFU clinical trial well underway
In December 2021, Cynata commenced the clinical trial of CYP-006TK in patients with DFUs, with patient enrolment now underway. The clinical trial was initiated following the receipt of ethics approval from the Central Adelaide Local Health Network Human Research Ethics Committee, clearance from the TGA (Therapeutic Goods Administration), and successful completion of the Site Initiation Visit.
Related article: Cynata completes Site Initiation Visit for DFU clinical trial
The ongoing Phase I DFU trial aims to recruit 30 adult patients with DFUs who will be randomly assigned to receive standard of care (SOC) treatment or CYP-006TK over four weeks.
Each patient will be evaluated for about 24 weeks. The trial will take place under the leadership of Professor Robert Fitridge, at Royal Adelaide Hospital and The Queen Elizabeth Hospital, Adelaide. Dr Fitridge is the Consultant Vascular Surgeon with the Central Adelaide Local Health Network and Professor of Vascular Surgery at the University of Adelaide.
The trial intends to primarily evaluate the safety of CYP-006TK, while secondary outcome measures include wound healing, pain, and quality of life at 12 and 24 weeks post the initiation of treatment. The Company expects to complete the trial in this calendar year.
Good Read: Cynata signs a landmark new strategic partnership agreement with Fujifilm
Huge market opportunity
Globally, diabetes is one of the fastest-growing chronic diseases1. In the year 2017, it affected around 425 million, or 1 in 11 adults, worldwide. The disease is expected to affect an estimated 629 million adults by 20452. Nearly 34 per cent of adults with diabetes are likely to develop a foot ulcer3, providing a portal for infection that can result in life-threatening sepsis and/or amputation4.
Notably, one diabetes-related extremity amputation is performed every 20 seconds5. Thus, the burden associated with this condition is extremely high for both the people affected and for society as a whole. On a global level, the DFU treatment market is estimated to be approximately US$10 billion6.
In a nutshell, DFUs can lead to amputations, hospitalisations and fatalities, and current treatment options are limited for the disease. Cynata believes its product holds the potential to create a difference in the lives of patients.
Cynata shares closed the trading session at AU$0.49 on 21 January 2022.
Must Read: A glance at Cynata's near-term catalysts for growth