Source:Jacob, Shutterstock
Summary

Creso Pharma's acquisition target Halucenex has entered into an agreement with AESI to design and fabricate an extraction system to produce high-quality psychedelic extracts.
The Canadian psychedelics company will use the Supercritical Extraction System to breakdown psychedelic compounds in botanical psilocybin.
The agreement provides a significant first-mover advantage for Creso and Halucenex to extract Psychedelic compounds to develop IP.
Creso Pharma Limited (ASX:CPH, FRA:1X8) announced that its target acquisition company Halucenex Life Sciences has entered into an agreement with prominent medical and recreational extraction specialists Advanced Extraction Systems Inc (AESI).
The deal encompasses the design and fabrication of a Supercritical Extraction System to develop superior-quality psychedelic extracts after receiving a Dealers License and License Amendment from the Canadian health authority, Health Canada.
AESI agreement to provide a robust competitive advantage to Halucenex
Halucenex has signed a contract to purchase a customised CO2 Supercritical Extraction System for producing high-quality psychedelic extracts from psilocybin mushrooms. The design and installation of the system at Halucenex's onsite lab would take almost 6-8 weeks. The build cost stands at ~A$70,000.
Halucenex will apply for a License Amendment to produce botanical psychedelic extracts from psilocybin mushrooms after getting the Dealer's License. The extracts would be used for future R&D of various delivery methods such as capsules, lozenges, nasal sprays, and tinctures.
Halucenex expects the receipt of Dealers License soon, with the License Amendment expected within 45 days of the grant of Dealers License.
The design and fabrication of the extraction system is a significant development for Halucenex. The concentrated psychedelic extracts will provide the psychedelics company with a substantial competitive advantage by unlocking several new opportunities and treatment pathways.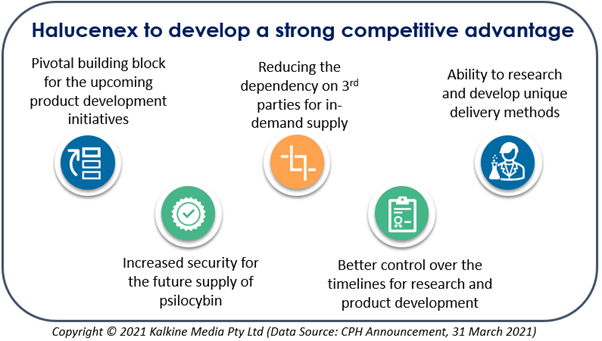 Advanced Extraction Systems Inc in a nutshell
Based in Canada's Charlottetown, AESI specialises in the designing, engineering, and fabrication of supercritical fluid CO2 extraction systems. The Company primarily focuses on the medical and recreational cannabis and hemp industries.
AESI comprises a highly skilled management team and top-notch scientific advisory body with more than 75 years of experience in design and process. Besides, all of AESI's systems are unique in design, efficiency, and ease of operation. The systems outstrip all the safety and design standards for pressure and electrical codes in Canada, Europe, and the US.
Halucenex to use customised extraction system for psychedelics' breakdown
With the new agreement, Halucenex will utilise the Supercritical Extraction System to produce different psychedelic compounds of botanical psilocybin for product development in the future.
The Company would also investigate the efficacy of extracted distillates or concentrates in multiple delivery mechanisms to explore quicker compound onset and more effective dosing. This will lead to an improved patient experience and better treatment outcomes.
DO READ: Creso Pharma's acquisition target Halucenex readies for PTSD trial
First mover advantage for Creso and Halucenex to develop IP
The AESI agreement will provide a first-mover advantage to Creso and Halucenex regarding psychedelics and delivery methods. The deal could generate a new revenue stream for the two companies and create new treatment outcome prospects.
In order to de-risk the commercialisation pathway, it is essential to have a thorough understanding of psychedelic compounds and intellectual property (IP) accumulation in the under-researched, albeit developing space. Additionally, a comprehensive knowledge of various psychedelic compounds that can be extracted from psychedelic psilocybin mushrooms also makes it easier to get both the compound and delivery method patented.
Halucenex to create a GMP certified extract
As natural psilocybin is not fully certified in a Good Manufacturing Practices (GMP) environment yet, Halucenex does not aim to utilise the new extraction machine to create its own naturally derived psilocybin.
However, the extraction system will be used to create a GMP certified extract, which Halucenex plans to utilise in its upcoming clinical trials to offer a naturally extracted product for safe, evidence-based psilocybin-assisted psychotherapies (PAP). The Company also intends to optimise psilocybe mushrooms to standardise extracts, thus enhancing efficacy.
Creso and Halucenex will continue working on due diligence and remain on track to complete the acquisition in the decided timeframe. Both the companies are proceeding well on synergistic value add opportunities that the duo anticipate announcing in time.
Management Commentary
Bill Fleming, Founder & CEO of Halucenex, commented: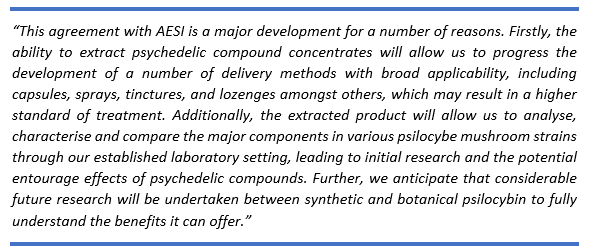 Mr Fleming further added that having the extraction system in place and the ability to manufacture solvent-free distillate in-house will be necessary for upcoming comparative bioactivity studies.
Adding to this, Adam Blumenthal said-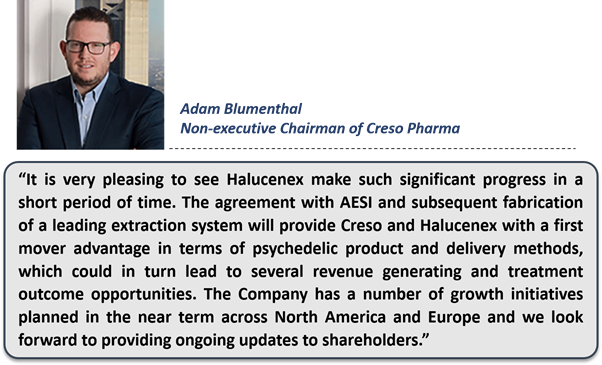 On 01 April 2021, CPH shares were trading at A$0.202 (at AEDT 11:22 AM).
DID YOU KNOW: Creso Pharma (ASX:CPH) seals a transformative deal to foray into psychedelics space