Summary

Creso Pharma announced that the Company had finalised the development of anibidiol® swine, a hemp flour-based feedstock for swine.
The Company will market anibidiol® swine through its established animal health partners and distributors.
CPH anticipates the first sales of its new product during H2 CY2021 in Europe and Latin America.
anibidiol® swine represents Creso Pharma's strategic product portfolio expansion and will provide entry into another lucrative market.
Creso Pharma Limited (ASX:CPH, FRA:1X8) has taken another step forward in its product expansion strategy by finalising the development of its new product, anibidiol® swine.
anibidiol® swine is Creso's innovative complementary feed product based on hemp flour and oat bran. The new product supports stress reduction and wellbeing in pigs nurtured indoors and outdoors. Interestingly, anibidiol® swine provides Creso Pharma with a significant opportunity to enter the livestock market.
MUST READ: Creso Pharma (ASX:CPH) bolsters its presence in Africa with Cannabis Queen agreement
Source: CPH Update, 18 May 2021
anibidiol® swine to address stress reduction, tail biting
The Company revealed that it had developed anibidiol® swine to address tail biting in pig herds. Tail biting is a common challenge that can cause lesions and impact an animal's value at slaughter.
Tail biting ranges in severity from light manipulation to physically harming the tail, amputation, causing infection, or even harming the surrounding areas of the tail.
Boredom, frustration, and stressful situations can also augment tail biting.
Previous reports have demonstrated a positive impact of hemp plants for reducing pig stress as well as pig tail biting.
DO READ: Creso Pharma delighted as Halucenex nearly doubles its synthetic psilocybin inventory
Development and marketing of anibidiol® swine
Creso Pharma commenced the development of anibidiol® swine in March 2020, following concerns expressed by farmers. anibidiol® swine is a Swiss-made product and in line with the European Feed Catalogue.
The Company believes that this new product will bring considerable benefits to pig herds and support stress reduction and lowering of tail biting incidences. anibidiol® swine provides appealing hemp-based animal health-focused complementary feedstock to farmers and may help address some of the concerns of pig farmers.
Creso Pharma will start marketing the new product to farmers and breeders via its already established partners and distributors in the animal health space.
ALSO READ: Another milestone: Creso Pharma's Canadian subsidiary Mernova bags OCS Craft Designation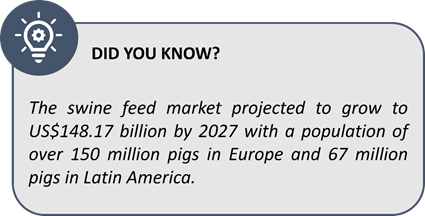 Furthermore, the Company disclosed that initially, it would focus on the European and Latin American markets. The first sales of the new product are anticipated with livestock feed shops, vets, and online mode during the second half of CY2021.
Dr Gian Trepp, Commercial and Development Director of Creso Pharma, commented-

The new product represents a significant strategic portfolio expansion for Creso Pharma. anibidiol® swine opens the gates for the Company to enter into another lucrative area, strengthening its current footprint in the household pet market.
CPH shares were trading at AU$0.160 on 20 May 2021 (at AEST 1:43 PM).
ALSO READ: Creso Pharma rolls out new hemp tea products using revolutionary technology