Highlights

Creso Pharma is set to pursue NASDAQ listing after the termination of its proposed merger with Red Light Holland.
The Company has appointed EAS Advisors to expedite its NASDAQ listing.
With its NASDAQ listing and favourable US regulatory changes on the cards, Creso expects to pursue strategic growth opportunities in the North American market.
The dual listing is expected to expedite growth and unlock value for the Company's existing Australian and new US shareholders.
In a significant development, Creso Pharma Limited (ASX:CPH, OTCQB:COPHF) has decided to retain its listing on the ASX and pursue a dual NASDAQ listing. The development follows a mutual decision by the Company and Red Light Holland Corp. to terminate their proposed merger.
Triggered by the update, CPH shares jumped 12.5% to AU$0.135 on the ASX on 31 August 2021.
The mutual decision follows ongoing discussions between the two parties, Creso Pharma's review of market conditions and consultations as well as COVID-19 limitations, indicating that the merger would no longer be in the best interests of their shareholders. The merger was aimed at creating a mega psychedelics and cannabinoid firm, The HighBrid Lab.
Furthermore, Creso is confident that the awaited regulatory changes in the North American psychedelic and recreational cannabis markets would provide abundant growth opportunities for the Company.
Creso and Red Light Holland continue to work closely
Though the merger will not materialise, Creso and Red Light Holland remain committed to a strong working relationship.
Demonstrating commitment to their ongoing relationship, Red Light Holland has placed an order valued at AU$170,000 for the hemp-based CBD products of Creso Pharma, which will be white-labelled through its brands. The products will be distributed across sales channels of SR-Wholesale, a wholly owned distribution firm of Red Light Holland.
Moreover, leading cannabis entrepreneur Bruce Linton will remain a strategic advisor and major stakeholder in Creso Pharma, guiding it to pursue US-focused development initiatives and engage with large North American institutional investors.
RELATED ARTICLE: Creso Pharma widens its global presence by securing the first PO from Red Light Holland
NASDAQ listing to offer growth opportunities
Creso Pharma has engaged New York-based corporate advisory firm EAS Advisors LLC to expedite its NASDAQ listing. With established networks in the US, EAS Advisors has a profound level of understanding of capital markets.
Furthermore, Creso Pharma has garnered significant attention from US investment groups and plans to make an additional appointment in the coming months.
The Company is actively engaged in recruiting key global officials to assist with its US listing and global expansion. It is also exploring several opportunities to uplift from the OTCQB market to the NASDAQ.
Creso Pharma, which remains very well-funded to progress these initiatives, is targeting the NASDAQ listing in H1 CY2022.
Impending US legislative shifts to act as tailwinds
Aimed at legalising, taxing and regulating recreational cannabis, the Marijuana Opportunity Reinvestment and Expungement Act, the Marijuana Regulation and Taxation Act, and the Cannabis Administration and Opportunity Act, have been introduced in the US Senate.
Creso Pharma anticipates some favourable US regulatory changes soon, resulting in several growth opportunities for its business. Through its US dual listing, the Company expects to capitalise on these opportunities.
Meanwhile, the Company has highlighted that it is evaluating prospects in 36 US states where cannabis has been legalised for medicinal and recreational use, before potential federal legalisation.
RELATED READ: Legislative tailwinds to bolster Creso and Halucenex's entry into US psychedelics market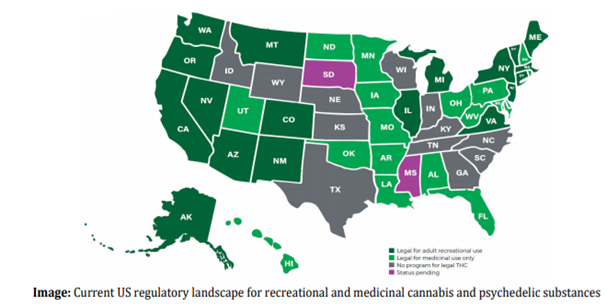 Source: CPH Update (31 August 2021)
Notably, Creso has a significant strategic advantage via its wholly owned cannabis subsidiary, Mernova Medicinal Inc, which is a licensed cannabis producer, and operates a facility to provide its services in the US recreational cannabis market.
RELATED READ: Double Bonanza for Mernova: Creso's subsidiary secures medicinal cannabis sales licence, wins new POs
The initiatives of Creso in the psychedelic industry will also be lifted by Senate Bill 519 (SB519). This bill seeks to legalise the use and possession of psilocybin and other psychedelic compounds in California.
SB519 was announced to encourage a more health-focused approach to psychedelic compounds and address the current mental health crisis in the US. Once SB519 is passed into law, Creso Pharma is well positioned to capitalise on the opportunity through its Canadian psychedelic wholly owned subsidiary – Halucenex Life Sciences Inc.
Creso's significant progress in recent months
In the second quarter of CY21, Creso witnessed record revenue growth of 451% across all subsidiaries as compared to Q2 CY20.
Halucenex secured its Controlled Drugs and Substances Dealer's Licence from Health Canada that will allow the Company to fast-track Phase 2 trials.
Mernova received award of Craft Designation by the OCS (Ontario Cannabis Store) for its Ritual Green Products.
ALSO READ: Creso Pharma (ASX:CPH) unveils action-packed June 2021 quarter
Moreover, Creso Pharma is confident that many other milestones will materialise in the upcoming period, which will bolster the Company's trajectory as it eyes a secondary listing on the NASDAQ.
Mr Adam Blumenthal, Non-executive Chairman of Creso, said-
Mr Blumenthal also highlighted that the achievement of several key milestones in recent months set a strong foundation for the Company's growth.
Bottom Line
All in all, Creso Pharma remains fully funded to pursue the NASDAQ listing, which will unlock additional value for its existing Australian shareholders while retaining its ASX listing. Furthermore, the North American regulatory tailwinds also provide ample growth opportunity for Creso to make deeper inroads into the US market.
ALSO READ: Creso Pharma's Halucenex makes significant strides in safety testing of GMP grade psilocybin