Source: Roman Bodnarchuk, Shutterstock
Summary

Citigold has successfully concluded a Placement of shares to a sophisticated investor to raise capital of $756,417. The fund will support exploration and development activities on Charters Towers Gold Project.
Citigold aims to produce +300,000 ounces of gold annually at an ultra-low production cost.
Charters Towers holds high-grade gold mineralisation and is moving swiftly towards commercial production.
ASX-listed gold explorer Citigold Corporation Limited (ASX:CTO) recently concluded a capital raising through a share placement to advance its Charters Towers Gold Project.
Source: Citigold Corporation Limited
Citigold had secured a firm commitment from a sophisticated investor for the capital raising proposal of $756,417. To cover the capital raising, CTO has issued 59,326,791 ordinary shares at an issue price of $0.01275 per share. The issued capital of Citigold has now increased to 2.78 billion shares after the issuance of the new shares.
Recently, Citigold had shared its corporate presentation with the market. The presentation was suggesting that the Project is at the commercial production stage and the capital works could start after the next major funding is in place. Citigold has already produced 100,000 ounces of gold as part of its production trial mining. Citigold's Charters Towers Gold Project remains production ready.
Citigold is aiming to produce +300,000 ounces of gold annually at an ultra-low production cost. With key infrastructures in place and all the permits and licences secured for the production and mining activities, Citigold's Charters Towers Gold Project is in its advanced stage of commercializing gold production.
Charters Towers Gold Project
The Charters Towers Gold Project lies in the proven gold jurisdiction of Queensland and boasts 14 million ounces of gold resources. Citigold has already completed the first stage construction of the 1,400 metres main access tunnel for underground mining. The main access tunnel is planned to be extended by a further circa 1,000 metres roadway length down to a vertical depth of 360 metres. Initial mining is expected to be at a relatively shallow circa 300 metres depth.
Production ready Central Mine site (Image source: Company update, 14 April 2021)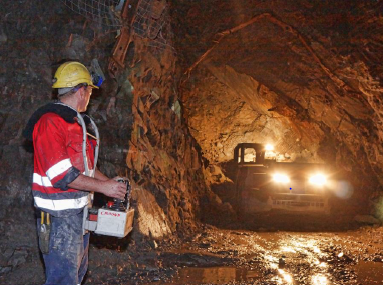 Underground mining operation (Image source: Company update, 14 April 2021)
The project has already demonstrated strong production potential under the trial production stage. The geology team had analysed drill data from 3,200 holes along with the analysis of the production data of over 30 years. The 3D structural model has further boosted the understanding of the structure and geology of the project. The fund raised will help the Company inch towards the production of the precious yellow metal.
Must Watch: Expert Talks with Mr Mark Lynch, Chairman of Citigold Corporation Limited
Share Price Movement:
The shares of CTO were trading at A$0.013 at 10:03 AM AEST on 20 April 2021. In the last one year, the shares of the Company have yielded an excellent return of ~250% to its shareholders. The Company has a market cap of A$36.14 million as of 20 April 2021.
All financial information pertains to Australian Dollars unless stated otherwise.