Highlights

Chimeric Therapeutics has received the first IND clearance from the US FDA for CHM 1101 (CLTX CAR T) for glioblastoma (GBM).
The FDA clearance is a significant milestone as it will enable the Company to advance the CHM 1101 development program.
Chimeric can now expand the Phase 1 clinical trial for CHM 1101 to additional sites.
Chimeric Therapeutics Limited (ASX:CHM) has hit a major milestone as the Company received its first Investigational New Drug (IND) clearance for CHM 1101 (CLTX CAR T) for patients suffering from recurrent and progressive glioblastoma (GBM).
Glioblastoma is the most common and aggressive form of brain cancer, with overall survival after the first recurrence expected at only 5-8 months.
RELATED READ: Can Chimeric Therapeutics' CLTX CAR T therapy blaze a trail in GBM treatment?
The IND clearance provides Chimeric Therapeutics with the foundation to advance the CHM 1101 development. CHM 1101 is currently being studied in a single site phase 1 clinical trial. The clearance from the FDA will enable Chimeric to expand it to additional sites, allowing the Company to speed up the clinical study.
The foundational IND will help Chimeric further progress its plans for a basket trial (Phase 1) in solid tumours as well as a Phase 2 registration trial in GBM.
Earlier in May, the Company had initiated a second dose cohort in Phase 1 study assessing the safety and tolerability of CLTX CAR T cell therapy at California's City of Hope Medical Center.
RELATED ARTICLE: Another milestone as Chimeric Therapeutics' (ASX:CHM) Phase 1 CLTX CAR T trial moves ahead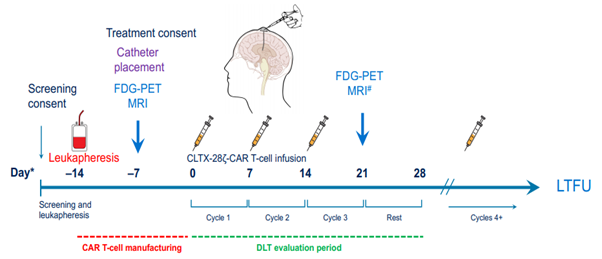 CLTX CAR T Phase 1 Study Design (Source: CHM Website)
Commenting on the FDA clearance, Jennifer Chow, COO of Chimeric Therapeutics, said-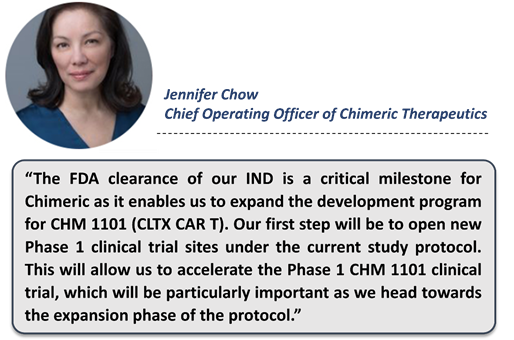 CHM 1101 (CLTX CAR T) in a nutshell
A novel CAR T cell therapy, CHM 1101 (CLTX CAR T) uniquely uses Chlorotoxin (CLTX) as its tumour targeting domain.
CLTX CAR T therapy has the potential to extend the range of solid tumours targetable by CAR T cells and deliver a comprehensive immuno-oncology platform.
CHM 1101 is a promising CAR T therapy for the treatment of glioblastoma patients and has demonstrated promising preclinical safety and efficacy.
At present, CHM 1101 is being studied in a single Phase 1 clinical trial site.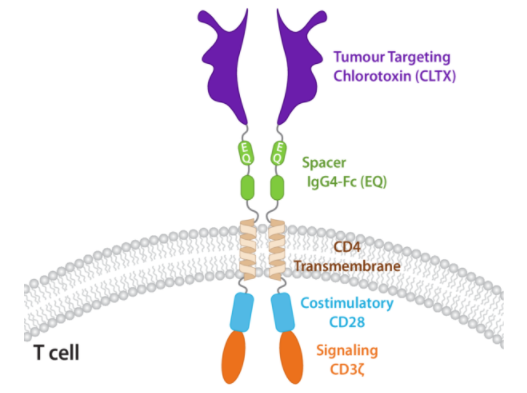 Source: CHM Website
Chlorotoxin, or CLTX, is derived from the venom of a scorpion and binds preferentially to unique targets on brain tumour cells. Notably, the CLTX CAR T cells do not aim for healthy cells and have not caused adverse effects when administered via intracranial and IV routes in the mouse models of brain cancer. Simultaneously, CLTX CAR T cells have been demonstrated to bind to a greater percentage of GBM tumours than immunotherapies versus other targets.
RELATED READ: Using scorpion venom to treat tumours: A look at Chimeric Therapeutics' CLTX technology
On 24 August, CHM shares were trading at AU$0.310, at 1:59 PM AEST.