Summary

Chimeric Therapeutics released its activities report for the March 2021 quarter, highlighting significant appointments and a healthy financial position.
The Company completed the first patient cohort in Phase 1 CLTX CAR T clinical study during the period.
Chimeric roped in three key officials to support its cell therapy development.
ASX-listed cell therapy company Chimeric Therapeutics Limited (ASX:CHM) has updated the market with its quarter activities for the period ended 31 March 2021. The biotech firm is engaged in developing innovative CAR T cell therapies for solid tumours.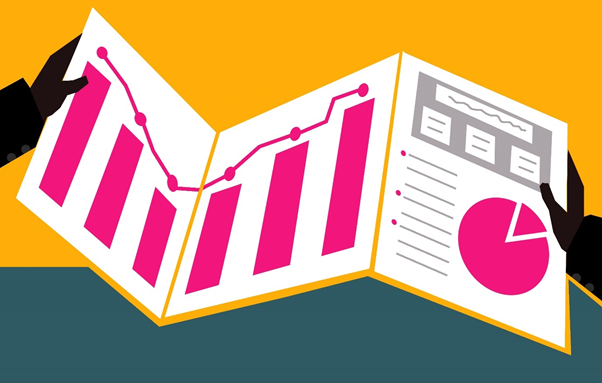 Source: Copyright © 2020 Kalkine Media Pty Ltd
During the quarter, the Company made three significant appointments to accelerate its cell therapy development. Besides, Chimeric Therapeutics ended the quarter in a healthy financial position to progress CLTX CAR T development.
Let us glance through CHM's significant achievements during March 2021 quarter-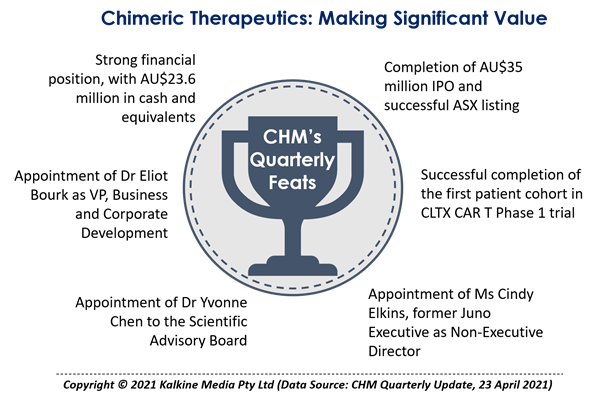 Successful listing on the ASX
Chimeric Therapeutics' shares started trading on the Australian Securities Exchange (ASX) on 18 January 2021. The initial public offer (IPO) was heavily oversubscribed with impressive support from investors to raise approximately AU$35 million in equity funding.
Chimeric revealed that the Company is using the proceeds from the IPO to fund Phase 1 clinical trial of CLTX CAR T. CHM's ground-breaking CLTX CAR T therapy uses chlorotoxin (CLTX) - a peptide derived from scorpion toxin. The therapy is under a clinical study for the treatment of patients with progressive or recurrent glioblastoma (GBM).
The Company highlighted that funding raised through IPO would also be used for-
The development of an oncology-focused drug pipeline of novel cell therapies.
Enabling high-value recruitment investments.
Other corporate activities, including the payment of licence fees.
ALSO READ: Chimeric Therapeutics (ASX:CHM) shares surge ~48% on Day 1 on the ASX
Completion of Phase 1 trial patient cohort dosing
The CLTX CAR T therapy recently hit a significant safety milestone, with all patients dosed in the first cohort in Phase 1 trial advancing beyond the 4-week follow-up period with no dose-limiting toxicities.
The trial will now progress to the second dose level - ICT (intratumoral) and ICV (intracranial intraventricular) administration at a dose of 88 X 106 CAR T cells.
The Phase 1 study intends to enrol 18-36 patients with MMP2+ recurrent or progressive GBM across four dose levels. The study aims to evaluate the safety and efficacy of CLTX CAR T in patients with recurrent or progressive GBM and to determine the recommended dose for a Phase 2 clinical trial.
READ MORE: Chimeric Therapeutics' (ASX:CHM) clinical trial hits a key milestone, progresses to next level
Three key officials roped in
During the March Quarter, Chimeric Therapeutics onboarded three new officials to boost its cell therapy development-
Renowned biopharmaceuticals executive Cindy Elkins joined Chimeric's board as a Non-Executive Director.
Ms Elkins' recent roles include Chief Information Officer and Head of Global CAR T Patient Experience at Juno Therapeutics, one of the forerunners of CAR T technology.
In 2018, Juno was acquired for US$11 billion by Celgene Corporation, which in turn, was acquired by Bristol-Myers Squibb the following year for US$74 billion.

Another crucial addition to Chimeric Therapeutics was Dr Eliot Bourk, who joined as Vice President, Business and Corporate Development. Dr Bourk brings extensive technical as well as commercial experience to the table.
Before joining Chimeric, he was associated with Kite Pharma, a Company focused on CAR T cell therapies. Kite was acquired by Gilead Sciences in 2017 for ~US$11.9 billion. At Chimeric Therapeutics, Dr Bourk will spearhead business and corporate development with focus on augmenting the Company's novel cell therapies pipeline.
MUST READ: Chimeric Therapeutics (ASX:CHM) onboards new VP to boost oncology pipeline

Chimeric Therapeutics also strengthened its Scientific Advisory Board (SAB) with the appointment of Associate Professor Yvonne Chen. Dr Chen is a highly-credentialled researcher with a specific interest in engineering multi-functional T cells that can accurately identify and effectively target tumour cells.
Currently, Dr Chen is also working as an Associate Professor of Microbiology, Immunology, and Molecular Genetics at UCLA (University of California, Los Angeles). Before joining UCLA, she was a Junior Fellow at Harvard Society of Fellows. Dr Chen has completed her postdoctoral research at the Seattle Children's Research Institute and the Department of Systems Biology at Harvard Medical School.
Strong financial position
As of 31 March 2021, CHM had ~AU$23.6 million in cash and equivalents, an impressive upturn from AU$65K at the beginning of the period.
CHM stated that its healthy financial position would support the Company's efforts to progress CLTX CAR T development and fuel the development of its cell therapy pipeline.
On 28 April 2021, CHM shares were trading at AU$0.270 at AEST 10:47 AM.
ALSO READ: Using scorpion venom to treat tumours: A look at Chimeric Therapeutics' CLTX technology