Highlights

Carbonxt's new activated carbon pellet technology kills 100% of algae within two hours at low dosages of added algaecide.
The tests were also designed to remove toxins without causing any long-term harm to the ecosystem.
Red tide algal blooms have been found to cause US$22 million in medical expenses and lost income due to its several health, environmental and economic complications.
Carbonxt Group Ltd (ASX:CG1) recently announced highly encouraging laboratory tests, validating that its new activated carbon (AC) pellet formulations successfully destroy Florida red tide algae.
During the recent laboratory tests, the new AC pellet technology demonstrated superior performance, killing algae within two hours of exposure.
RELATED ARTICLE: How Carbonxt Group's (ASX:CG1) innovative R&D efforts are catalysing exciting growth
Besides assessing the effectiveness of the new AC pellet technology in killing red algal blooms, the tests were also designed to remove toxins without causing any long-term harm to the ecosystem.
As the Florida red tide algal blooms are known to cause severe environmental, economic, and public health issues, the Government is offering support to fund environmentally friendly treatments.
ALSO READ: Carbonxt Group (ASX:CG1): A one-stop solution for specialised activated carbon products
Carbonxt (ASX:CG1) to tap water & wastewater treatment space with AC pellet technology
A snapshot of test results
The tests, which were conducted under lab conditions, have demonstrated that the Company's Carbonxt Novel algaecide/activated carbon composites could kill 100% of algae in less than two hours when administered at a dosage level of 0.5g/L.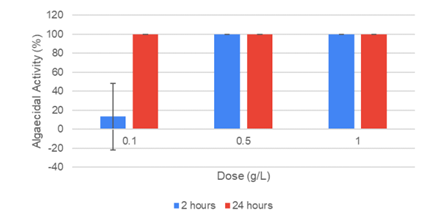 Source: CG1 update, dated 13 September 2021
What's more, a further variation of this AC pellet formulation was combined with a different algaecide, which also demonstrated significant promise in achieving a near 100% elimination at a much lower dosage rate of 0.1g/L.
Carbonxt intends to further develop these various pellet formulations, with more comparative tests to assess the recently developed formulas.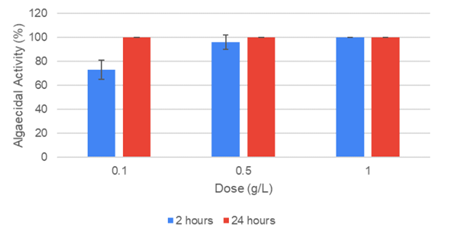 Source: CG1 update, dated 13 September 2021
RELATED ARTICLE: Strong FY21 brightens Carbonxt Group's (ASX:CG1) prospects in activated carbon space
Carbonxt advancing well to clean Florida's waterways
The tests that received a US$0.1 million government grant were conducted in collaboration with the world-renowned Mote Marine Laboratory to support the development of an AC mitigation technology for use throughout Florida's waterways.
RELATED ARTICLE: Carbonxt Group (ASX:CG1) eyes 55% spike in Q3 revenue after scaling up production capacity
Carbonxt has indicated that the ongoing support from the Mote Marine Laboratory and the Florida Fish and Wildlife Conservation Commission is a substantial endorsement of the AC pellet technology. Joint efforts are underway, with a planned scale-up of field testing to take place.
While the first phase would determine the most effective delivery system in large-scale aquariums, a full-scale test would be carried out in an estuary during the final phase to determine the effectiveness of the technology in eliminating red tide algal blooms in large-scale ocean environments.
Economic and health impact of red tide blooms and freshwater eutrophication
According to the University of Florida economists, the 2018 red tide bloom caused a revenue loss of US$184 million.
Moreover, a range of rising health issues such as respiratory illnesses (54%), gastrointestinal illnesses (40%) and increased diagnoses of pneumonia (19%) caused due to red tide events underlines a damaging effect on human health.
The research highlighted an average of US$22 million in medical expenses and lost income during red tide events.
RELATED ARTICLE: Carbonxt Group's June quarter marked by strong demand for activated carbon products
Besides red tide algae, Carbonxt is also working on pellets to remove algae in freshwater environments. Freshwater eutrophication that results from minerals and nutrients enriching water bodies causes excessive plant and algal growth.
Eutrophication and Florida red tide events are interlinked and responsible for several environmental, economic, and public health problems.
Bottom Line
Carbonxt is making serious headway in developing activated carbon solutions for several environmental issues.
In what further highlights Carbonxt's critical role, US National TV (CNBC) recently featured the Company's success in addressing major environmental concerns of airborne emissions and water contamination in the documentary series 'Advancements' with Ted Danson on the 11th of September 2021.
CG1 stock was trading at AU$ 0.275 midday on 17 September 2021, up 3.773% from its last closing price.