Summary

Blackspur Oil Corp has received approval from the Canadian court with regards to a binding agreement to acquire 100% of Blackspur's issued share capital.
Calima earlier this year signed a binding agreement to acquire 100% issued share capital of Blackspur for a total consideration of C$17 million.
A revolving credit facility of C$25 million has been approved to Blackspur by the National Bank of Canada.
International oil and gas company Calima Energy Limited (ASX:CE1) welcomed the Canadian Court's approval on Deed of Arrangement between Blackspur Oil Corp and Calima Energy Limited. The approval received by Blackspur Oil comes as a significant step for Calima, inching it closer to successfully wrapping up the highly promising acquisition.
ALSO READ: Calima Energy moves a step closer to Blackspur merger, eyes relisting on ASX
The Company anticipated that re-listing of its securities would commence on or around 3 May 2021.
Calima in February 2020 inked a binding agreement to acquire 100% of the Canadian company, Blackspur Oil Corp, for a total consideration of C$17 million. Blackspur owns oil producing and natural gas assets at Brooks and Thorsby, within Alberta.
READ MORE: Meet the company that Calima Energy is merging with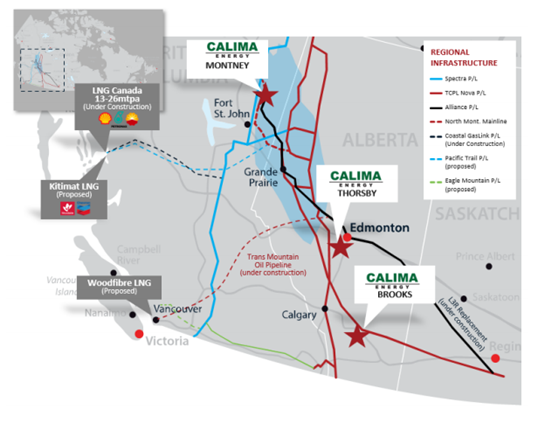 Source: CE1 ASX Update, dated 27 April 2021
The successful merger will transform Calima into a high-margin oil and gas production company, leveraged to WTI pricing and targeting more than 5,500 boe/d by December 2022. Furthermore, it would also provide the ASX-listed player exposure to escalating natural gas prices through its strategic holdings in the Montney Formation.
ALSO READ: What does Blackspur Merger Mean for Calima Energy (ASX:CE1)?
Calima reported a flurry of diverse developments, all suited to fast-track its acquisition of Blackspur.
Credit Facility from National Bank of Canada
The National Bank of Canada has approved a revolving credit facility worth C$25 million for Blackspur Oil Corp. In addition to the operating revenue, the funds would further provide the short-term working capital for advancing the work program for 2021 and 2022.
GOOD READ: How Calima Energy took the oil and gas sector by storm in 2020
Successful Fundraising of A$38 million
The capital raising of A$38 million was successfully completed, with shares to be issued. Calima advised that its retail offer received heavy demand, and scale backs have been applied. Scale back funds will be remitted back to the investors over the coming days.
Evolution Capital Advisors Pty Ltd acted as the Lead Manager and Bookrunner for the fundraising and has confirmed the receipt of A$31 million funds by the institutional and sophisticated investors. Calima will move to allotment on or around 28 April 2021.
ALSO READ: Calima Energy Raising A$37M to Fund Blackspur Oil Acquisition
Jermyn East Capital Pty Ltd acted as the Company's Corporate Advisor, while Auctus Advisors LLP as UK Placing agent, well supporting the institutional and sophisticated components.
Commenting on the recent acquisition-oriented developments, Jordan Kevol, the CEO of the combined Company, expressed his pleasure in attracting exceptionally strong fundraising support. He stated the overwhelming demand for the retail offer validates the asset's quality as well as the solid potential for a healthy cash flow that the assets would generate in a rising energy market. Mr Kevol indicated that Calima was looking forward to completing and growing its production base while also generating substantial operating cash flow, which would create shareholders' value.