Summary

BPH Energy (ASX:BPH) investee company Advent has signed a Preliminary Well Services Agreement with Add Energy for Baleen well program.
Add Energy will undertake a review of rig availability as well as engagement terms for the Baleen drill program under the agreement.
BPH investee Advent's application to NOPTA has reached its final decision stage.
BPH Energy Limited's (ASX:BPH) investee Advent has now marked a great leap forward towards Baleen well drilling program, planned at the PEP11 permit. Advent has signed a Preliminary Well Services Agreement with an international consultancy provider, Add Energy, to proceed with the Baleen well program.
Following the key update, BPH shares rallied by ~12 per cent to $0.047 on 13 January 2021.
Add Energy offers well engineering and drilling specialised consultancy solutions and services to the energy industry worldwide. These services also comprise environmental and well design services. Headquartered in Stavanger (Norway), Add Energy operates in all regions of the world from about 15 locations, comprising the Middle East, Europe, Australia, and the Americas.
Purpose of Agreement
As a part of the agreement, Add Energy will commence an assessment of rig availability and engagement terms for the Baleen well drilling program. Moreover, Add Energy will develop a scope of study for environmental and regulatory compliance.
Add Energy will further conduct a review of the drilling campaign schedule under the agreement, including an evaluation of the program for geosequestration drilling research under the Baleen drill project.
Advent recently appointed a renowned Australian scientist, Professor Peter Cook, as an advisor on geosequestration (geological storage of carbon dioxide) for its PEP11 project in the Offshore Sydney Basin. Mr Cook holds rich experience in the field of CCS or Carbon Capture and Storage (geo-sequestration of carbon dioxide emissions) and greenhouse technology.
Interestingly, the Offshore Sydney Basin presents the potential opportunity for New South Wales (NSW) to make deep reductions in its CO2 emissions through CCS. Given these prospective environmental benefits, Advent intends to use the Baleen well program to examine the potential for CCS in the PEP11 permit.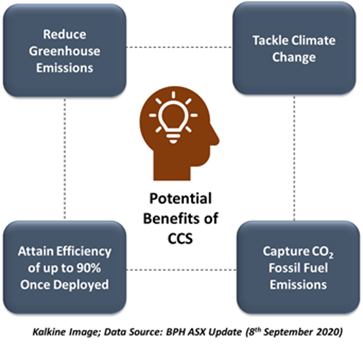 Related Read: BPH's Investee Advent to Examine Carbon Capture and Storage Potential Under Baleen Well Program
NOPTA Approval Expected Soon
BPH investee Advent submitted an application to the National Offshore Petroleum Titles Administrator (NOPTA) early in 2020, seeking approval to drill the Baleen target. Advent's subsidiary Asset Energy Pty Ltd, which holds 85 per cent interest in the PEP11 permit, made an application to NOPTA along with Bounty Oil and Gas NL (ASX:BUY) holding the rest 15 per cent stake.
The Joint Venture made application to alter the present Permit conditions in order to continue with the drilling. The application incorporates the extension of Advent's PEP11 permit title for up to two years to facilitate the drilling and elimination of the requirement for a 500 sq. km 3D seismic program.
Notably, the application is now in its final decision stage.
Recently, Advent also unveiled $6.5 million capital raising to support its drilling activities in the PEP11 permit. Moreover, BPH has lately entered into an agreement to sub underwrite the Advent raising for an amount of $1 million.