Summary

Boab Metals plans to commence Phase V drilling in April 2021 to increase inventory at Sorby Hills and advance the project towards DFS.
The campaign would also include evaluation of the potential to expand the Sorby Hills processing plant capacity.
Phase IV drilling results have been particularly encouraging, with mineralisation extended outside the current resource boundary.
Boab Metals Limited (ASX: BML) continues to carry out its exploration endeavours in full swing following the completion of the highly successful Phase IV drilling program, which highlighted extension of high-grade lead and silver resources at the Sorby Hills Joint Venture Project.
As the Company continues to make headways, it has announced the Phase V drilling at the project, with the explicit aim to investigate the expansion potential of the proposed Sorby Hills processing capacity.
ALSO READ: Boab Metals (ASX:BML) eyes resource expansion at Sorby Hills post stellar assay results
Commenting on the recent progress, Boab Managing Director Simon Noon indicated that the completion of four drilling campaigns over 20,000 metres during the last 2.5 years has progressively and systematically expanded Sorby Hills' Mineral Resource. He added that the recently completed Phase IV drilling outcomes have unveiled several low-risk opportunities for the mining inventory expansion at Sorby Hills.
Mr Noon indicated that Boab's firm financial footing with A$15 million cash on hand positions it well to undertake a high impact drilling program aimed at obtaining maximum value from the project, ahead of developing the Definitive Feasibility Study mine plan.
How has Boab Metals' journey at Sorby Hills been so far?
The current Mineral Resource at Sorby Hills clearly reflects the Company's proven ability to efficiently expand both the Resource size and confidence with each drilling program. Since the Sorby Hills project acquisition in 2018, Boab has boosted the Resource tonnage by 50% via three drilling campaigns, while tripling the contained metal classified as Measured and Indicated.

Source: BML ASX Update, 11 February 2021
Above all, the Resource growth has been converted to superior mining inventory with 50% Proven and 50% Probable Reserves, underpinning Sorby Hills Pre-Feasibility Study (PFS). Boab's PFS confirmed that Sorby Hills deposit comprises a Mineral Resource of 44.1Mt at 3.3% Pb, 38g/t Ag and 0.5%.

Sorby Hills PFS Highlights. Source: BML ASX Update, 25 August 2020
Phase IV Results Hint at a Solid Exploration Potential
Boab has recently completed the 4,803m Phase IV drilling program, designed to primarily advance the Sorby Hills Projects towards the Definitive Feasibility Study (DFS).
The Phase IV drilling churned out impressive assay results, confirming up and down-dip extensions of mineralisation outside the current Mineral Resource envelope and open pit designs.
Furthermore, the drilling campaign results have disclosed sizable opportunities to boost the mining inventory via additional targeted drilling.
The Company is incorporating Phase IV drilling data and results into an updated Mineral Resource estimate.
ALSO READ: Boab Metals (ASX:BML) ticks off another milestone, shares leap 20%
A Snapshot of the Phase V Drilling Program
The 6,000m Phase V drilling program will target mineralisation zones adjacent to the current open-pit designs, satellite exploration targets, underexplored mineralisation pods and possible extensions of known mineralisation trends.
The outcomes from Phase V drilling and DFS Metallurgical program will together provide inputs for assessing the expansion potential of the currently proposed Sorby Hills processing capacity.
Copyright © 2021 Kalkine Media Pty Ltd. (Data Source: BML ASX Update, 11 February 2021)
Targets identified from the gravity data interpretation over EL 80/5317 at Eight Mile Creek will also be drill tested in Phase V drilling. The highly prospective tenement EL 80/5317 covers the continuation in the southward strike of the Burt Range Sub-basin and has not been drill tested before.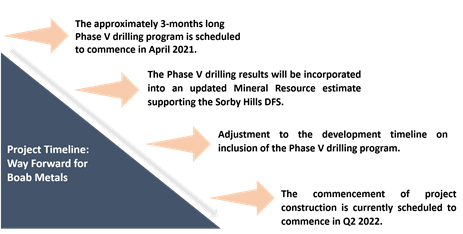 Copyright © 2021 Kalkine Media Pty Ltd. (Data Source: BML ASX Update, 11 February 2021)
BML shares traded at A$0.470 on 11 February 2021 at 10:24 AM AEDT.