Summary

The Company changed its name to Boab Metals Limited (formerly Pacifico Minerals Limited) and changed its ticker to ASX:BML.
Boab Metals completed the Phase IV drilling program, which is expected to positively impact the Sorby Hills Mineral Resource Estimate.
The outstanding results from Sorby Hills' Pre-feasibility study served as a significant boost to the December quarter developments.
China's largest Lead smelting company and Silver producer, Henan Yuguang has affirmed its commitment to Sorby Hills' development and intends to work collaboratively with Boab Metals.
Australian explorer, Boab Metals Limited (ASX:BML) is advancing well, with the latest December quarter results being a clear indication of the Company's action-packed exploration journey on the Sorby Hills Project, located in the Kimberley region of Western Australia.
Significantly, Boab commenced the quarter on the back of a positive Sorby Hills Pre-feasibility study released in August and made headway with several recent project developments, confirming its buoyant exploration momentum.
ALSO READ: Stellar drilling results put Boab Metals (ASX:BML) in the box seat
With this backdrop, let us look at the key activities undertaken by Boab Metals during the December 2020 quarter.
Phase IV Drilling Program
Boab's Phase IV Drilling Program was founded on the encouraging PFS which confirmed a large near-surface Pb-Ag-Zn deposit underpinning the Sorby Hills project. The drilling program was set in motion with the primary focus to advance the project towards the DFS status. Therefore, the drilling of 58 holes over the total of 4,803m was concluded accordingly:
Project Advancement towards DFS (3,340 metres)
Resource extensions and brown-fields exploration (~1,460 metres).
Assay results received until now have confirmed that shallow extensions of Lead-Silver mineralisation are found immediately adjacent to the open pit designs and Mineral Resource envelope. It highlights that Sorby Hills hosts high-grade Mineral resource with significant upside potential.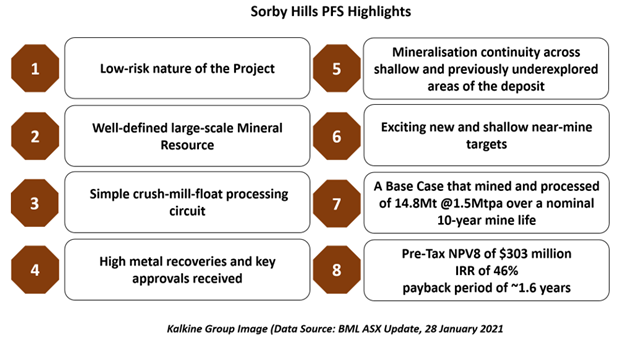 READ MORE: Boab Metals (ASX: BML) Climbs over 7% on Bumper Phase IV Drilling Results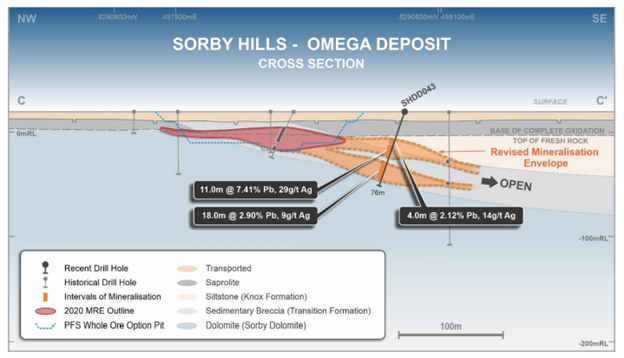 Source: BML ASX Update, 28 January 2021
The Phase IV drill program outcomes are expected to exert a positive impact on Sorby Hills Mineral Resource Estimate and offer further impetus for Boab to undertake additional drilling.
Henan Yuguang Commits to Sorby Hills Developments
China's largest Lead smelting company and Silver producer, Henan Yuguang Gold and Lead Co Ltd holds 25% interest in the Sorby Hills Joint Venture. It has been contributing its pro-rata share of project exploration and development costs for nearly ten years.
READ MORE: Boab Metals (ASX:BML) Advancing Well on Sorby Hills with JV partner Yuguang
Post the quarter-end, Yuguang in mid-January 2021 confirmed its commitment to the project's development and working collaboratively with Boab in a constructive manner to ensure that Sorby Hills is fully financed.
Sorby Hills Lead-Silver concentrates Offtake
Boab has meanwhile commenced an offtaker selection process and is undertaking a preliminary discussion with potential offtake partners including Yuguang, to assess their interest in Boab's 75% stake in Sorby Hills production.
Yuguang, in the context of JV discussion, has displayed its enthusiasm for Lead-Silver concentrate from the Sorby Hills and would potentially expand their offtake participation above what they currently deserve on account of their 25% interest in the project. It is a constructive reflection of the excellence and advancing nature of Sorby Hills project.
In the next few months, the Company plans to advance further the offtaker selection process, which will be managed by BurnVoir Corporate Finance, Boab's financial adviser.
Embracing Progressive Corporate Initiatives
Significant Transformations
Following the receipt of key shareholder approvals in the Annual General Meeting (held on 23 December 2020), the Company changed its name to a more Kimberley-focused moniker - Boab Metals Limited (previously Pacifico Minerals) in January 2021 with a new ASX ticker code of ASX: BML.
The Company also carried out the consolidation of share capital on a twenty-five to one (25:1) basis post the quarter end after receiving key shareholder approvals. It is expected to be more appealing to institutional investors.
The Company also onboarded Mr David English as the inaugural Chief Operating Officer. Mr English has an extensive experience of around 40 years in Western Australia's operations and project development. David English has demonstrated experience in DeGrussa Copper Gold Mine and Nova Nickel Mine, where he is navigating the projects through the development stage and production. Boab Managing Director, Simon Noon commented that the addition of Mr English to the team highlights the Company's confidence in Sorby Hills' development trajectory.
DETAILED DISCUSSION AT: Boab Metals (ASX:BML) onboards Chief Operating Officer to fast-track production at Sorby Hills
Financial Overview
The Company completed an Unmarketable Parcel Sale Facility, successfully placing approx. 3.6 million shares (pre-consolidation) at an average price of 1.70 cents per share.
Meanwhile, an Option Exercise Program was completed, raising more than A$4.8 million with the issue of 321 million shares because of options conversion.
During the Quarter, the Company also raised A$240,000 with the completion of a Share Purchase Plan, issuing 13.33 million shares.
The above funds, in addition to the A$10 million raised via an institutional placement (in September 2020), would be used for further advancing the project to a Final Investment Decision in 2021.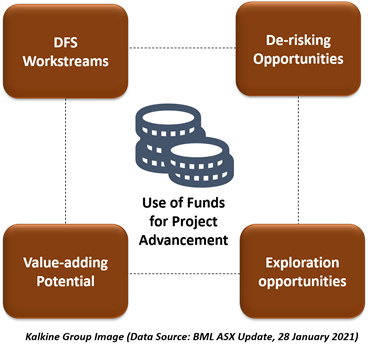 Boab's consolidated cash balance, as on 31 December 2020, was A$14.9 million.
BML stock traded at A$0.445 on 28 January 2021 (at 2:41 PM AEDT).