Source: BEM Website
Summary

The additional pilot test program has returned around 97% Fixed Carbon level for large and jumbo Maniry Graphite product.
The test demonstrates the suitability of Maniry graphite for EV and alternative energy markets.
There is a projected graphite supply shortage amid the skyrocketing demand for graphite from megafactories and EV manufacturers.
BlackEarth Minerals NL (ASX: BEM) declared robust results from refinement to the Stage 2 Pilot Plant design. Further, additional testwork that was focussed on achieving further uptick in concentrate grades has resulted in outstanding outcomes.
An average fixed carbon (FC) level of 96.77% was returned from the analysis of concentrate tests carried out for more than 80% of the large and jumbo flake product. It makes the graphite product from the Maniry graphite project among the highest value graphite concentrate produced in the world.
READ MORE: BlackEarth Minerals' (ASX: BEM) Stage 2 Large Scale Pilot Test Program to Hit the Ground Running
ALSO READ: BlackEarth Minerals (ASX:BEM) Going from Strength to Strength in Graphite Space
The outcomes further validate the potential of Maniry graphite product as highly attractive for downstream processing and feed for the bourgeoning electric vehicle (EV) markets.
ALSO READ: BlackEarth Minerals (ASX:BEM) buoyed up on promising graphite results
Additional modification to Plant design and results
BlackEarth Management made minor modification to draft circuit plant design following the positive results from initial testing and design. The goal was to achieve higher FC outcomes from all concentrate produced.
Although there was a marginally lower amount of large and jumbo flake, it was negated by substantial improvements to overall FC levels achieved.
ALSO READ: BlackEarth Minerals (ASX:BEM) raises $4.9M to amp up its graphite project
Significant Developments from the Result
The updated results from test 4 indicate that concentrate can be produced to a substantially higher 96.65% FC level whilst retaining production of 31.65% at the large and jumbo flake.
The outstanding outcomes provide the Company with a range of production options in a defined production cycle.
The concentrate produced to a fixed carbon level of 94-95% is highly suited for the battery production and EV market. Maniry product is already processed to level more than 96.5% fixed carbon, which is very rare in the global supply market and the company believes that it will attract a material pricing premium.
ALSO READ: Why did BlackEarth Minerals' (ASX:BEM) Shares Zoom up 2X in less than three weeks?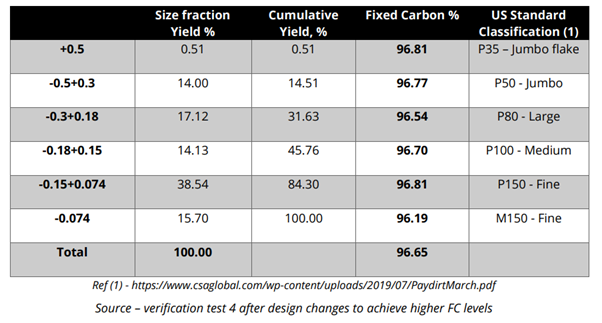 Source: BEM Update, dated 19 April 2021
The Company indicated that it would continue testing for the rest of April and May this year.
Growing Market Potential for Graphite
There has been a significant surge in graphite demand across the globe in recent years. The EV energy demand has fuelled a higher chance of graphite shortage soon.
The Graphite demand is concerned with the current growth and future battery-powered and alternative energy demand. The building of megafactories is expected to have a domino effect on the graphite concentrate demand.
ALSO READ: How BlackEarth Minerals is planning to make a mark in the exciting battery market
Management Comment
BlackEarth's Managing Director, Tom Revy, commented that after the highly encouraging outcomes from initial tests, the Company would focus on achieving further higher FC grades from large and jumbo flake, which constitute more than 30% of the initial results. Meanwhile, the Maniry Graphite Project can witness significant value addition with the premiums associated with high-grade large flake material.
He indicated that 96.65% average FC level from additional testing for all of the Company's product is a pretty outstanding result. He noted that the additional test results validate the suitability of Madagascar graphite for EV and alternative markets. Meanwhile, BEM management believes that there will be impressive future demand as a key and significant supplier of product to such markets.
Mr Revy also advised that the Company is actively continuing the test program and looks forward to finalising the reports.
ALSO READ: Why is BlackEarth Minerals Poised to Excel in the Battery Market?
BEM shares traded at AUD 0.15 on 19 April 2021.