Highlights

AXP Energy reported a maiden positive cash flow for the September quarter.
The revenue from the sales of oil and gas rose 31% to AU$5.73M on Q-o-Q basis.
Crude oil sales accelerated during the period with an uptick of 15%.
At the end of the September quarter, AXP holds a cash reserve of AU$4.07M.
On the ASX, AXP is trading close to its 52-week high of AU$0.015 thanks to an all-round performance of the Company.
With a maiden positive quarter cash flow, AXP Energy Limited (ASX:AXP) demonstrated growth on all fronts during the September 2021 quarter. The low-cost oil and gas producer recorded a 31% increase in revenue on a Q-o-Q basis. Riding on strong oil and gas demand, the Company generated total revenue of AU$5,731,238 during the period ending 30 September 2021.
Related read: AXP Energy (ASX:AXP) on track to beat June quarter performance, reports steady sales figures for August
Oil and gas sales rose significantly during the quarter. AXP moderately accelerated its crude oil inventory sell-down and sold 28,389 barrels of oil. The gas sales increased 11.5% to 774MMcf from 694MMcf during the quarter.
Mr Simon Johnson, Chairman of AXP Energy, stated "We are pleased to deliver this first quarter of positive cash flow, reflecting that we are in the very early stages of realising the benefits from the assets acquired opportunistically in the prior year. It's a great start, but there's a lot more upside to come as we better capitalise on the potential of our extensive well portfolio."
"As we continue to make progress with our previously announced ramp-up of oil sales, AXP Energy is reaping the benefit of its production storage cushion and the opportunistic discretion it confers on management in bringing product to market at favourable prices", Mr Johnson responded on the result.
Related read: AXP Energy (ASX:AXP) sees 42% revenue spike in July
Major highlights of the quarter
AXP Energy reduced the number of downstream outages, which were causing a lower output of oil and gas. The rise in sales volume is evidence of the fact the Company has reduced the number of outage issues at its Appalachian and Illinois basins business units. Favourable oil and gas prices also contributed to the higher revenue.
The cash flow for the quarter remained to the tune of AU$301k. AXP's primary focus remains on increasing the capital investment to further boost the hydrocarbon production from its assets.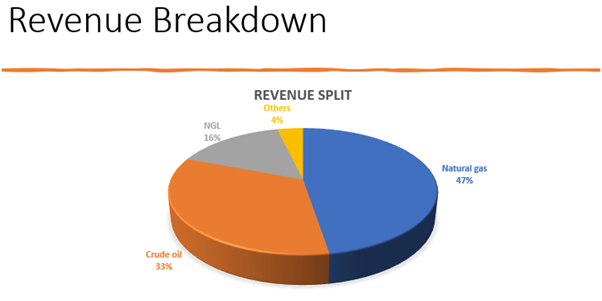 Data source: Company update, 22 October 2021
Related read: AXP Energy (ASX:AXP) to tie-in 31 gas wells to bolster monthly revenue by US$40,000
Production and operations overview
Production activities were a little curtailed with the downstream outages during the quarter. To boost the sales volume of the gas, AXP is assessing alternate sales channels. Working on this issue, the Company signed a binding Heads of Agreement (HOA) with US-based cryptocurrency mining service company Elite Mining Inc.
Under the HOA, AXP would supply natural gas to run the power generators installed on the production site. The electricity generated will be used to power the Elite Mobile Units, which will house the cooling systems and equipment required for cryto mining.
Similar opportunities are being evaluated at its leases in Kentucky, Virginia, Tennessee, Indiana and Illinois.
Crude oil production for the quarter averaged around 260bbl/d. With several field development activities ongoing, a further boost in production is expected.
Also read: AXP Energy's oil revenue to increase by US$100K/month after revised gas contract
Data source: Company update, 22 October 2021 Image source: Leonardo da, Shutterstock.com
Cash position
At the end of the September quarter, AXP's cash and cash equivalents were reported at AU$4,066,519. AXP is well funded to carry out its development and workover operations without any external capital raising.
Share price
AXP was trading at AU$0.014, up 11.5% on 27 October 2021 (AEDT: 1:20PM). The Company has a market cap of AU$72 million as of 27 October 2021.