Summary

Aspire Mining continues to actively engage with the local community, critical for advancing the OCCP.
Challenges faced by Australian coal exports into China has increased demand for coking coal from alternative markets.
The Company is committed to optimise road transportation of coking coal from OCCP to limit operating costs and greenhouse gas emissions.
ASX-listed Aspire Mining Limited (ASX: AKM) committed towards evaluating, exploring, and developing its Mongolia-based metallurgical coal assets unveiled December 2020 Quarterly Activities Report.
Aspire's project portfolio in northern Mongolia consists of Ovoot Coking Coal Project (100% interest) and Nuurstei Coking Coal Project (90% interest).
At the end of the December 2020 quarter, Aspire Mining had $35.1 million in cash and term deposits.
ALSO READ: Aspire Mining's FY20 Annual Report Highlight Significant Developments
Developments at Ovoot Coking Coal Project (OCCP)
Aspire completed a detailed time and task schedule during the Quarter, mapping out the regulatory, financial and commercial route to deliver washed coking coal to end customers.
The Company has also completed a first principles assessment of mine trucks using performance data provided by suppliers of both OHTs and Extra Heavy Commercial Vehicles (EHCVs). EHCVs performance is comparatively better in simulations.
Kalkine Group Image (Data Source: AKM ASX Update, 29 January 2021)
Request for Proposal has been issued to a range of firms seeking detailed engineering proposals to design and estimate the cost for constructing Coal Handling and Preparation Plant (CHPP) and designed to meet the requirements concerning coal quality and washability at the OCCP.
Furthermore, capital cost for constructing roads between the OCCP and Erdenet, based on revised road routes and design assumptions is also being evaluated to facilitate truck transportation. It would pave the way for finalising Feasibility Study and Detailed Design, to be approved by the Ministry of Road and Transport Development. It will be presented along with a safe and socially responsible transportation concept that Aspire Mining is fine-tuning.
During the Quarter, the Company spent $0.17 million on advancing the OCCP, with developments being COVID-19 control measures that is deferring local community engagement.
ALSO READ: Aspire Mining's Annual Report Highlights Strong Potential for its Metallurgical Coal Assets in Mongolia
Optimising Road Transportation
The Company is committed to understanding trucking cost that reflects world class technologies and efficiencies to limit operating costs and greenhouse gas emissions.
The Company has collected data related to road alignment and vehicle performance which it would provide to specialist logistics consultants. The data would be used for modelling specific truck performance across the modelled road path with the Company's aim to achieve a turnaround time of 24-hour per truck with maximum payload.
The performance of tractors equipped with powerful and efficient engines is being simulated across the topography of the planned road alignment. It is done to determine the optimum combination and accurately forecasts fuel consumption.
The preliminary findings are encouraging and point to potentially significant additional savings on trucking costs being plausible.
Community Engagement
The Company has maintained productive engagement with the local Tsetserleg soum Government and communities where the project is located.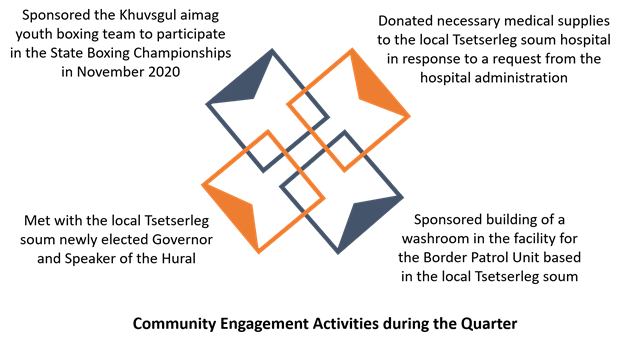 Kalkine Group Image (Data Source: AKM ASX Update, 29 January 2021)
Strong Market for Coking Coal
The Australian Seaborne Coking Coal Market diverged significantly from Chinese domestic prices in China over the Domestic quarter to an exceptional level. Notably, with Australian coal facing export challenges into China, FOB spot pricing reflects demand from alternative markets with the differential touching a record US$100\t in early January 2021. Since then, while FOB spot pricing has responded, the differential in pricing remains historically significant.
ALSO READ: Aspire Mining's (ASX: AKM) Ovoot Project: Poised to Leverage off Growth Focus and Transforming China's Relationship
Source: AKM ASX Update, 29 January 2021
The relatively high steel production in China is driving the prices for iron ore and coking coal, with Canada, Russia and Mongolia exporting coal to China. However, tight border restrictions affected supply of Mongolian coal to China in the December 2020 quarter.
AKM shares are trading at $0.098 on 1 February 2021 (AEDT: 12:25 pm).
[All currency is in AUD unless otherwise stated]