Highlights

Nutritional Growth Solutions is steering forward with the goal to grow its Healthy Heights® brand into a household name worldwide.
NGS products are now available on Walmart.com and RangeMe.com.
The company dispatched the first shipment of New Zealand manufactured products for distribution in Asia Pacific.
Overall revenue of the company grew by 10% from US$570k in Dec 2021 quarter to US$631K in March 2022 quarter.
The global nutritional health company Nutritional Growth Solutions Ltd. (ASX: NGS) kicked off the first quarter of the current fiscal year ending 31 March 2022 (Q1 FY22) with impressive growth initiatives to strengthen company's position in the market. It aims to set in a strong footing as a child nutrition company in the United States, Asia Pacific, and other regions of the world with its scientifically formulated and clinically proven paediatric nutritional products.
Key expansion and business developments during the Quarter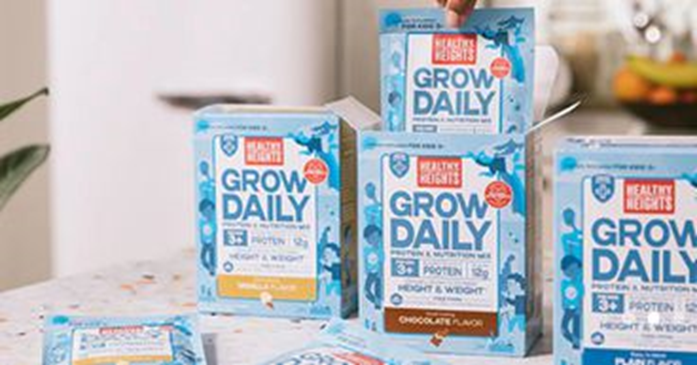 Image source: NGS Company
Nutritional Growth Solutions' Healthy Heights® shake mixes commenced sales on Walmart.com. The ecommerce platform receives around 100 million unique visitors every month. Also, the entire selection of Healthy Heights® products is now available on RangeMe.com. The digital platform is used by more than 10,000 retailers for product discovery and sourcing.
The company shipped the first lot of Healthy Heights® Grow Daily 3+ products manufactured at NIG Nutritionals in New Zealand for distribution across Asia Pacific. The sale of the products will be undertaken in the region via trusted ecommerce platforms, such as JD.com (NASDAQ: JD), Lazada Shopee, and TikTok.
The product range will also be sold through one of the world's largest community e-commerce platforms, Little Red Book and the second largest cross-border e-commerce platform, Koala.
NGS welcomed David Fenlon as an Independent Non-Executive Chairman. He holds 30 years of experience in retail and consumer goods across Europe, Australasia and North America. Previously, he has worked as the Managing Director at BWX Limited and Blackmores Limited (ASX: BKL).
Also read: Nutritional Growth Solutions (ASX:NGS) gives short-stature kids higher hopes
Financial metrics of the firm during the quarter
NGS reported a total revenue of US$631k in the first quarter of FY22, 10% higher than December 2021 quarter (US$570k). Further, there has been an increase of 4% in the quarterly revenue from sales of Healthy Heights products in the US, on previous comparable period (pcp). The company had a cash balance of US$3.1 million at the end of the quarter.
Key development post March quarter
In a bid to make the Healthy Heights® brand a popular household name, NGS relaunched its KidzShake range under a new branding as Healthy Heights® KidzProtein. The new range has 15 products under its umbrella. It includes a vegan option for the kids having intolerance to dairy-based products.
Do read: Nutritional Growth Solutions (ASX:NGS) launches Healthy Height® in Europe
Management commentary on March 2022 quarter performance
Stock information: NGS shares last traded at AU$0.150 on the ASX on 2 May 2022, with a market capitalisation of AU$17.89 million.
Do read: Nutritional Growth Solutions: An insight into different dimensions of this global nutrition provider