Summary

Skin Elements remains focused on expanding sales opportunity for its full range of skin care products across Australia and global markets.
Expansion of commercialisation activities is on track with successful TGA registration of Invisi Shield® Organics.
The Company's key objective is the advancement and commercialisation of its natural skin care technology.
Award-winning Australian owned and operated player Skin Elements Limited (ASX:SKN) is focused on the advancement of natural skin care products. The Company's organic and chemical-free products are marketed across the world.
The Company is expanding the sales of the full range of its natural organic skin care products, including Invisi Shield® Organics, Soleo Organics natural sunscreen and the PapayaActivs natural therapeutic pawpaw skin care range.
ALSO READ: Going natural: A look at Skin Elements' exciting array of products
Action-Oriented Approach With its Natural Skin Care Products
Over the last 15 years, Skin Elements has remained committed towards the development and testing of all organic, natural health and wellness skin care products. Increasing the sales of its full range of skin care products across the Australian as well as global markets is SKN's key objective.
New opportunities with the launch of SKN's Natural Sanitiser
Skin Elements' Invisi Shield® Organics range comprises natural sanitiser and disinfectant products with natural plant-based extracts.
The sanitiser is designed to deliver maximum protection against germs, besides addressing the concerns of skin sensitivity, that is caused due to the repetitive use of alcohol-based sanitisers.
Invisi Shield® Organics is available in multiple forms, including a personal spray, room spray, foamer or commercial hospital-grade disinfectant spray as well as commercial fogging applications.
The Company had recently submitted an application to the TGA for the registration of the Invisi Shield® Organics as a Hospital Grade Disinfectant.
Skin Elements stated that TGA listing application submission is a major development for the Company. The successful registration would usher in new commercialisation opportunities with distributors and other potential sales partners who insist on TGA listing.
READ MORE: Skin Elements (ASX:SKN) hits a Major Milestone, Submits TGA Registration for Invisi Shield®
Strategic Undertakings of Skin Elements
Skin Elements reported a strong September quarter 2020 with significant developments during the period.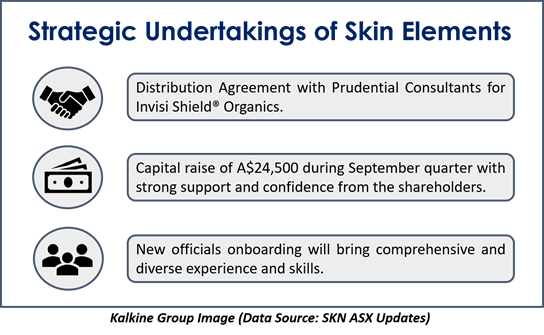 Distribution Agreement with Prudential Consultants
Skin Elements has signed a distribution agreement with Prudential Consultants Pty Ltd for Invisi Shield® Organics distribution across Australia. Prudential Consultants has a track record of distributing health as well as medical products throughout Australia.
Capital Raise of A$24,500
Skin Elements' capital raise of A$24,500 during the September 2020 quarter demonstrates strong support and confidence of shareholders in the strategy of SKN.
In late October, Mr John Poulsen joined as the Non-Executive Director to the Board of SKN. Also, the Company roped in two joint Company Secretaries, Ms Kate Sainty and Mr Steven Wood. Notably, Skin Elements is confident that the new officials will bring a comprehensive and diverse experience and skills to the board.
With the new officials joining the board, Skin Elements can develop its corporate strategy as well as governance systems. Moreover, this will also help the Company in its transition to commercial operations for the SE Formula.
Focus on Sustainability with Natural, Chemical-Free Products
Since its inception, SKN's goal has been to improve human skin health and wellness naturally. All of SKN's product ranges are developed using natural ingredients.
Imbued with the core value of going natural, the Company focuses on utilising the power of nature to revitalise, rejuvenate, rehydrate, and protect the skin without the use of synthetic chemicals so that men, women, and children of all ages could reap the benefits.
Meanwhile, SKN is right on track with its strategy to commercialise the complete range of SE Formula products.
Product Diversification with a Wide Range of Applications
Skin Elements has an exciting array of products with a wide range of applications. The Company's product portfolio includes organic sanitiser, sunscreen and other skin care therapeutic products. Interestingly, Skin Elements recently forayed into the natural nail polish business with the acquisition of up to 40% equity stake in Sambora Pty Ltd, owner of BeachToes.
READ MORE: Skin Elements Limited (ASX:SKN) Dips Toes into Natural Nail Polish Business
SKN's therapeutics range of products contains powerful papaya extract base complemented by ingredients used in conventional herbal medicines to treat several skin diseases.
The Road Ahead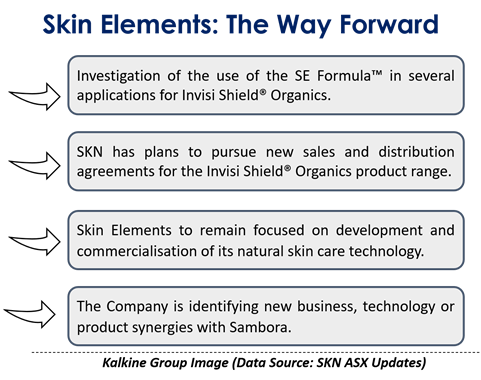 On 12 January 2021, SKN shares were trading at A$0.082 at AEDT 10:43 AM.