Source: IPD's announcement, Feb 2021
Summary

ImpediMed Limited (ASX:IPD) announced that the full peer-reviewed manuscript showing the clinical utility of SOZO® in monitoring heart failure (HF) patients has been published.
The publication is titled Clinical Utility of Fluid Volume Assessment in Heart Failure Patients Using Bioimpedance Spectroscopy.
This study is integral in achieving real-world proof for ImpediMed's HF-Dex application, validates SOZO®'s ability to track patient fluid levels, and affirms that established normative range data can be useful in risk-stratifying patients.
ImpediMed Limited (ASX:IPD) has made substantial progress in the large and growing market of Heart Failure. Frontiers in Cardiovascular Medicine has published a full peer-reviewed manuscript, demonstrating the clinical utility of the Company's SOZO® device.
MUST READ: ImpediMed reports key milestones across oncology, heart failure & renal failure in 1H21
ImpediMed's latest publication
Frontiers in Cardiovascular Medicine publishes peer-reviewed research articles that are centred around cardiovascular medicine. It has published ImpediMed's "Clinical Utility of Fluid Volume Assessment in Heart Failure Patients Using Bioimpedance Spectroscopy".
The publication explains the BIS-derived HF-DexTM values, Extracellular Fluid, expressed as a percentage of Total Body Water (in a clinically relevant way). This can be used by physicians to assist in clinical risk stratification as well as fluid volume monitoring of HF patients.
RELATED READ: Impedimed's SOZO ® Heart Failure Abstract Accepted For Poster Presentation At ACC
The paper concluded that-
BIS-measured ECF%TBW values were substantially higher in HF patients relative to adults without HF.
Three strata of ECF%TBW (normal, elevated & fluid overload) were labeled that may support in clinical risk stratification as well as examining fluid volume of HF patients.
The results indicate that as more data is collected, BIS measurements may offer a unique, additional tool to support clinical decision-making.
ALSO READ: How ImpediMed's BIS device SOZO® is changing digital health landscape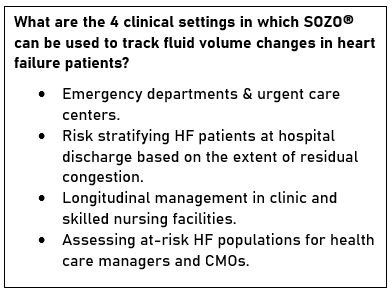 Significance of the study
BIS technology has been validated for fluid monitoring. However, the absence of established reference ranges in HF has limited its efficiency for workflow implementation. Besides, the usage of HF-Dex in BIS demonstrates the ability to examine as well as follow volume status in HF.
The current study comes into limelight as it-
Explains the usage of a HF-Dex scale, distinguishing normal from abnormal extracellular fluid.
Illustrates the potential utility as a tool to aid in clinical decision-making for HF patients.
Suggests that finding subclinical fluid overload would be valuable in the risk factor stratification for HF patients in acute and chronic settings.
IPD traded with a volume of over 1.8 million shares on 8 April 2021 and quoted $0.12.
INTERESTING READ: Will ImpediMed's growing business continue in the same vein?