Summary

Ora Banda Mining Limited has expedited its activities across several of its deposits spanning over a district scale.
The deposits across the flagship Davyhurst project indicate a major gold opportunity for OBM.
The Company looks to ramp up significant exploration activities across these deposits that underpin its mine production.
Latest gold Australian producer Ora Banda Mining Limited (ASX:OBM) has one of the largest ground positions in the Eastern Goldfields with an opportunity for mining high-grade resources. The Company's flagship Davyhurst Gold Project spans over district-level holding that extends from Kalgoorlie to the north of Menzies with major exploration upside.
The tenement package under the project comprises 111 granted tenements covering an area of around 1,350 km2. Out of this, around 200 strike kms of greenstone sequences are prospective for gold and nickel sulphide and base metal mineralisation.
PREVIOUS UPDATE: Ora Banda (ASX:OBM) expedites work across multiple prospective deposits despite challenges
Source: OBM Announcement 10/05/2021
Moreover, there are high priority targets that include well-defined but poorly tested prospect-scale gold occurrences. In totality, OBM presently has six highly prospective deposits that are believed to underpin the Company's mine production.
Here, we shall look at three of these deposits, while the other three shall be discussed later.
GROUND REPORT: Ora Banda Mining (ASX:OBM) concludes capital work program; prepares for further work
Riverina – Open-Pit & Underground
The Riverina deposit has indicated significant scope to grow resource and reserve base and has an ore Reserve of 1.4 Mt @ 1.8 g/t for 81 koz.
Lately, the ongoing mining at Riverina is slightly ahead of schedule and has generated more ore tonnes at a somewhat lower grade for more overall ounces as compared to that projected in the DFS.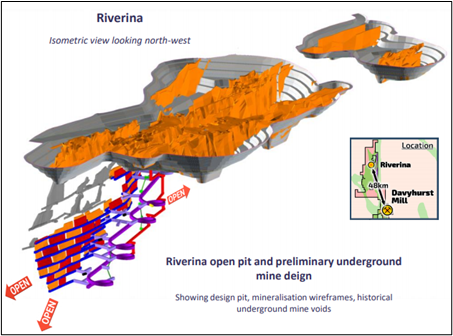 Source: OBM Announcement 10/05/2021
Despite the high proportion of Riverina low-density oxide feed impacting the process plant throughput, OBM plans to mine ever harder transitional and primary material at Riverina in the current month.
As a result of the ore stockpiling space restrictions, lower initial mine ore grades have been generated to the processing plant, and high, medium and low-grade stockpiles are being utilised on the mine ore pad to optimise the processed ore blend.
MARCH QUARTER PROGRESS: Ora Banda Mining (ASX:OBM) progresses across projects in full swing throughout March quarter
Golden Eagle – Underground
The Golden Eagle indicates an Ore Reserve of 0.1 Mt @ 3.8 g/t for 16 koz and has significant development complete with mine developed to 150m vertical depth.
Lately, OBM has been working with the underground mining contractor to enhance the underground production rates. Moreover, production from the Golden Eagle underground mine of 25,620 dry metric tonnes (dmt) for a period in May surpassed the March quarter overall production of 25,235dmt.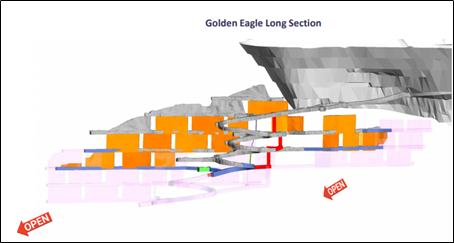 Source: OBM Announcement 10/05/2021
Currently, OBM is continuing the reinterpretation of the mineralisation and looks to conclude the same at the earliest. Opportunistically, the flat-lying characteristic of the mineralisation has indicated the possibility to expand the ounces per vertical metre in the mine.
DID YOU READ: Ora Banda's (ASX:OBM) Golden Eagle indicates potential with significant diamond drilling results
Missouri – Open-Pit & Underground
OBM believes that the mining activities at Missouri are expected to kick off in June 2021 and shall offer an instant source of higher grader, harder primary ore feed.
Moreover, crucial items of the mining fleet have reached the Missouri open-pit along with necessary site facility materials.
Source: OBM Announcement 10/05/2021
OBM has redesigned the Missouri open-pit into two stages, wherein ore mining shall begin after some site preparations are complete.
Notably, Missouri has an ore reserve grade of 2.6gpt Au, which is significantly ahead of that at Riverina.
This, therefore, indicates that mining of the Missouri open-pit shall improve the average gold grade processed through the Davyhurst mill from July 2021.
DID YOU READ: Ora Banda Mining (ASX:OBM) crosses milestones to become a gold producer
Overall, OBM seems uniquely positioned with multiple high-prospective deposits.
The OBM stock was noted at AU$0.205 on 4 June 2021.