Australia's precious metals explorer and aspiring producer, Oakdale Resources Limited (ASX:OAR) has recently released its quarterly report card for the three-month period ended 31st March 2020. The Company updated the market on its operational activities conducted in North America, Peru and Australia during the quarter.
Let us scroll through the key activities reported by the Company during and subsequent to the March 2020 quarter below:
Shifted Focus to Lambarson Canyon in Nevada
The Company announced shifting of focus from Tonopah North Project in Nye County to gold targets at Lambarson Canyon in Pershing County in Nevada during the quarter.
The decision was taken following the receipt of final assays from diamond core drilling program for Tonopah North hole TND-02 - up to 1.19 g/t Au received for interval 260m to 261.5m – which suggested gold mineralisation connected with gold-in-quartz and validated the structural target.
However, the assays were not considered to be suggestive of sufficient scope or grade for an economic rationale for additional follow-up exploration.
As a result, the Company decided to move to planned drill targets at the prospective Lambarson Canyon tenements, wherein IP (induced polarisation) survey results in association with highly anomalous surface gold sample outcomes demonstrated potential for a gold mineralised system.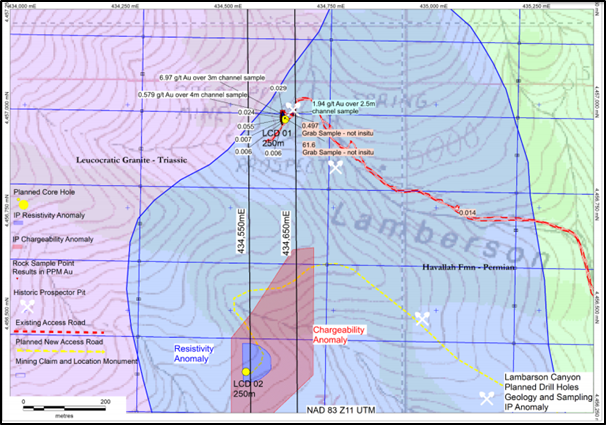 Lambarson Canyon – Planned Core Holes, Source: Company's Report (30th April 2020)
The Company's exploration team has visited Lambarson Canyon, preparing access roads for a drill rig to connect with the site to drill an IP anomaly area and original target which generated anomalous gold samples.
The permitting process for Lambarson Canyon is currently underway with an objective to commence a core drilling program in the 2nd Quarter of CY2020. The Company expects roadworks to continue in May 2020 and anticipates approval of Exploration Permit shortly.
Update on Chimu Gold Plant
The Company notified that owing to COVID-19 driven lockdown declared by Peruvian Presidential Decree, the 120 tpd license upgrade to the Chimu plant will be issued after the Mines Department returns to work and can process final approvals.
It is worth noting that the documentation for the license has already been finished and submitted to DREM (Mining Authority).
The Company also informed that the Hydrological study and submission for the expanded water permit has been finalised to expand the bore and depth of the existing well.
Considering the lost time due to COVID-19, the Company expects to achieve plant recommissioning by December 2020, backed by adequate funding and timely permitting.
Management Changes
During the quarter, two highly experienced individuals joined Oakdale strengthening its management team.
The Company hired Mr Joseph van den Elsen as Oakdale's Non-Executive Director with immediate effect, in March 2020. Mr. van den Elsen was appointed following the resignation of Mr John Lynch as Non-Executive Director.
Additionally, the Company also appointed Mr Yugi Gouw as its Company Secretary in March subsequent to the retirement of Mr Hemant Amin.
Executed a Binding Acquisition Agreement for Crown Project
Subsequent to the quarter, the Company executed a Binding Acquisition Agreement to acquire 100 per cent stake in holder of the Crown PGE-Nickel-Copper Project, Australian Precious Minerals Pty Ltd (APM).
The Crown project is situated about 8km from Julimar Complex of Chalice Gold Mines (ASX:CHN) and is next to the Chalice tenure that is the site of Chalice's recent high-quality, large intervals of PGE-Ni-Cu mineralisation.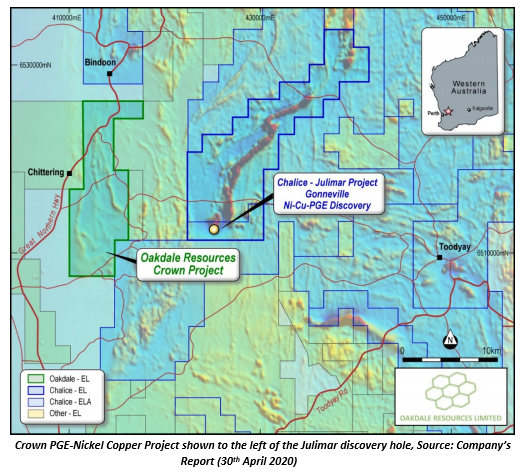 Moreover, Crown consists of a 93km² exploration license underpinned by an extensive network of magnetic structures identical to those that host Julimar. Chalice has also demonstrated an entirely new PGE-Ni-Cu province, only 60-70km to the northeast of Perth, having potential for multiple Julimar extensions and analogues.
Considering the open nature of the Julimar Discovery, the existence of analogous magnetic structures on trend from Julimar, the absence of prior drilling and the immediate vicinity to new high-quality assays, APM believes that the Crown project is prospective of hosting an extension or repeat an identical polymetallic orebody.
Oakdale has planned to commence access discussions with landowners and carry out geochemical and airborne exploration following the settlement of the acquisition. The exploration initiatives will be targeted at most potential drill targets, and drilling will begin after drill permits and project grant.
Review of Financial Performance
The Company extended the expiry date of convertible note until 31st July 2020 from 31st January 2020 during the quarter.
Oakdale had a cash balance of $136k at the end of March 2020 quarter.
Additionally, the Company has recently announced a non-renounceable pro rata offer to eligible shareholders of one new share for every share held on the Record date (7th May 2020), at an issue price of $0.002 per share, along with one free attaching quoted option for every two new shares subscribed for, to raise up to ~$1.40 million (before costs).
The Entitlement Offer is on the same terms as the Company's recently finalised placement activity, where it raised ~$140.3k (before costs) via placing ~70 million shares at an issue price of $0.002 per share.
Notably, Oakdale intends to apply the funds raised from the Entitlement Offer across all its exploration prospects, towards Peruvian project development along with working and other capital requirements.
OAR traded at $0.002 on 5th May 2020 (12:53 PM AEST).