Summary

Screening and verification services provider CV Check Limited to acquire Bright People Technologies.
As part of the A$15.3 million deal, Bright's Chairman will be appointed as CV Check's Non-Executive Director, and Bright's executives will join the CV1 Executive Management Team.
The Company also completed a A$10.5 million placement.
ASX-listed online integrated screening and verification company CV Check Limited (ASX:CV1) is all set to acquire Bright People Technologies. Bright People is a cloud-based workforce credential and compliance software player that operates under the Software as a Service business model.
Besides, the Company also announced the completion of a A$10.5 million placement. Post the updates, CV1 shares surged and were trading 11.428% higher at A$0.195 (AEDT 3:49 PM).
Let us look at the announcements in detail:
CV Check to acquire 100% issued capital of CI6 Pty Ltd
On 10 February 2021, CV Check Limited announced that the Company has entered into a binding Share Purchase Agreement with CI6 Pty Ltd's shareholders to acquire 100% of the issued capital of CI6 Pty Ltd.
CI6 is an entity that owns Bright People Technologies Pty Ltd as well as associated group entities. The Company has entered the agreement via its wholly-owned subsidiary, Credentials Management Information Systems Pty Ltd. CV Check anticipates completing the acquisition in mid-April 2021.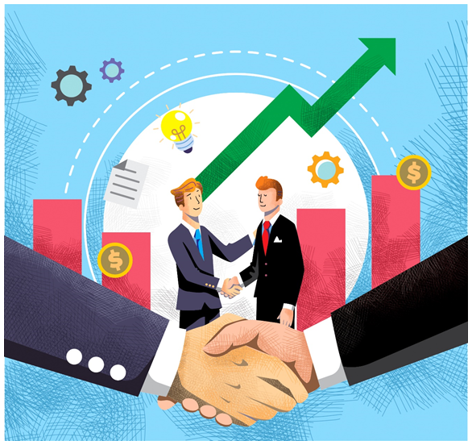 Image: Copyright © 2020 Kalkine Media Pty Ltd.
Terms of Acquisition
In consideration for the acquisition of 100% of the issued capital of CI6 Pty Ltd, the Company has agreed to-
Issue of almost 73.0 million CV1 fully paid ordinary shares on completion of the acquisition.
Pay Bright's net debts up to A$3.25 million.
Moreover, the consideration shares are to be held in voluntary escrow until 31 December 2022.
ALSO READ: CV Check (ASX:CV1) clocks record revenue in Q2F21
Bright People Technologies in a nutshell
Perth headquartered leading provider of credentials-based workforce management software through the Enable and Cited brands.
Bright People is a SaaS business model with blue-chip customers that offers cloud-based integration into customers' supply chain.
Credentials-based ecosystem allows individuals to re-use information through their whole work lifecycle.
Revenues of Bright People in the financial year 2020 was reported at A$4.9 million with almost 85% gross margin and EBITDA of A$1.7 million.
Bright's founding product, Enable Enterprise allows operators and contractors to run workforce compliance end-to-end, including:
Identity and verification
Onboarding and induction
Deployment and re-deployment
Ongoing compliance monitoring and management
Image Source: CV1 Presentation (10 February 2021)
Ivan Gustavino, Chairman of CV Check, commented:
Below is the indicative timetable for the acquisition and the placement: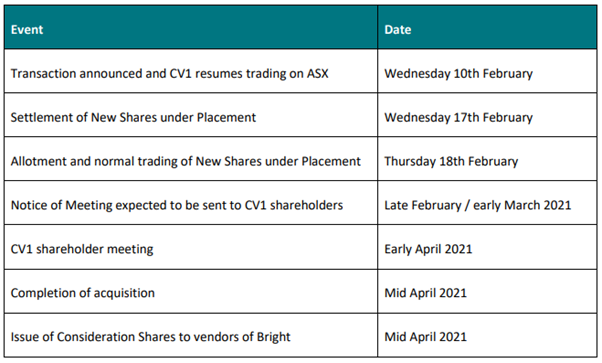 Image Source: CV1 ASX Announcement (10 February 2021)
Well supported A$10.5 million placement
CV1 is also pleased to announce the completion of a A$10.5 million placement of new fully paid ordinary shares at a per New Share issue price of A$0.165. The Company also highlighted that the placement was well supported by new as well as existing institutional investors.
Proceeds from the Equity Raising will be applied to:
Repayments of Bright net debt of almost A$3.25 million.
Bright acquisition integration for nearly A$3 million.
Transaction costs and MergeCo working capital of ~A$4.25 million.
Onboarding new officials
As part of the transaction, current Chairman and largest shareholder of Bright, Mr Jon Birman will be appointed as a non-executive director to the CV1 board.
Besides, current Directors of Bright, Petra Nelson and Declan Hoare, will join CV Check's Executive Management Team.