Highlights

AGL Energy's FY21 underlying profits plunged 34% due to impacts of the COVID-19 pandemic and increased generation supply.
The energy player expects to deliver AU$150 million reduction in operating costs in FY22 relative to FY20.
The company has declared a final dividend of 34 cents per share for the fiscal year 2021.
One of Australia's leading energy companies, AGL Energy Limited (ASX:AGL) announced a 34% decline in underlying profit (after tax) in the FY21 results for the year ending 30 June 2021.
The New South Wales-based energy player has posted a significant statutory loss (after tax) of AU$2.058 billion during the financial year against the profit of AU$1.01 billion in the previous year. The loss after tax includes an AU$2.929 billion impairment loss and cost associated with acquisitions and restructuring of assets.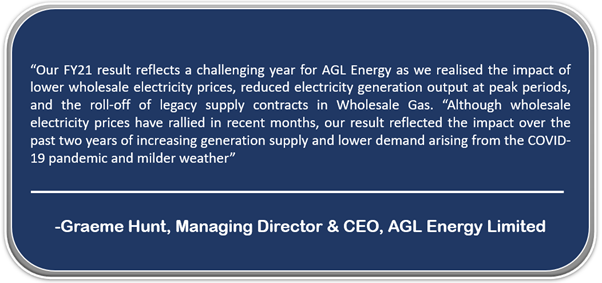 Source: Copyright © 2021 Kalkine Media | Data Source: Company update (12 August 2021)
FY21 Highlights
The losses during the current financial year are mainly attributed to an increase in environmental restoration provisions, onerous contract provisions associated with the Crib Point project's restructuring, acquisitions, and cessation, and other asset impairment losses (worth AU$2.929 billion). The FY21 results reflect a challenging year for AGL during which the company witnessed subdued demand amid the COVID-19 pandemic, and mild weather conditions.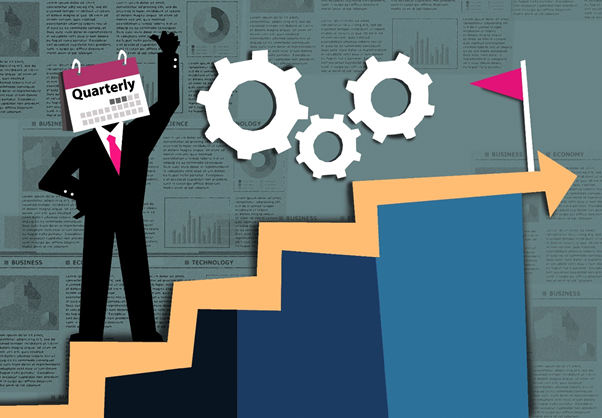 Source: Copyright © 2021 Kalkine Media
The company has generated 41,137 GWh of electricity in the current financial year, nearly 6% lower than the previous year due to negative impacts of planned and unplanned outages and reduced grid demand.
Good Read: AGL shares drop on CEO's resignation
The energy player has delivered net cash of AU$1,250 million from operating activities, nearly 41% down compared to FY20. AGL had about AU$600 million of undrawn debt and cash facilities, as of 30 June 2021.
Further Plans
The company also plans an 850MW battery storage capacity and has reached the FID stage for the Torrens Island battery project. Apart from this, the planning for the Loy Yang and Liddell battery projects is also in progress.
Also Read: Which ASX shares pay the best dividends?
The energy player is also progressing well with its plan to implement the proposed demerger in the fourth quarter of FY22 subject to the approval of the Board, shareholders, and other relevant regulatory bodies.
FY22 Guidance
Australia's leading retail energy provider anticipates the Net Profit after Tax to be in the range of AU$220-AU$340 million and underlying EBITDA to settle between AU$1,200 million and AU$1,400 million in FY22.
AGL is targeting a reduction of AU$100 million in sustaining capital expenditure by FY23 and it also expects to deliver AU$150 million reduction in operating costs in FY22 relative to FY20.
Dividend Declaration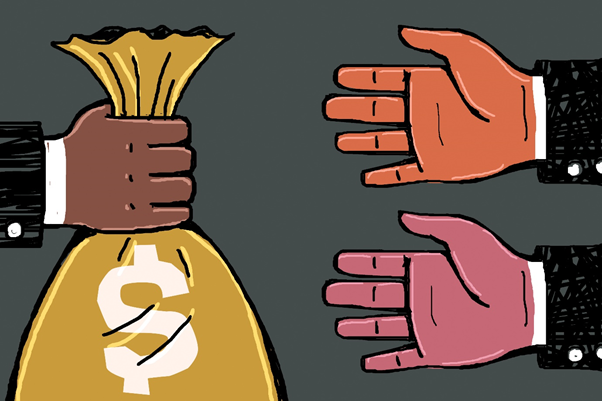 Source: Copyright © 2021 Kalkine Media
AGL has declared a final unfranked dividend of 34 cents per share for FY21, taking the company's total FY21 dividend to 75 cents. The total dividend includes an interim special dividend of 10 cents.
Must Watch: Is AGL (ASX:AGL) A Good Dividend Stock?
Bottom Line
The financial year 2021 was a tough year for Australia's top power producer, AGL Energy. The company recorded a significant fall in its FY21 profits due to the government's pressure to cut retail rates and weakening investor demand for coal-fuelled electricity.
AGL shares traded at AU$7.495 per share, up 4.39% as of 13 August 2021 at 1:28 PM AEST.