Summary

The ASX 200 dropped by 10.50 points or 0.14% to 7,406.90 by lunch.
Barring materials, all sectors were trading in red, while utilities and tech declined the most.
Origin Energy was the top laggard on ASX, falling nearly 9%.
NSW reported 170 locally acquired COVID-19 cases in the past 24 hours.
Australian shares edge lower in choppy trade by lunch, led by sharp selling across utilities and tech stocks. However, gains in blue-chip miners Rio Tinto and BHP capped the market's losses.
The benchmark index ASX 200 was trading lower by 10.50 points or 0.14% at 7,406.90. The index opened marginally higher early today, following firm cues from Wall Street, but soon pared the gains due to selling in index heavyweights such as Origin Energy, Afterpay, Redbubble, and A2 Milk Company.
Moving on to the sectoral front, ten of the eleven sectors were trading in the red zone. Utilities were the worst performer, falling nearly 3% loss. Information technology also witnessed a sharp sell-off, dropping 1.55%.
Health care, telecom, consumer staples, consumer discretionary and energy index were also trading lower.
The Mid Market Pulse || Utilities, Tech Stocks Drag ASX; BHP, Rio Tinto Hit Fresh Record High
Bucking the trend, the materials index was the only sector that traded higher. The gain in material space was led by index heavyweights BHP Group (ASX:BHP) and Rio Tinto (ASX:RIO) which hit their fresh record highs. Meanwhile, Fortescue Metals (ASX:FMG) was down nearly 2% after hitting 52-week in the previous session.
On the COVID front, the state of New South Wales reported a decline in locally acquired COVID-19 cases. The case tally in the past 24 hours dropped to 170 compared to 239 infections reported on Thursday. Meanwhile, Victoria has recorded three new local cases.
Top gainers and losers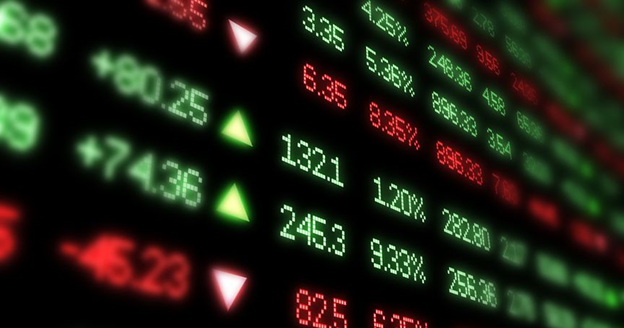 Image source: AshDesign, Shutterstock.com
Among the individual stocks, energy firm Origin Energy (ASX: ORG) was the top percentage loser on ASX, falling nearly 9%. The company has disclosed that its earnings will take AU$2.2 billion hit due to the write-down of its core assets.
Some of the other shares under the bear grip were the global online marketplace Redbubble (ASX: RBL), AGL Energy Limited (ASX:AGL), infant formula company A2 Milk Company Limited (ASX:A2M) and auto retailer Eagers Automotive Limited (ASX:APE).
Meanwhile, asset management firm Janus Henderson Group Plc (ASX: JHG) topped the winners' chart, rising 7.3%. Some of the other notable gainers were miner Orocobre Ltd (ASX: ORE), coal producer Whitehaven Coal Ltd (ASX:WHC), gold miner Ramelius Resources Limited (ASX:RMS) and real estate investment trust Waypoint REIT (ASX: WPR).
Shares in news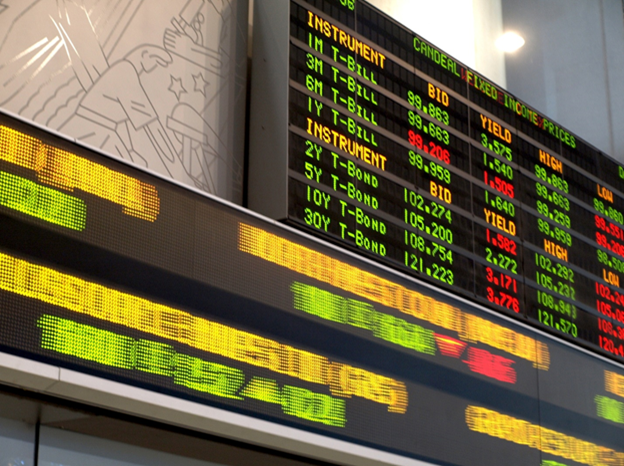 Image Source: © Ptoone | Megapixl.com
Shares of payment solution provider EML Payments (ASX: EML) were trading 1% lower at AU$3.59 at lunch. The company has reportedly secured a contract from the Northern Irish government to provide prepaid MasterCards worth 100 pounds to every adult in the country.
Meanwhile, buy now, pay later business Sezzle (ASX: SZL) dropped 4% to AU$7.78 after releasing cash flow report for June quarter. The instalment payment platform has reported 118% growth in merchant sales to US$411 million.
Shares of lithium and iron ore miner Mineral Resources (ASX: MIN) rose 0.5% to AU$63.77 after reporting quarterly exploration and mining activity report. The company's iron ore shipments rose 6% to 5.2 million wet metric tonnes (wmt), compared to same period last year. For FY21, iron ore production surged 38% to 19.5 million wmt. The average realised iron ore price for the quarter was US$178 per dry metric tonnes (dmt), 23% higher than the previous quarter.
Shares of petroleum company Ampol (ASX: ALD) was trading marginally lower. The company has entered into a partnership with Australian Renewable Energy Agency (ARENA). The energy firm has signed a funding agreement with ARENA through the Future Fuels Fund (FFF) to deliver a fast-charging network to support the uptake of battery electric vehicles in Australia.
National Australia Bank's (ASX: NAB) shares were up 0.7% at AU$25.94 after the lender unveiled buyback plans. NAB, one of Australia's big four bank, to buy-back up to AU$2.5 billion of ordinary shares starting mid-to-late August 2021. As per the lender, it will buy shares on-market alongside its dividend reinvestment plan.
Meanwhile, another lender Commonwealth Bank of Australia (ASX: CBA) has released an update on change in financial reporting. The lender said that its full-year earnings report will include changes to the reporting format, including adjustments for software as a service implementation costs being applied retrospectively.
Shares of AMP Limited (ASX:AMP) fell over 1% to AU$1.05 on report of legal action against the financial services company. The Australian Securities & Investments Commission (ASIC) has started civil penalty proceedings in the Federal Court against six companies of the AMP, alleging these entities charged fees for no service on corporate superannuation accounts.
Deterra (ASX: DRR), resources-focused royalties company, has released quarterly revenue update. The total royalty receipts for the June quarter stood at AU$54.9 million. During the quarter under review, it generated iron ore revenue royalties of AU$52.8 million and capacity payment of AU$2 million from Mining Area C (MAC).
Shares of Bubs Australia (ASX: BUB) fell over 2% to 45 cents after the goat dairy products producer released June quarter results. The infant formula merchant reported improvement in gross revenue on quarterly basis, but it declined on prior quarter, due to fluctuation in demand caused by the COVID-19 pandemic.
Shares of Origin Energy (ASX: ORG) tumbled nearly 9% after the energy company disclosed its earnings to take AU$2.2 billion hit due to write down of its core assets. It expects to recognise non-cash post-tax charges of AU$2.2 billion in its earnings for financial year 2021, driven by write downs to its energy markets business and a deferred tax liability. The company will announce its results in August.
The share price of medtech company MedAdvisor Limited (ASX:MDR) climbed 1.5% to 33 cents on signing a deal. The company has inked a five-year agreement with pharmacy wholesaler, Australian Pharmaceutical Industries. Following the announcement, shares of Australian Pharmaceutical Industries Limited (ASX:API) dropped nearly 3% to AU$1.4.