Source: Shutterstock
Summary

hipages, a newly listed business, performed better than expected in H1 FY21.
Monthly recurring revenue growth is backed by subscription-only model and enhanced subscription product offering.
The company is experiencing a strong start to the second half.
Newly listed company, hipages Group Holdings Limited (ASX: HPG) has unveiled a strong performance across all key metrics for the first half of FY21 ended 31 December 2020.
HPG is the largest online tradie platform and Software-as-a-Service (SaaS) provider in Australia. The platform connects tradies with consumers in the residential and commercial space.
Results Highlight Resilience of Business and Growth Drivers
The impressive maiden half-year report establishes HPG as a promising venture. The result is better than expected, with operational efficiencies and revenue growth aiding to drive positive operating leverage.
The key drivers to the robust performance included:
Subscription tradies – reaching 28.8k, up by 12%
Job volumes – up by 14%
Jobs from repeat consumers – reached 64% from 57% in the same period a year ago.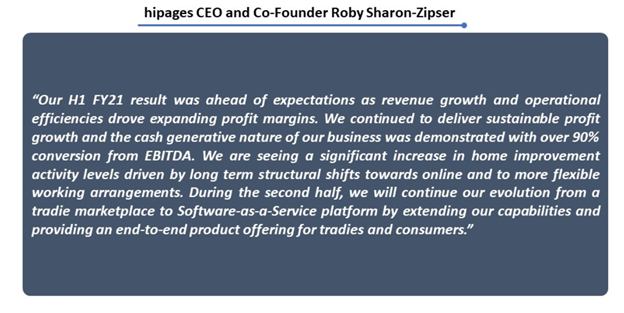 Data Source: HPG ASX Update, dated 23 Feb 2021
Revenue:Statutory total revenue was AUD 26.9 million, up by 18% on a pro forma basis. hipages' statutory recurring revenue stood at AUD 25.3 million, up by 26% on a pro forma basis. Monthly recurring revenue in December 2020 totalled AUD 4.6 million, up 31% year-on-year.
Gross profit margin was 87%. Pro Forma net profit after tax (NPAT) stood at AUD 1.5 million.
EBITDA:Pro Forma EBITDA was AUD 6.9 million, up from (AUD 0.1 million) in PCP. Statutory EBITDA, including non-recurring IPO related costs, totalled AUD 1.4 million.
Also Read: hipages Group debuts on the ASX, raises A$100.4 million via IPO
Robust Cash Flow and Balance Sheet
The company registered a robust pro forma operating cash flow (OCF) of AUD 6.7 million with EBITDA to OCF conversion of 98%.
Customer receipts totalled AUD 29.5 million, up by 18% on a pro forma basis. HPG had a positive statutory OCF of AUD 1.0 million post one-off IPO transaction costs related to the secondary raise of AUD 4.6 million, and debt repayment related non-recurring interest costs of AUD 1.1 million.
The financial position remained strong. On 31 December 2020, HPG had cash and funds on deposit of AUD 31.5 million with no debt.
Outlook for FY21
Revenue growth expectation for the second half is similar to the H1 FY21 performance. The company is experiencing a robust start to the second half, with revenue up by 18% on PCP for January 2021, which is ahead of expectations.
The company would continue its evolution from a tradie marketplace to a Software-as-a-Service model with the deployment of its field service software solutions, thus offering an enhanced experience to consumers as well as tradies.
HPG plans to continue reinvesting its cost savings in tradie acquisition, brand marketing, and technology and product development.
HPG traded flat at AUD 2.340 on 24 February 2021 (AEDT 11:41 AM).
Also Read: What Is Direct Listing? How Is It Different From IPO?