Summary

Korvest has reported a strong lift in earnings despite a slump in sales.
EPS rose over 30% compared to the same period last year, but the interim dividend was flat at 15 cents per share.
Capital goods business Korvest Ltd (ASX:KOV) on Friday unveiled earnings for H1 FY21. The company announced 15 cents per share fully franked dividend. For the half-year ended 31 December 2020, the company recorded sales of $32.6 million, down 9.7% compared to H1 FY20.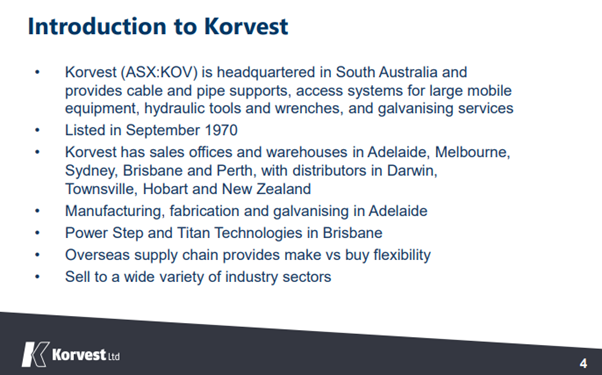 Source: KOV HY FY21 Presentation, 22 January 2020
Korvest noted less project work and a little drag on the market. Job Keeper payments were $1.86 million before tax. Earnings per share were 25.1 cents, up 32.1% over 19 cents in the same period last year.
Its net profit rose 33.3% to $2.84 million against $1.9 million in H1 FY20. Likewise, EBIT increased 35.1% to $4.16 million.
Related: Dividend Stories of the Day: IAG, SNL, KOV
A significant lockdown in Victoria after the national lockdowns disrupted normal trading as Victoria branch faced the greatest impact given the prolonged restrictions. There were restrictions on the number of people that could be onsite at any time, which also influenced product sales.
The record date for the 15 cents per share interim dividend is 19 February 2021, and the pay date is 5 March. The company is also running a dividend reinvestment plan.
Korvest said energy costs are down over the past twelve months after an extended period of rising cost. It has locked electricity usage costs until 2023 at 2020 rates, while total gas and electricity costs remained unchanged over the previous corresponding period.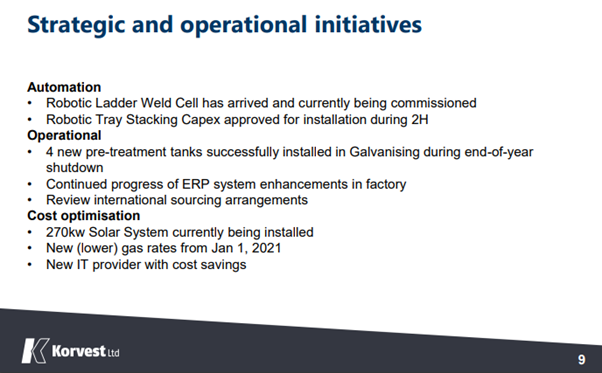 Source: KOV HY FY21 Presentation, 22 January 2020
The company said 2H trading conditions would be similar to the first half. It would continue to deliver products to a major project, which is running since the first half. Korvest has not qualified for the JobKeeper 2 scheme.
While the company has not provided any near term forecast, it said that infrastructure pipeline over the medium term remains strong.
KOV shares closed at $5.1, up 2.4% on Friday, 22 January 2021.