Summary

Coles Group is amongst the biggest retail companies, playing a pivotal role in the Australian retail industry.
Post a relatively stable January 2021, Coles share price witnessed a steep fall in February. However, the shares have been on a recovery path, slowly inching towards the January levels.
The retailer witnessed a 6.1% drop in Q3 FY2021 supermarket sales revenue, partially negated by liquor sales revenue and C-store sales revenue growth.
The Company has consistently paid dividends to its shareholders. In 1H FY2021, the Company paid an interim dividend of AU$0.330.
Coles Group Limited's (ASX:COL) share price movement in CY2021 has been nothing short of a roller coaster ride. After a relatively stable first 45 days of the calendar year, COL shares tumbled in the second half of February, continuing the trend for a good two months before the shares witnessed a change in fortune. COL shares have gradually recovered and are inching closer towards the early 2021 levels.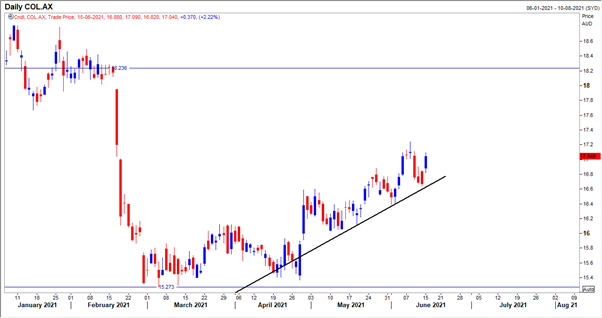 Coles Group share price chart (Source: Refinitiv Eikon)
Coles Group is an Australian retailer of fresh food, groceries, household goods, liquor, fuel, and financial services with more than 2.5K retail outlets across the country. The Company aims to become the most trusted retailer.
In 1H FY2021, the Company continued its strategic progress with 8.1% revenue growth compared to the prior corresponding period (pcp) and maintained a strong balance sheet. During the half, COL reported an impressive 61% growth in eCommerce B2C sales and delivered cost savings of over AU$250 million. However, the first quarter of CY2021 (Q3 FY21) was challenging for the retailer.
ALSO READ: Coles Group (ASX: COL) in hot water as workers strike over jobs and benefits
Coles Group's performance in Q3 FY2021
However, in Q3 FY2021, Supermarkets sales declined by 6.1% as Coles cycled the substantial effects of COVID-19 that happened during February and March of the prior corresponding period (pcp). However, Liquor and Express sales improved by 2.6% and 7.4%, respectively.
The segment-wise performance is highlighted below:
Supermarkets
Supermarkets sales revenue stood at AU$7.7 billion, down 61.%.

eCommerce sales increased by 49%, with sales penetration increasing to 5.5% in Q3 from 5.3% in Q2.

Supermarkets eCommerce B2C sales were up 57%, driven by B2B sales returning to growth in Q3.
Customer-led range change activity continued with over 130 range changes accomplished. Coles delivered trusted value for clients with over 400 products put on everyday low prices.
COL launched more than 260 new products and launched Coles Perform, a new sports nutrition brand with various nutritionist-approved frozen meals. COL also launched Urban Colour brand, presenting cosmetics for consumers looking for affordable luxuries.
Own Brand won seven awards in Q3. It comprises four Choice awards across products.
Coles completed 18 renewals during Q3 comprising three Format A & 14 Format C stores.
Liquor
Liquor sales revenue increased by 2.6% to AU$759 million on pcp.
Strong eCommerce sales growth of 72%, driven by the implementation of client experience improvements. COL launched SMS order approvals and order tracking functionality.
Opened three new Liquor stores and closed four stores, thus, taking the entire network to 924 liquor sites.
Express
C-store sales revenue increased by 7.4% to AU$275 million on pcp.
The sales growth was driven by core convenience types like food-to-go, drinks and confectionery.
COL invested in self-service coffee machines and Express' award-winning Rainforest Alliance Certified Urban Coffee Culture blend. It was also amongst factors supporting a double-digit growth in coffee sales and a robust boost in customer satisfaction.
DO READ: Coles' Chocolate hot cross buns gain top spot as tastiest treats on offering
Outlook
In the first four weeks of Q4 FY2021, Supermarkets sales, adjusted for ANZAC Day timing, improved by ~4%. The Company also witnessed signs of normalising consumer behaviour, including improved transaction growth.
COL - A dividend-paying retailer
Coles made its ASX debut on 21 November 2018 and has constantly provided dividends to its shareholders. For 1H FY2021, the Company paid an interim dividend of AU$0.330 on 26 March 2021. Despite the challenging situation in 2020 due to COVID-19, the Company provided dividend for FY2020. The image below highlights COL's dividend payments since its listing.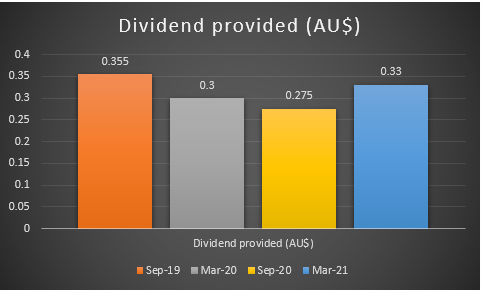 Image: Copyright © Kalkine Media, Data Source: ASX
As of 15 June 2021, the Company's annual dividend yield is 3.62%.
ALSO READ:
Click Here to know about the top 25 ASX-listed stocks by dividend yield.
Retail Industry outlook
A blue-chip company, Coles is amongst the leading retail companies that dominate the Australian supermarket industry. Woolworths (ASX:WOW) is another retailer with a massive presence in the Australian supermarket industry. Both these Companies attracts nearly 30% market share each year. In 2020, the annual turnover of the supermarket and grocery store retail in Australia was over ~AU$125 billion.
In a report released by ABS on 03 June 2021, food retailing improved by 1.4% in April 2021. As per the seasonally adjusted estimate, supermarket and grocery stores grew by 1.2%, liquor retailing by 3% and other specialised food retailing by 1.1%.
Source: © Kalkine Media, Data Source: ABS, Retail Trade, Australia April 2021
Household goods retailing improved by 1.5%. There was a growth in electrical and electronic goods retailing, and furniture, floor coverings, houseware and textile goods retailing by 3% and 1.7%, respectively. On the other hand, there was a marginal drop of 0.3% in hardware, building and garden supplies.
Apparel, footwear, and personal accessory retailing grew by 1.2% in April 2021, and other retailing like retailing of recreational goods, newspaper, and book retailing overall improved by 1.7%.
Stock Information
On 15 June 2021, COL shares closed at AU$16.990, up 1.919%.