Summary

Pharmaxis Ltd and Charlie Teo Foundation have identified a new drug that shows promise in tackling a deadly form of brain cancer.
Pharmaxis' PXS-5505 will be a part of preclinical testing to assess its efficacy for glioblastoma (GBM).
The drug has shown a good safety profile in clinical studies performed in healthy volunteer in Australia.
ASX-listed pharmaceutical research company Pharmaxis Ltd (ASX:PXS) has announced that along with Charlie Teo Foundation, it has identified a promising drug to fight brain cancer.
Following the announcement, PXS shares moved north and were trading at AU$0.085, up by 1.190% at AEST 12:11 PM.
Today, S&P/ASX200 was up 0.16% to 7037.20 (at AEST 12:11 PM). A few healthcare shares moving up on the ASX today include Medibio Limited (ASX:MEB), Actinogen Medical Limited (ASX:ACW), and CLINUVEL PHARMACEUTICALS LTD (ASX:CUV).
Let us dive deep and discuss the PXS update in detail-
Australian charity awarded a research grant to study PXS-5505
On 3 May 2021, Pharmaxis disclosed that it would focus on a new Australian drug discovery to treat glioblastoma (GBM). The Company highlighted that it had received a funding grant from the Charlie Teo Foundation to test PXS-5505.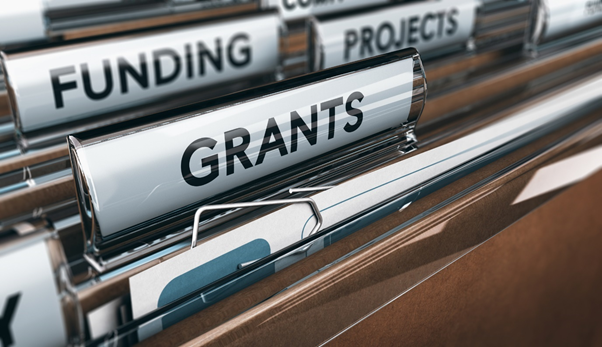 Source: © Olivier26 | Megapixl.com
The drug is developed by Pharmaxis and will enter preclinical efficacy testing for glioblastoma (GBM). GBM is the most common form of brain cancer, with an average survival of only 15 months from diagnosis.
An Australian charity, Charlie Teo Foundation, has awarded an AU$186,837 research grant to Y. Alan Wang, PhD, associate professor of Cancer Biology at the University of Texas MD Anderson Cancer Center, for enabling the study of PXS-5505.
ALSO READ: Pharmaxis' Shares Jump ~9% on Sale of Distribution Rights in Russia
PXS-5505: a potent inhibitor of lysyl oxidases
The Company also disclosed that lysyl oxidase enzymes play an important role in GBM. These enzymes attract inflammatory cells that participate in the acceleration of tumour growth and reduce survival. Notably, PXS-5505 is a potent inhibitor of lysyl oxidases and should stop these processes.
The unique mechanism of action of PXS-5505 inhibits enzymes that are critical for the growth and survival of tumour.
Interestingly, PXS-5505 has demonstrated a good safety profile in healthy volunteer clinical studies in Australia. Previous research studies have already shown the significance of lysyl oxidases in tumour growth in GBM.
The Company stated that the current study would seek to validate the efficacy of the Pharmaxis drug in the models of brain cancer.
Gary Phillips, CEO of Pharmaxis, commented: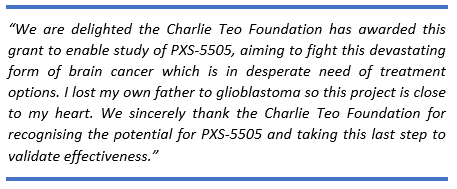 Mr Phillips further added that the preclinical study would progress for more than one year, and successful completion of this study can lead to clinical trials in 2022. Furthermore, this new project accesses external funds as well as expertise for the extension of the potential uses of PXS-5505.
He further added PXS-5505 is already enrolling patients in a Phase 1c/2 clinical trial to assess the efficacy for myelofibrosis.
Charlie Teo Foundation in a nutshell
Charlie Teo Foundation is an Australian charity that provides funding for brain cancer research.
The charity was officially launched in March 2018 by Professor Charlie Teo, on the premise of operating a low-cost charity as well as funding research in a different way.
So far, the Australian charity has raised more than AU$14 million for brain cancer research.