Highlights

The year 2020 was expected to be a very challenging year for the Australian markets with increasing costs and emerging global competition.
Despite a challenging year, most of the staple stocks have given some sort of consolation to the Australian economy.
Huon Aquaculture delivered over 34% over the past one month, followed by Blackmores and Ridley at 28% and 14%.
Increased demand for staple goods during the pandemic times has amplified the overall consumer staple sector in Australia. The price-based competition has also moderated from the last couple of years, that helped major companies to focus on their profit growth. Many companies have increasingly focused on improving their customer's shopping experience by enabling online shopping facilities.
Representative Image. Source: © Jirsak | Megapixl.com
Despite the pandemic and strict lockdowns, this sector has witnessed number of stocks delivering impressive gains over the time. This article will walk you through some exciting consumer staple stocks to look in September.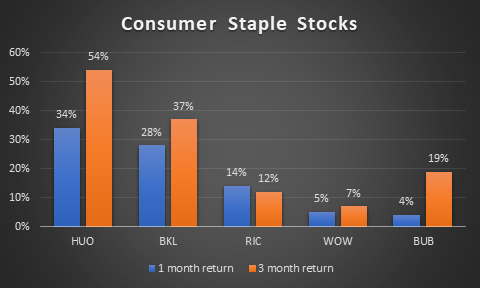 Source: Kalkine Research, ASX
Huon Aquaculture Group Limited (ASX:HUO)
The AU$417.51 million company – Huon Agriculture – is one of the largest family-owned business, that operates as a vertically integrated salmon producer in Australia.
HUO's earnings were significantly impacted by the pandemic, that resulted in a statutory loss of AU$128 million for the 12-month period ended on 30 June 2021. According to the latest results announced in late August –
The Operating earnings before taxes, depreciation & amortization (EBITDA) fell 65% from the prior year that stood at AU$16.7 million.
Revenue increased by AU$87 million on the back of increased volumes and reduced prices.
The Group achieved strong gains in the domestic retail market with record sales, achieved through the launch of new ranges of products and contract wins.
Earlier on 6 August, the group announced that it has entered into a scheme Implementation deed with JBS to acquire 100% of Huon shares. On 2 September, Huon shares were trading 0.020% high at AU$3.820 at 12:12 PM AEST.
Blackmores Limited (ASX:BKL)
The ASX-listed Blackmores Limited is a natural health company in Australia, providing range of vitamin, minerals, and other nutritional supplements.
Vitamins supplements as a capsule with fruit vegetables nuts and beans inside a nutrient pill Source: © Jirsak | Megapixl.com
Blackmores achieved a strong progress in FY21 returning to profitable growth despite the headwinds in the economy. According to its FY21 results:
The company's revenue stood at AU$575.9 million, 3% up on a constant currency basis.
Underlying Earnings before interest and tax (EBIT) increased by 52% that stood at AU$47.6 million.
The Company's net profit after tax (NPAT) stood at AU$25.4 million, 61% high from the last year.
Blackmores also announced to pay a fully franked dividend of AU$42 cents per share under its FY21 annual report. On 2 September, BKL shares were trading 1.384% high at AU$94.440 at 12:14 PM AEST.
Ridley Corporation Limited (ASX:RIC)
Ridley Corporation Limited is a leading provider of high-performance animal nutrition solutions in Australia.
The company has achieved a good level of improvement in overall financial metrics delivering a strong operating performance. According to its FY21 results published in late August –
The company's underlying EBITDA stood at AU$69 million, reflecting over 16% YOY
Ridley's operating cash flow went up by 43% on YOY basis that came at AU$82 million.
Delivering a good shareholder value, the Company announced fully franked dividend of AU$2.0 cents per share.
With increased earnings, and operating cash flow, company achieved a reduction in net debt of AU$64 million. On 2 September, RIC shares were trading 0.010% high at AU$1.310 at 11:09AM AEST.
Woolworths Group Limited (ASX:WOW)
Woolworths Group Limited operates as one of the largest food retailers in Australia, with a market cap of AU$51.92 billion.
RELATED READ - Woolworths' (ASX:WOW) Group Sales rises 5.7%, eCommerce sales up 58.1%
The Group has achieved healthy sales growth for the year ended on 27 June 2021. According to Woolworths' FY2021 annual results-
The Company's group sales increased by 5.7% that stood at AU$67.3 billion from previous year.
Woolworths' EBIT stood at AU$3.7 billion – highlighting a significant jump by 13.7%.
It also achieved an impressive sales growth by 75% on the back of eCommerce.
Prior on 26 August, the Group also announced an off-market buy-back of Woolworths Group Ordinary shares. On 2 September, WOW shares were trading 0.491% low at AU$40.610 at 1:08 PM AEST.
BUBS Australia Limited (ASX:BUB)
BUBS Australia is one of the largest infant milk formula manufacturers in Australia.
RELATED READ - Bubs Australia (ASX:BUB) revenue up 8% in fourth quarter
Despite the uncertain market fluctuations, the Company highlighted some growth in core products along with focus channels. According to the Company's FY21 Annual report released on 30 August –
Group's Gross revenue stood at AU$46.8 million, including a solid growth of 26% from the prior year in its infant formula CBEC channel gross revenue.
The gross revenue growth in the international markets went up by 57% that accounted for 18% of the Group gross revenue.
Bubs Australia's scan sales went up by 51.5% on year-on-year basis.
With outstanding revenue generation, BUBS Australia is now one of the fastest growing Infant Formula manufacturer in Australia. On 2 September, BUB shares were trading 0.011% low at AU$0.420 at 1:21 PM AEST.