Cooper Energy Limited (ASX:COE) has confirmed that the remaining Sole Gas Agreements would start from 1 January, taking the total gas sales agreements with utility and industrial customers to 19.75 petajoules per annum in 2021 with an average of 50 terajoules per day.
Sole Gas Agreements – A Feather in the Cap
Sole gas is processed at the Orbost Gas Processing Plant, and gas agreements concerning the same are take-or-pay obligations with a minimum quantity of ~ 90 per cent of the total annual contracted volume.
The gas sales agreements represent a significant milestone for Sole gas as it implies that most of it would be sold at agreed term contract prices, which has been sold at lower spot prices less of transportation.
The revenue and costs for Sole gas were shared as per the previous transaction agreement between COE and APA as announced by on 23 August 2020. Furthermore, in accordance with the transaction agreement, Sole gas produced above the contracted quantity can be sold at spot prices.
Impairment at the Orbost Processing Plant
At present, the performance of the Orbost Gas Processing Plant has been impaired due to the absorbers of the sulphur recovery unit requiring regular maintenance amidst foaming. However, the Company is currently analysing and reviewing the root cause of foaming in the absorbers. COE had completed the reconfiguration of the plant's two absorbers till 9 December 2020.
Currently, the reconfigured absorbers could run either independently or in series, providing the plant greater operational flexibility in conducting regular maintenance cleaning while continuing the production.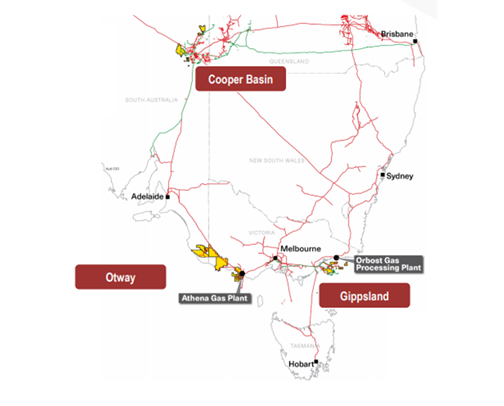 Orbost Gas Processing Plant Relative Location (Source: Company's Presentation Dated 1 December 2020)
Production Rate to Double At Orbost Ahead
Since 9 December 2020, the Orbost Gas Processing Plant has maintained a production rate of 22.5 terajoules of Sole gas per day through a single absorber, and with the second absorber in place and having commenced operations on 29 December 2020, the Company plans to increase the production to 45 terajoules per day, reliably.
Back-up Supply Agreements and Strong Cash Margin Anticipation
Furthermore, to support the Sole gas agreements, COE has back-up gas supply arrangements in place, for which APA would make contributions to the cost of certain back-up supply arrangements in instances of production shortfalls, in accordance with the transaction agreement.
Meanwhile, the Company anticipates earning a comparable net cash margin, tantamount to all gas being processed at the Orbost Gas Processing Plant while generating a superior net cash margin through gas supply at anticipated short-term spot prices.
The stock of the Company last traded at $0.367 (as on 30 December 2020 2:00 PM AEDT), down by 2.00 per cent against its previous close on ASX.