Highlights

The prices of thermal coal have climbed nearly 106% this year on the back of robust demand and tight supplies.
Thermal coal is primarily used in power plants for generating electricity.
A rebound in economic activity with ease in global lockdowns and a rise in gas prices have driven thermal coal prices to record highs.
A rebound in power demand in China, the country's informal ban on Australian coal imports, and supply disruption in major coal-producing nations, including Australia, South Africa, and Columbia, contributed to the rise of global thermal coal prices.
According to major media sources, the prices of Australian thermal coal at Newcastle Port have climbed nearly 106% this year to land at US$166 per metric ton.
Related Watch: What is coking coal, and where is it used?
A rise in global crude oil prices, which have gained more than 45% in the last year, has also played a vital role to take the thermal coal prices to sky highs. Thermal coal is primarily used for the generation of electricity. However, the burning of coal produces a huge amount of carbon, and hence it remains the topmost target of environmentalists, who are working hard to push renewables.
ASX Coal Stocks under the Spotlight
A blend of soaring electricity demands with ease in global lockdowns and surging gas prices have triggered the prices of thermal coal to record highs. Apart from this, rising gas prices have further contributed to the increase in burning coal prices at the expense of gas for generating electricity.
Also Read: Why Canada will no longer allow any new thermal-coal mining projects
Given this backdrop, let's look at seven ASX-listed coal players and their performance in the past year.
Whitehaven Coal Limited
Whitehaven Coal Limited (ASX:WHC) is one of the leading coal producers of premium-quality coal in Australia. The company operates four mines in NSW's Gunnedah Coal Basin.
In the June quarter, the company's managed sales were 4.5Mt while managed own coal sales were 4.0Mt, and total equity own coal sales stood at 3.2Mt.
Read here: What's weighing on the Whitehaven Coal (ASX: WHC) share price today?
Stanmore Coal Limited
Headquartered in Queensland, Stanmore Coal Limited (ASX:SMR) operates in the Isaac Plains Complex in the Bowen Basin region, which includes processing facilities and the Isaac Plains mine.
The company commenced coal mining at the bulk sample pit at Isaac Downs during the June quarter. SMR produced 595,000 tonnes of coal during the June quarter with total coal sales of 293,000 tonnes.
Good information: Is renewable electricity more economical than coal-based power?
Yancoal Australia Limited
Yancoal Australia Limited (ASX:YAL) has its headquarters in New South Wales. YAL is a pure-play coal-producing company that operates coal mines across Western Australia, NSW, and Queensland.
Source: © Yurolaitsalbert | Megapixl.com
The company's total attributable saleable coal production during 1H FY21 was 17.5Mt, while the total revenue clocked at AU$1.78 billion. YAL's operating cash cost increased by 5% during the half year due to higher diesel prices and lower production.
New Hope Corporation Limited
Founded in 1952, New Hope Corporation Limited (ASX:NHC) is engaged in the exploration and production of coal in Queensland and New South Wales.
During the last quarter, the share prices of the company increased nearly 71% relative to the previous quarter due to surging prices of thermal coal, which reached near 10-year highs. Total saleable production from NHC's Bengalla was 26.6% higher as compared to the prior quarter.
BHP Group Limited
BHP Group Limited (ASX:BHP) is a well-known global resource company that is engaged in the production of various commodities, including copper, iron ore, coal, crude oil, and uranium. The company holds its assets in Western Australia, South Australia, NSW, and Queensland.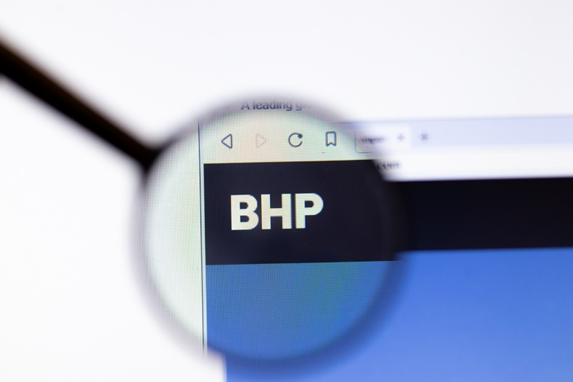 Source: © Transversospinales | Megapixl.com
BHP's metallurgical coal EBITDA margin during the June 2021 quarter slumped by nearly 14%. The company had produced 41Mt metallurgical coal during the financial year 2021.
Also read: What are the highest prices of BHP, RIO & FMG?
Allegiance Coal Limited
Headquartered in Sydney, Allegiance Coal Limited (ASX:AHQ) is an Australian coal player. The company is engaged in the development of coal projects in Western Canada and North America. AHQ is developing British Columbia's Tenas metallurgical coal project.
The coal miner commenced mining at its New Elk project during the June quarter and sold four 70,000Mt of New Elk Blue seam to Asia.
Coronado Global Resources Limited
Coronado Global Resources Limited (ASX:CRN) is one of the significant producers of metallurgical coal across the globe. The company operates in Queensland's Bowen basin and the Unites States' Central Appalachian.
CRN's saleable coal production during the first half of FY21 (ended 30 June 2021) stood at 8.8Mmt, while the sales volume was 8.9Mmt. The company's net loss after tax during the half-year was AU$96.1 million.