Summary

City Chic Collective is acquiring Evan from Arcadia Group, which is in administration.
The transaction is consistent with the strategy to expand the digital customer base across the global plus-size market.
City Chic Collective Limited (ASX:CCX) has entered into a binding asset purchase agreement to acquire a leading UK plus-size brand Evans.
Arcadia Group, the parent company of Evans, has entered into administration. City Chic Collective has agreed to buy eCommerce business, wholesale business and Evans brand.
Australian plus-size retailer would pay £23.1 million (A$41 million) in cash for agreed assets and brand. Evans is a well-known brand in the UK with a history of 90 years.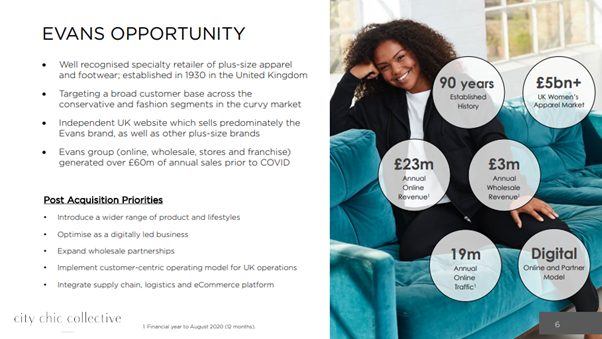 Source: CCX Presentation, 21 December 2020
It is not acquiring Evans stores and franchisee business. In the 12 months to August 2020, Evans clocked 19 million annual website visits, indicating a strong and loyal customer base.
After the payment of cash consideration, the transaction is expected to complete on 23 December 2020.
Chief Executive Phil Ryan said Evans provides a solid base in new geography. The transaction is consistent with the objective to acquire digital customers in the plus-size apparel market.
He also said that they are confident of deploying City Chic's operating model to drive revenues and deliver cost efficiencies.
City Chic has a provision of transitional services arrangement with Evans eCommerce business that would run until April 2021.
Source: CCX Presentation, 21 December 2020
Evans website reported sales of £23 million while wholesale business delivered sale of £3 million. Before the pandemic, Evans Group generated the sale of over £60 million, including stores and franchise.
Its store footprint has been declining as customers continue to embrace digital channels. City Chic is funding the acquisition through its cash balance, which was A$121 million as of 30 November 2020.
The company's A$40 million debt facility remains undrawn. It estimates a proforma cash balance of A$75.3 million after the payment of consideration and related costs.
At the time of writing, CCX was trading at $3.62, up by ~14% against the previous close.