Summary

The ASX 200 ends 27.20 points or 0.37% lower at 7,359.
Seven out of 11 sectors ended in red, while telecom and energy emerging as the worst performer.
The market sentiment was dented as US Federal Reserve indicated a rate hike by 2023.
The Australian share market closed lower on Thursday, snapping a four-session gaining streak, as a surprisingly hawkish tone from the US Federal Reserve left investor jittery. In an aggressive shift in policy stance, the US central bank is expected to begin hiking interest rates next year, followed by two hikes by 2023, as indicated by Fed officials.
The Fed's move sparked selling in markets across the globe, with the ASX 200 dropping 27.20 points or 0.37% to 7,359. Earlier today, the index opened lower and touched an intraday low of 7,341.90.
The market breath, indicating overall strength of the market, was weak, with eight of 11 sectors ending in red. The telecommunications services sector declined the most, falling 1.9%. The other sectors that were bleeding in red include energy, A-REIT, materials, consumer staples and utilities.
The Last Trade || ASX Seen Snapping 4-Day Gaining Streak; Energy, Materials Stocks Bleed
Meanwhile, information technology, financial, A-REIT, consumer discretionary and industrials settled in green. The tech sector rose 1.01%, followed by financial with 0.77% gain.
Banking stocks emerged as top performers of the day after the Reserve Bank of Australia (RBA's) minutes from the June meeting indicated a continuation of its accommodative stance. Investors also reacted positively to RBA governor Philip Lowe's comment that "it is time to be thinking about how we (economy) transition from recovery mode to expansion mode." Lowe said that the CPI inflation would temporarily rise in the June quarter to around 3.5%.
Australia's metals and mining subindex AXMM declined as much as 2.4% on Thursday, heading to post a third consecutive session of losses. The loss was mainly due to a fall in Chinese iron ore futures amid rising shipments from major suppliers. Big miners BHP Group Limited (ASX:BHP) and Rio Tinto RIO (ASX:RIO) are trading lower, while gold miner Chalice Mining Limited (ASX:CHN) is the biggest loser on the subindex.
ASX-listed gold stocks extended loss for the second session, with key players Northern Star Resources (ASX:NST), Newcrest Mining (ASX:NCM), De Grey Mining (ASX:DEG), Evolution Mining (ASX:EVN) and Ramelius (ASX:RMS) closing in red. Spot gold prices rose 0.5% to approximately US$1,821 an ounce after the overnight fall due to a stronger US dollar and higher Treasury yields driven by a hawkish Fed outlook.
ASX-listed energy companies witnessed selling pressure after crude oil prices declined during Asian trading hours on Thursday after the US Fed signaled a rate increase by late 2023. Brent crude futures were down 0.51% at US$71.78 a barrel, while WTI crude oil futures fell by 0.56% to US$73.97 per barrel. The index heavyweights Beach Energy (ASX:BPT) and Woodside Petroleum (ASX:WPL) closed in red.
Top Gainers and Losers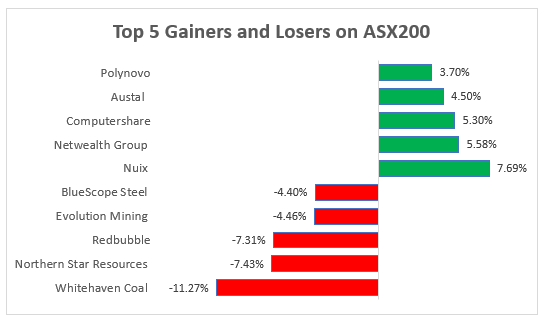 Source: ASX website; as of 4:00 PM (AEST)
Tech firm Nuix Limited (ASX:NXL) emerged as the top performer on the ASX with 5.77% gain. Some of the other notable gainers were Netwealth Group Ltd (ASX: NWL), Computershare Ltd. (ASX:CPU), Austal Limited (ASX:ASB) and Polynovo Limited (ASX:PNV).
Meanwhile, coal mining company Whitehaven Coal (ASX:WHC) was the top percentage loser on the ASX, sinking over 11%. Some of other worst performers were Northern Star Resources Limited (ASX:NST), Redbubble Ltd. (ASX:RBL), Evolution Mining Limited (ASX:EVN) and BlueScope Steel Limited (ASX:BSL).
Shares in News
Shares of Whitehaven Coal Limited (ASX:WHC) plunged as much as 10.42% to AU$1.82, marking their biggest intraday percentage loss since 15 April 2021, after the coal miner downgraded production outlook for FY21. The country's largest independent coal miner trimmed its annual run-of-mine coal output to 20.4 million tonne (Mt) from its previous range of 20.6 Mt to 21.4 Mt. The company, however, has reaffirmed its managed coal sales and unit costs guidance within its previous range. While the managed coal sales guidance for the current fiscal has been pegged at 17.9Mt, the unit cost guidance for FY21 has been projected at AU$74 per tonne.
Shares of Vectus Biosystems Limited (ASX:VBS) spurted up 24.75% to AU$1.26 on regulatory approval for the lead drug's Phase I trial in Australia. The biotech firm stated it had received approval for the Phase I human trial of its drug, VB0004, in healthy volunteers in Australia to study its safety and tolerability. VB0004 is the Company's lead compound, which aims to treat the hardening of functional tissue and high blood pressure.
Shares of eCargo Holdings Ltd (ASX:ECG) gained as much as 25% to 2.5 Australian cents after the company announced partnership with New Zealand-based dairy firm. The outsourcing services provider said it had launched its JuJiaXuan Digital Wholesale Marketplace to connect Australian brands with Chinese retailers and NZ-based dairy giant Fonterra's Australian unit.
Shares of NB Global Corporate Income Trust (ASX:NBI) gained as much as 1.1% to AU$1.84 after the company raised target distribution for FY22 to 4.75% per annum. It added that the first payment of its FY22 target distribution would be announced at the end of July and paid in mid-August.
Online travel marketplace Jayride Group Limited (ASX:JAY) shares fell as much as 12.73% to 24 Australian cents after the company updated about share placement. The company stated it had undertaken a placement of 47.6 million shares at 21 cents apiece to raise AU$10 million.
Shares of Castle Minerals Limited (ASX:CDT) jumped as much as 7.14% to 1.5 Australian cents on base metals confirmation at Earaheedy Basin Project. The Gold explorer said review of historic exploration reports had confirmed base metals at Withnell and Terra Rossa project areas (Earaheedy Basin Project) in Western Australia.
Shares of medical marijuana producer AusCann Group Holdings Ltd (ASX:AC8) gained as much as 9.1% to 12 Australian cents on Thursday. The company has entered into an agreement to lease its R&D facility in Western Australia to forensic tech firm, Source Certain International. The firm will receive AU$475,000 per year in rent as part of a five-year lease.
Shares of Brookside Energy Limited (ASX:BRK) rose 4.5% to 2.3 Australian cents after the company provided an operations update on Jewell Well, located in Anadarko Basin. As per the company, the operations are safe and proceeding on schedule. Jewell Well is now installed with production casing and is prepared to start with completion operations.
4D Medical Limited (ASX:4DX) announced it had received a US$600K purchase order for a preclinical scanner from the University of Michigan. As per the release, the order is for 4DMedical's XV Technology™, Permetium™ preclinical scanner. It is an updated technology from 4DX's early R&D technologies.
Bigtincan Holdings Limited (ASX:BTH) has announced that it would acquire 100% of Vidinoti SA, a Swiss-based technology firm. The company has signed a definitive agreement for AU$770,000 for the same deal. The consideration will be 50% cash and 50% equity.
Think Childcare Group (ASX:TNK) shared it had executed an Implementation Agreement with Busy Bees Early Learning Australia Pty Ltd. The proposed acquisition will have two inter-conditional schemes of arrangement. The Scheme consideration is AU$3.20 cash per Stapled Security.
Fe Limited (ASX:FEL) has entered into two separate binding agreements with Global Lithium Ltd (ASX:GL1), and Mercury Resources Group Pty Ltd. Agreements are to dispose of its Pilbara exploration tenure and are for a total cash consideration of AU$550,000, plus a trailing royalty on certain tenements. As per the announcement, the sale will take place via two separate dealings, expected to be completed in the coming weeks.
Asian Market Mostly Lower After Fed Signal Rate Hike
The equity markets in the Asia Pacific (APAC) region were trading mostly lower after the US Federal Reserve indicated a rate hike by 2023, sooner than previously projected.
Japan's Nikkei 225 was the worst performer in the region, falling 1.15%. South Korea's Kospi was down 0.4%, while Taiwan's Weighted Index fell 0.23%.
Bucking the trend, Hong Kong's Hang Seng rebounds 0.25%, while Straits Times index in Singapore rose by 0.2%, paring early losses.
Chinese stocks were also trading higher, showing signs of recovery after a downturn earlier this week. The benchmark Shanghai Composite Index gained 0.4% to 3,530.85, while the Shenzhen Composite Index was up 0.2%, while Shenzhen component surged by 0.86%.
In the Chinese administrative region of Hong Kong, the Hang Seng index was up 0.3%.
In the overnight trade, Wall Street closed lower after Federal Reserve officials indicated a sooner-than-expected rise in interest rates by late 2023. The Dow Jones Industrial Average fell 0.8%, the S&P dropped 0.5% and the NASDAQ Composite slipped 0.2%.