Highlights

The ASX 200 ended 0.8% higher on Friday.
Barring health care, all sectors ended in positive terrain.
Mining, energy and tech sectors were among top performers.
Asian shares rise as inflation worries faded.
Bitcoin rose ahead of Taproot upgrade, Ether and others followed suit.
Snapping a four-session losing streak, Australian shares closed higher in a broad-based rally on Friday. The rebound in commodity prices helped the equity market recover from the shock of a higher US inflation reading, which reignited fear of rate hike. The market sentiment was also boosted amid speculation that China will take steps to inject liquidity in the property market after the Evergrande Group debacle.
The benchmark ASX 200 index closed 61.10 points or 0.83% higher at 7,443, crossing above its 20-day moving average. Overall, the index ended the week virtually unchanged as inflation woes rattled investors' sentiments.
ASX ends 0.8% higher; IGO, James Hardie, Champion Iron shine
The market witnessed broad-based buying today, with ten of 11 sectors ending in green zone, barring health care. The material sector emerged as the biggest gainer for the second day, owing to a rise in commodity prices such as iron ore, copper and gold. The gain in material space was driven by iron ore miners as iron ore prices surged 4.1% to US$92.57 a tonne overnight. The gold stocks also witnessed a surge in buying as investors sought inflation hedges.
Tech and energy sectors also saw spurt in buying activities, with each index rising over 1%. Among others, consumer staples, telecom, utilities and consumer discretionary sectors also ended higher with modest gains.
Meanwhile, healthcare was the only loser, which ended marginally lower.
On the initial public offering (IPO) front, disability service provider APM Human Services International (ASX: APM) made debut on the domestic exchange. The Perth-headquartered company become the second billion-dollar company to join the ASX with a market capitalisation of AU$3.26 billion, after tech firm Siteminder (ASX: SDR), which got listed with a valuation of AU$1.36 billion. The health and human services company received tepid from investors, falling as much as 9.8% against issue price of AU$3.55 apiece. The company intends to use IPO capital to pay off its debts and enhance the liquidity for the shareholders.
Top gainers and loser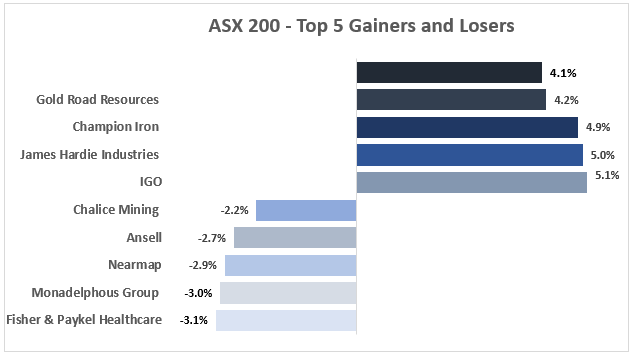 The top gainer on the ASX was metal and mining group IGO (ASX: IGO), which ended 5.1% higher. Some of the other notable gainers were building products manufacturer James Hardie Industries (ASX: JHX), iron ore explorer Champion Iron (ASX: CIA), gold producer Gold Road Resources (ASX:GOR), and law firm Omni Bridgeway (ASX: OBL). 
On the losing side, health care business Fisher & Paykel (ASX:FPH) topped the losers' chart with a 3.1% loss. The other worst performers were engineering services firm Monadelphous Group (ASX:MND), technology company Nearmap (ASX:NEA), healthcare business Ansell (ASX:ANN), and gold miner Chalice Mining (ASX:CHN).
Asian shares rise as inflation woes ease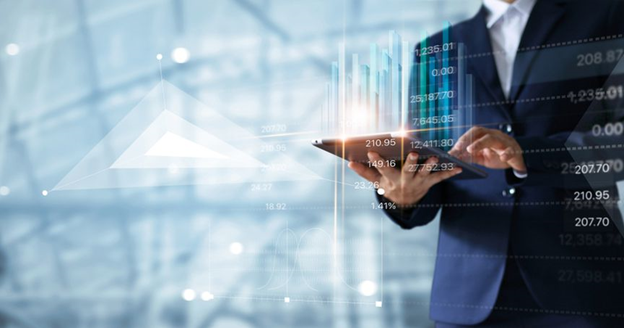 Image source: PopTika,Shutterstock.com
Shares in the Asia-Pacific region advanced on Friday as investors seemed to have shrugged-off inflation concerns and shifted focus to corporate earnings. Inflation scares spooked market sentiment after data on Wednesday showed the US consumer prices rose at the fastest pace since 1990. The spike in the CPI index rekindles talks for faster Federal Reserve policy tightening.
South Korea's KOSPI was the biggest gainer in the regional market. The Korea Composite Stock Price Index (KOSPI) rose as much as 1.4%, reversing some of the previous session losses.
Japan's Nikkei rose over 1%, supported by the yen's weakness against a strong US dollar which surged on hopes of monetary policy tightening by the Federal Reserve.
Hang Sang index in Hong Kong rose by 0.2%, while Taiwan Weighted Index gained 0.3%. The Straits Times Index in Singapore traded flat, while India's BSE Sensex also fell 0.4% in opening deal, tracking weakness in the Asian peers.  Thailand's Set Composite also gained 0.1%.
Bucking the trend, China's Shanghai Composite traded marginally lower.
On Wall Street, the major stocks ended mixed on Thursday as a sharp rise in inflation dampened investor sentiment. The S&P 500 and NASDAQ Composite settled in positive terrain, while the Dow Jones index ended lower.
Bitcoin rises ahead of Taproot upgrade, Ether and others follow suit
Image source: © Jrockdesign | Megapixl.com
The cryptocurrencies were mostly in green during early trade on Friday as investors turned bullish ahead of the upcoming Bitcoin blockchain Taproot upgrade. The total market cap of global cryptocurrency rose by 1.2% to US$2.84 trillion over the past 24 hours. However, the crypto market volume dropped nearly 29%, with coins worth US$125.5 billion changing hands over the counter.
The highly anticipated Taproot upgrade, which is likely to be activated by the end of this week or early next week, will lead to better smart contracts and cheaper transaction costs to the network. This is going to be the first major upgrade to cryptocurrency's code since the SegWit update in 2017.
Bitcoin, world's most popular currency, was trading marginally higher at around US$64,800 level. The price of the world's largest crypto had touched a fresh record high of US$68,950 during the US trading hours on Wednesday following the release of inflation data. The US consumer price index (CPI) rose 6.2% in October from a year earlier. The rally in Bitcoin was also supported by a survey by Bankrate that showed that 49% of millennials in America are comfortable with investing in cryptocurrency.
Ether, the world's second-largest crypto, rose nearly 3% to trade above US$4,700 levels. The coin linked to the ethereum blockchain has gained around 5% this week, touching an all-time high on news of wider blockchain adoption.
The meme currencies Dogecoin and Shiba inu were also flashing in green. Among others, digital coins that witnessed buying today includes Binance Coin, Terra, Tether, XRP, Litecoin, and Uniswap.
Meanwhile, the price of Cardano, the third-largest cryptocurrency by market cap, fell 1.5% to US$2.07.