Summary

The ASX 200 is expected to open 0.1% lower, after a weak session on Wall Street.
The Australian and the New Zealand dollars had a rangebound trading session on Wednesday.
On Thursday, the US consumer price data is due to be released.
On Wednesday, the benchmark index made a new all-time high for the sixth straight session. However, after touching a record high of 7,334.9, due to profit-booking, the ASX 200 slipped and closed 0.31% or 22.4 points lower, at 7,270.2, compared to Wednesday's closing. Today, the ASX 200 is expected to open 0.1% lower, after a weak session on Wall Street as market participants await the upcoming key US inflation data.
Image Source: Copyright © 2021 Kalkine Media
On Wednesday, the global stock markets traded near record highs, and the US bond yields softened as some of US President Joe Biden's economic stimulus efforts appeared robust, boosting the demand for technology shares as inflation pressures ease.
Wall Street closed lower, reverting from the gains made during the early session as market participants became cautious ahead of key inflation data to look for cues as to when the country's central bank might tighten its dovish monetary policy.
On Wall Street, the S&P 500 fell just 1 point short of its all-time high set in May as technology giants surged along with healthcare stocks. The Dow Jones fell 0.44%, while the S&P 500 lost 0.18%. The NASDAQ Composite also closed in red, falling 0.09%.
Read More: Australian Markets Ended in Red As Consumer Non-Cyclicals Sector Witnessed Selling Pressure
Due to the unwinding of the short positions for a second day on Treasury notes, prior to the release of inflation data, the yield on the benchmark 10-year US Treasury notes fell 3.7 basis points to 1.4908%, compared to 1.528% on Tuesday. The yields fell below 1.5% for the first time since 7 May 2021.
On Thursday, the US consumer price data is set to be released, which could report a spike of 4.7% in the overall annual inflation rate.
Currency update
Inflation data from China revealed its producer price index surged 9.0% over the last year, the highest in the last 12 years, on the back of surging commodity prices.
However, the surge in consumer prices was lower than expected, helping to mitigate concerns. The Chinese yuan, which rallied to a three-year high last week, ticked up slightly on Wednesday to 6.3869 per dollar.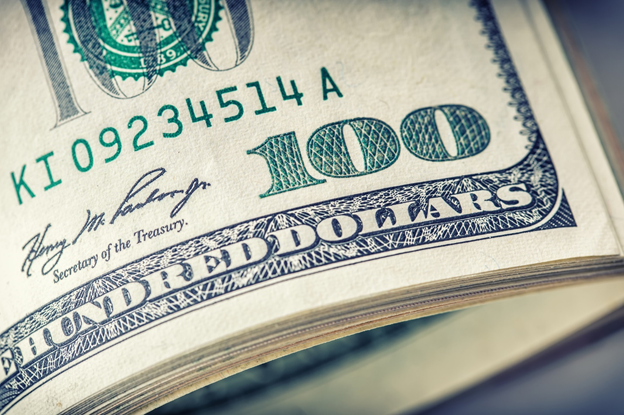 Image Source: © Marianvejcik | Megapixl.com
The US dollar was little changed and bounced off session's low as market participants focused on the upcoming US consumer price index report to help gauge the current pace of the economic recovery. The dollar index last traded 0.03% up, at 90.14.
The Australian and New Zealand dollars had a rangebound trading session on Wednesday. The Aussie closed 0.1% lower, at $0.7728, having spent the past two sessions locked in a range of $0.7727 to $0.7765. On the other hand, the Kiwi dollar was down 0.2% to $0.7177.
Image Source: © Aoutphoto | Megapixl.com
In the cryptocurrency market, after falling to almost US$31,000 mark on Tuesday, Bitcoin surged sharply by 8.6% on Wednesday, rising back above the US$36,000 mark. Its peers, Dogecoin and Ethereum, were up by 4.2% and 2.1%, respectively.
Read More: Bitcoin tumbles 8% after US nabs US$2.3M crypto ransom from Colonial hackers
Technology shares to be in focus
After giants such as Google, Amazon and Alphabet, all closed in green in the weak US session; investors could expect some outperformance from tech shares in today's session on the ASX. Shares such as Afterpay Limited (ASX:APT), Xero Limited (ASX:XRO) and Zip Co Limited (ASX:Z1P) could trade higher for the day.
Gold prices softened
On Wednesday, gold remained in consolidation for most of the session as investors looked forward to US inflation data that could shape the course of the Fed's monetary policy.
Image Source: © Anchesdd | Megapixl.com
Spot gold was down 0.1%, at US$1,891.05 per ounce by 1:44 PM EDT, while the US gold futures closed 0.1% up at US$1,895.50.
Australian gold miners could also trade almost directionless as investors in gold are waiting the US inflation data to make their move. Shares to keep on the radar are De Grey Mining Limited (ASX:DEG), Silver Lake Resources Limited (ASX:SLR) and Northern Star Resources Limited (ASX:NST).
Crude oil remained unchanged
Crude oil prices closed almost unchanged on Wednesday after US inventory data revealed a surge in gasoline inventories due to weak fuel demand.
Image Source: © Pichitbo | Megapixl.com
Brent crude futures remained unchanged and closed at US$72.22 a barrel, having earlier touched a high of US$72.83 in the session, the highest level since 20 May 2019. The WTI crude futures fell 9 cents to US$69.96 a barrel.
Energy shares such as Santos Limited (ASX:STO), Oil Search Limited (ASX:OSH) and Origin Energy Limited (ASX:ORG) could be on investors' radar for today's session.
Metals update
On Wednesday, iron ore futures ticked up after a 3-day fall, as worries over supply boosted prices of the steelmaking raw material. The most active September iron ore futures contract on China's Dalian Commodity Exchange closed 4% up, at 1,175 yuan (US$183.78) per tonne.
Image Source: © Tomas1111 | Megapixl.com
On Wednesday, copper prices traded below US$10,000 per tonne as Chinese factories are witnessing the fastest rises in the cost of input materials in 12 years. The benchmark copper futures contract on the London Metal Exchange (LME) was up US$3.50, at US$9,967.50 per tonne at 1625 GMT.
Local miners could be positively impacted by an uptick in commodity prices. As a result, shares such as Fortescue Metals Group Limited (ASX:FMG), Rio Tinto Limited (ASX:RIO) and BHP Group Limited (ASX:BHP) could attract investors' attention today.