Summary

AMP Limited plans to demerge AMP Capital's private markets business as it failed to reach a deal with Ares Management.
Demerger of AMP Capital business, 'Private Markets', is expected to be completed in H1 2022.
AMP plans to retain a 20% stake in Private Markets.
Australian financial group AMP Limited (ASX:AMP) has failed to reach an agreement with US private equity and credit investment firm Ares to sell AMP Capital's private markets business.
The company has now decided to demerge the AMP Capital business, known as 'Private Markets', into a new brand by next year.
The proposed demerger of AMP Capital's Private Markets business of infrastructure equity, debt and real estate follows a decision by the company's Board to conclude the takeover proposal by Ares Management Corporation, AMP said in a regulatory filing on 23 April.
The 170-year-old company had put the business up for sale in September last year and Ares was the sole bidder. The California-based private equity and credit investment giant had initially proposed to acquire 100% stake in the business, while it later offered to buy 60% shareholding in the company.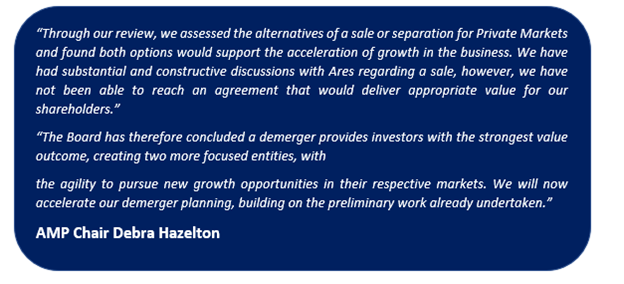 Know more: AMP Limited (ASX:AMP) and Ares enter a joint venture partnership
Private Markets Demerger to Close in H1 2022
AMP will demerge AMP Capital's Private Markets business as a separate entity under a new brand with a new management and board of directors. The proposed demerger of Private Markets is expected to be closed in the first half of 2022, subject to requisite regulatory approval.
Post the demerger, AMP shareholders would receive shares in Private Markets proportional as per their existing shareholdings, after considering any shares to be retained by the company. AMP has proposed to retain a minority stake of up to 20% in Private Markets to participate in the future growth of the business.
Image source: © Rummess | Megapixl.com
Michael Sammells, a non-executive director of AMP Limited and current Chairman of AMP Capital, will be appointed as interim Chairman of the Private Markets Board. As per the company, Sammells has extensive experience with private equity and preparing a company for an ASX listing.
AMP Capital's Global Head of Infrastructure Equity Boe Pahari to Leave
AMP has also announced the resignation of AMP Capital's Global Head of Infrastructure Equity unit Boe Pahari. As part of the separation of Private Markets, Pahari has decided to leave the business, the company said in a filing to the ASX.
Pahari joined a long list of top brass departing the business. In December last year, AMP Capital managing director for the Asia Pacific region Craig Keary had resigned, while four senior employees of AMP Capital's property business had left the company in November 2020.
Detailed discussion on Wealth Management
AMP Reports AU$1.5B of Net Outflows in March Quarter
AMP has reported AU$1.5 billion of net cash outflows for its Australian Wealth Management (AWM) business during March quarter compared to AU$1.7 billion in the same period a year ago. This includes AU$448 million in regular pension payments to clients.
AWM, however, saw its assets under management (AUM) rising to AU$125.7 billion during Q1 2020, reflecting improved investment markets. The total loan book of AMP Bank increased by AU$0.2 billion to AU$20.8 billion, driven by growth in owner-occupied loans in a highly competitive market.
Boosted by Private Markets' demerger plans, AMP share price rose 3.11% to trade at AU$1.160 on the ASX.
Latest AMP update: Why AMP shares traded higher in early trade