Summary

The merger of the equals coincides with the strong gold environment and targets to increase the cumulative gold output to 2 Moz by FY27.
The strong synergies allow the gold miners to benefit from each other's mining expertise while also gain exposure to new and attractive geographies.
The $16.0 billion merged entity will be the second-largest ASX-listed gold mining company. The combined company will target a gold production of 54-1.7 oz of gold with an AISC of $1,420-$1,550/oz Au
Australian gold miners, Saracen Mineral Holdings (ASX:SAR) and Northern Star Resources (ASX:NST) have announced a merger to be effective around early next year in the month of February to emerge as the second-largest gold mining company on the ASX.
Source: Northern Star and Saracen: A Compelling Combination, 6 October
Australian gold miner and explorer, Saracen primarily produces from 3 gold mines which are located within 300 kilometres of Kalgoorlie. On the other hand, Northern Star operates 4 major Tier-1 assets in the world-class geographies of Australia and the USA.
Also Read: Mining Majors- Saracen (ASX:SAR) and Resolute (ASX:RSG) September Quarter Analysed
Robust Operational Performance by the Twin Gold Producers
Kalkine Group 2020, Data Source: Saracen Mineral September Quarter Report
On 22 October 2020, Saracen released the quarterly report for Q1 of FY2021 outlining a tremendous operational result. The gold production stood at 154,388 oz with an AISC of $1,169 /oz Au. During the June quarter, gold production stood at 145,830 oz with an AISC of $1,152/oz Au.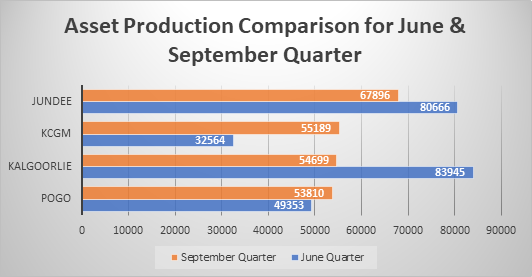 Kalkine Image, Data Source: Northern Star September and June Quarter Report
On 27 October 2020, Northern Star Resources released the September quarter report confirming that the production rates during the quarter were in line with the anticipated numbers. The report cited 227,532 oz of sales with group all-in costs (AIC) of $1,752/oz.
Read Here: "There is nothing like Australian Gold," Says Saracen, Why is the ASX Gold Producer so Gung-ho?
The gold producer realised an average gold price of $2,493/oz. This slightly varies when we look at the statistics of the previous quarter, where the company recorded total sales of 262,717 ounces of gold at an average gold price of $2,487/oz of gold.
Strategic Alliance Highlights:
Under the announced merger, NST will acquire 100% of the fully paid ordinary shares in SAR. The combined entity will form a large market cap of around $16.0 billion with a targeted production of around 1,540,000 to 1,700,000 oz of gold with an AISC of $1,420-$1,550/oz Au in the 2021 financial year. The combined resource will bounce to 49.2 Moz Au complemented by reserves of 19.4 Moz Au.
Kalkine Image, Data Source: Northern Star and Saracen Presentation 6 October 2020
Combined Asset Portfolio:
The alliance is targeting around 2Mozpa from combined assets from their three main operating areas Kalgoorlie, Yandal, and North America by FY27. Pointing to the hedging profiles of both the organisations for 2021, SAR has around 184,000 oz hedged at around $2,040/oz while NST claims to have around 187,000 oz hedged at $2,044/oz.
Important Read: Are acquisitions setting the new trend for ASX 300 Gold Shares - Saracen and Northern Star under Spotlight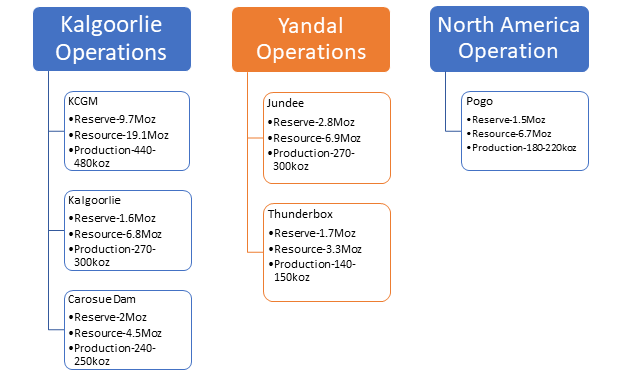 Kalkine Image, Data Source: Northern Star and Saracen Presentation 6 October 2020
Alliance Strength & Opportunities:
This merger of equals strategy will mutually benefit the growth of both companies. Shareholder of SAR will receive 0.3763 fully paid ordinary shares of Norther Star as a result of which the shareholders of SAR will own 36%, and NST's shareholders will own 64% of the merged group. What coms as an icing on the cake for the stocks of SAR is that the company announced a special fully franked dividend of $0.038 a share.
NST shareholders will be benefitted from SAR's high-quality de-risked operations at Carosue & Thunderbox and SAR's expertise in open-pit mining methods. Whereas, SAR's shareholders will benefit from exposure to the USA operations, NST's underground expertise, and strong near-term cash-flows.
Must Read: Gold Rush and Gold Outperformers- Northern Star, and Newcrest Mining
Saracen traded at $5.3 a share while Northern Star traded at $14.2 a share on 19 November 2020 (12:20 PM AEDT).